Details

Written by:

Keva Andersen | Deputy Editor-in-Chief

Category: Latest News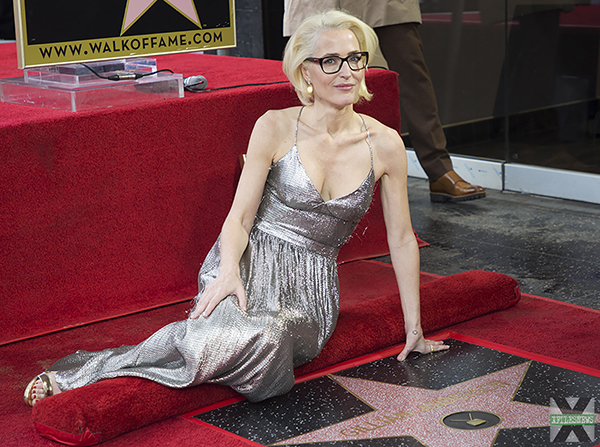 Gillian Anderson will be joining the cast of The Crown for the show's fourth season, according to The Sunday Times. She'll be portraying former British Prime Minister Margaret Thatcher, who was dubbed "The Iron Lady."
With filming reported to begin this summer, Gillian adds another show to her already full acting plate. Her series Sex Education premiered on Netflix on January 11th to rave reviews and is set to hit 40 million streams by the end of the month. Gillian will also be returning to the London stage soon when she stars as Margo Channing in the theatre adaptation of All About Eve. The play also stars Lily James and is directed by Ivo van Hove. Check out these behind-the-scenes photos of the production which will run at the Noel Coward Theatre from February 12 through May 11.
See more details about The Crown from The Sunday Times here.
Details

Written by:

Roileigh Ollson | Managing Editor

Category: Latest News
If your X-Files collection could use a little more filling out, Abrams Books has just what you'll need. On October 16th, the publishing company is set to release "Monsters of the Week: The Complete Critical Companion to The X-Files." Here's what you can expect:
"In 1993, FOX debuted a strange new television show called The X-Files. Little did anyone suspect that the series would become one of the network's biggest hits—and change the landscape of television in the process. Now, on the occasion of the show's 25th anniversary, TV critics Zack Handlen and Todd VanDerWerff unpack exactly what made this haunting show so groundbreaking. Witty and insightful reviews of every episode of the series, revised and updated from the authors' popular A.V. Club recaps, leave no mystery unsolved and no monster unexplained. This crucial collection even includes exclusive interviews with some of the stars and screenwriters, as well as an original foreword by X-Files creator and showrunner Chris Carter. This complete critical companion is the book about The X-Files, the definitive guide whether you're a lifelong viewer wanting to relive memories of watching the show when it first aired or a new fan uncovering the conspiracy for the first time."
XFN will be bringing you a full review of the book, but in the meantime, you can pre-order the book on Amazon. And for those who pre-order before the October 16th release, you can sign up to receive a free bookplate in the mail. Signed by Chris Carter and authors Zack Handlen and Todd VanDerWerff, the bookplate sticker can be placed in the front of your book. Simply fill out this form and upload a copy of your pre-order receipt to receive the bookplate.
XFN will also be giving away 3 copies of the book (including signed bookplate) to a few lucky Philes. To enter, you must submit a description of an ORIGINAL monster that could have been in The X-Files. Send a maximum of 250 words to This email address is being protected from spambots. You need JavaScript enabled to view it. before 11:59pm PT on October 16th to enter. One entry per Phile.