The Woolsey wildfire burning in Southern California has destroyed at least one of The X-Files' filming locations and caused damage near several others. The Paramount Ranch in Malibu Creek State Park was the location used as Democrat Hot Springs, William's birthplace, in Season 8's "Existence." In the photo above, compare how the set looked then to the smoldering ruins left after the fire hit on Friday, November 9th.
The mountains and beaches in and around Malibu played background for several episodes throughout Seasons 6 through 9. In another scene in "Existence," Scully and Monica are driving in Georgia on what is actually Kanan Dume Road. The fire scorched the hillsides there and destroyed several homes.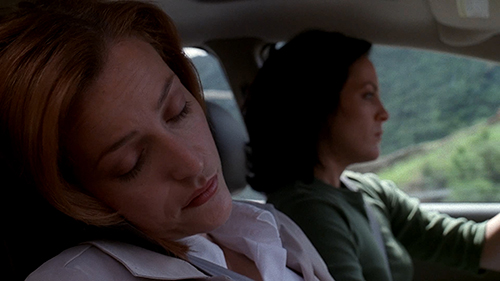 Leo Carrillo State Park is the beach you know from Scully's UFO discovery in "Biogenesis" as well as the scenes of Mulder's visions from "Amor Fati." According to the Los Angeles Times, the campground at the beach has been "torched beyond recognition."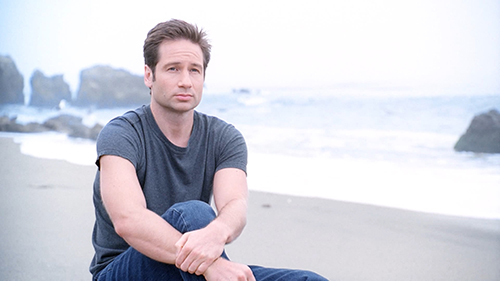 David Duchovny and his dog Brick sometimes call Malibu home. We have not confirmed that David himself is affected, but the entire city of Malibu and the surrounding area have suffered devastating losses. As of Sunday afternoon, the wildfire has burned more than 83,000 acres and destroyed 177 structures, according to the L.A. County Fire Department. And though there is no direct X-Files connection to the Camp Fire in Northern California, our thoughts are also with anyone there who has been affected by what's now believed to be the most destructive fire in California history.

We know Philes are a generous group. Gillian Anderson shared a few resources on Twitter, and if you would like to help victims of the fires, here are a few other ways you can do so.

LAFD Foundation supports the men and women battling the fires.  

California Fire Foundation also provides support to firefighters, but also provides financial assistance to victims of fires. 

The Red Cross provides assistance to victims of natural disasters across the country. 

If you Google "Donate Southern California Wildfires" a Donate button appears, which is run through the Center for Disaster Philanthropy. 

The California Community Foundation's Wildfire Relief Fund helps victims to rebuild and provides assistance for physical and mental health.