Details

Written by:

Keva Andersen | Deputy Editor-in-Chief

Category: Latest News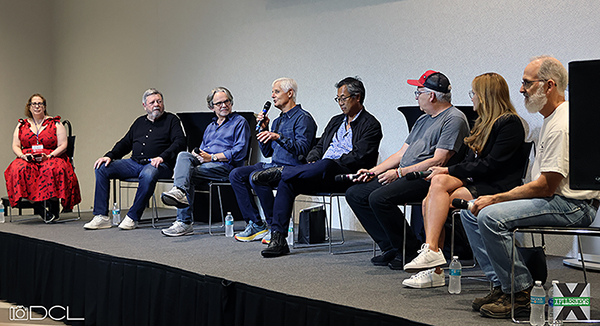 The last time The X-Files had this much fun at a mall, Eugene Victor Tooms got squished in an escalator. This time around, no one lost their liver (as far as we know) but it was certainly an event people will be talking about until Mulder and Scully's second baby is the head of the bureau. Fans from around the world converged on the Mall of America in Minneapolis for a three-day celebration of 30 years of The X-Files packed with panels, photo ops, autographs and more. And from the smiles we saw and the feedback we got from Philes and creators alike, it's fair to say the anniversary party was one for the books.
And yes, we said we retired back in 2019 but our favorite show only turns 30 once so we dusted off a few press badges so all fans could join in the celebration. If you're looking for a visual recap of the weekend check out all the panels and photo galleries here. But there was more than our cameras could capture so read on for a full review. Also please note that some of the discussions were a little different this year due to requirements placed on the actors and creators by SAG-AFTRA and the WGA due to the ongoing strikes. XFN stands in solidarity with workers fighting for their rights. 
Read more: Fans celebrate 30 years of The X-Files at Phile Fest
Details

Written by:

Keva Andersen & XFN Staff

Category: Latest News
"There has to be an end, Scully." When Mulder whispered that to Scully in "Requiem" back in 2000, our hearts nearly pounded out of our chests. These two people we'd come to love were at a crossroads, the future of their work uncertain. As the episode continues he says "It has to end sometime. That time is now." with certainty and devotion and a little fear in his voice. Well, today I know how he feels, if you'll pardon the sentimentality. Because that "sometime" has come for us here at XFN as well.
This will likely be our last post on XFilesNews. After 11 years, a feature film, two revival seasons, conventions, fan campaigns, contests, and more articles than we can mention, it's time for us to say goodbye. We announced back in May that we would be stepping back at the end of the year, and now that 2018 has come to a close we're ready to make that happen.

Going forward, this site will remain as an archive of all the work this fandom has done to keep The X-Files alive, and of the success you had in convincing the powers-that-be that there was still a need for more Mulder and Scully. We will retain the XFilesNews name and will maintain the site as long as we can keep up the server costs, which our TeePublic store will remain open to help support. We will stay somewhat active on Twitter,  Facebook, and Instagram, but our Tumblr will stop publishing after today as well. Our goal on social media for now will be to continue to boost the efforts of fan groups on things like charity drives and podcasts. But our days of contests, convention coverage, and fan campaigns are mostly done. We will provide coverage of X-Fest 2 in Illinois in June, as we want to honor that commitment we made last year. We also hope to have one more product review that we promised before the end of January but the timing on that is still uncertain.

It was an honor to bring you the news over the years, and to help tell the story of this fandom. Every interview we did and every press pass we got was all to share that information with you, and in return to tell the creators of this show how much their work meant to the fans. It's been a labor of love since 2007 and everyone who worked for XFN was a volunteer. We're so proud to have been a part of this fandom's story and we appreciate all the support and feedback you've given. We hope you've enjoyed being a part of our family. And we look forward to being there with you at events in the future, but like Avi said back in May, this time we'll be sitting right next to you as fellow fans instead of journalists.

Before we go, we wanted to take a look back through our family album at some of our favorite pieces of coverage over the years and we hope you'll page through with us and remember how far we've come together. Head to memory lane after the jump.