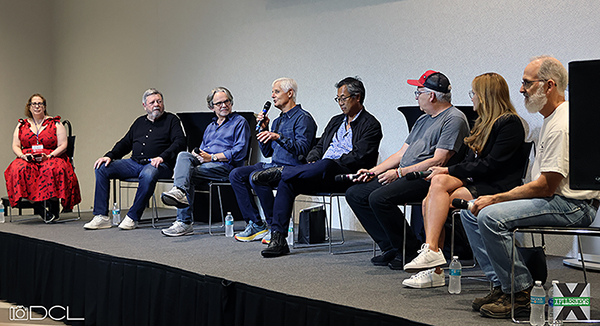 The last time The X-Files had this much fun at a mall, Eugene Victor Tooms got squished in an escalator. This time around, no one lost their liver (as far as we know) but it was certainly an event people will be talking about until Mulder and Scully's second baby is the head of the bureau. Fans from around the world converged on the Mall of America in Minneapolis for a three-day celebration of 30 years of The X-Files packed with panels, photo ops, autographs and more. And from the smiles we saw and the feedback we got from Philes and creators alike, it's fair to say the anniversary party was one for the books.
And yes, we said we retired back in 2019 but our favorite show only turns 30 once so we dusted off a few press badges so all fans could join in the celebration. If you're looking for a visual recap of the weekend check out all the panels and photo galleries here. But there was more than our cameras could capture so read on for a full review. Also please note that some of the discussions were a little different this year due to requirements placed on the actors and creators by SAG-AFTRA and the WGA due to the ongoing strikes. XFN stands in solidarity with workers fighting for their rights.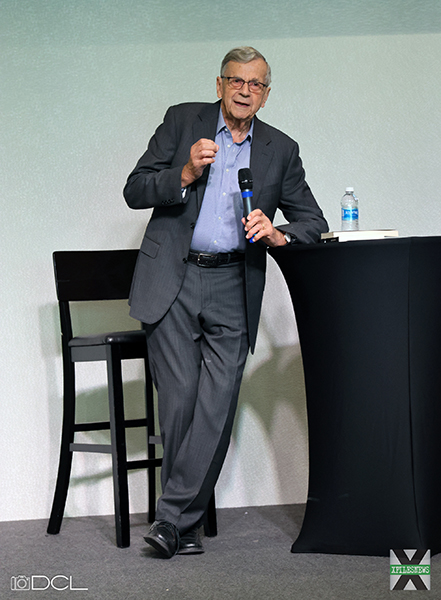 Fans hit the ground running Friday morning with William B. Davis (Cigarette Smoking Man) starting off with the first panel. Bill spoke about his process as an actor, and shared a look back at his career. He began acting on the radio in 1949 in Canada, and trained in England in the 1960s and worked at the National Theatre of Great Britain. Bill shared some of the work that went into his new book "On Acting….and life" and demonstrated one of his first scenes from the show which resulted in a pose Philes will recognize anywhere.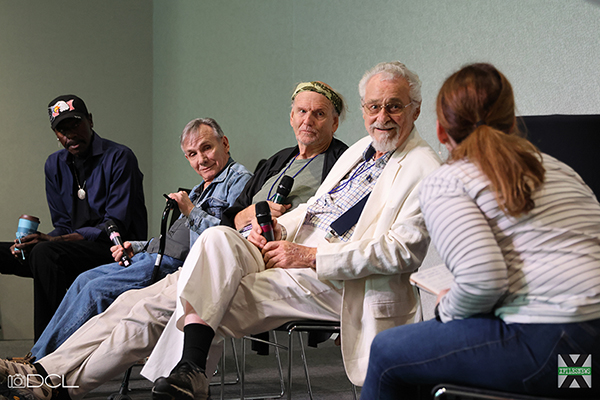 From Cancer Man to character men, next to take the stage were Jerry Hardin (Deep Throat), Larry Musser (Detective Manners, Jack Bonsaint), Steve Railsback (Duane Barry) and Steven Williams (Mr. X). Steven and Jerry discussed playing their elusive characters with very little backstory, with Steven saying he liked to let the audience decide if X was a good guy or a bad one, and that he thought his character was killed too soon. Jerry said for him the speculation started with Deep Throat's relationship to Mulder, was he a relative, or simply a partner to the government? He said he chose to play Deep Throat as a government partner as much as he could.
Steve Railsback portrayed one of the most memorable characters of the early seasons, Duane Barry, and shared the story of how he took on the role. He said he was in the middle of editing a film that he had directed and was thinking about turning the role down. But then he spoke to Chris Carter who said he didn't know what he would do if Steve turned him down, that he had written the role specifically for him. Steve then said "I'll be on the next flight." 
Larry Musser is likely most familiar to Philes as Detective Bleeping Manners in "Jose Chung" and Jack Bonsaint in "Chinga" but he appeared on the series four different times. He shared that he enjoyed all the roles but that his turn in "Chinga" was a favorite because of the amount of time he was able to spend on set and that Gillian Anderson was "wonderful" to work with.
Up next on Friday was everyone's new favorite duo, Chris Owens (Jeffery Spender) and Brendan Beiser (Agent Pendrell). We saw several comments after their panel wrapped that the two of them should star in a buddy film and those assessments are correct. Chris described reading for his first role on the show as the young CSM in "Musings of a Cigarette Smoking Man" as well as the advice Chris Carter gave him when he returned to read for the Great Mutato in "Post-Modern Prometheus," telling him to "think dignity."  And what was it like playing everyone's favorite weasel? Chris shared a story about how a group of fans once told him that they cheered when he got shot.   
For Brendan Beiser, he described being very nervous on his first day on set and even brought good luck charms with him, but that the cast and crew were very welcoming. The X-Files was one of his first jobs as an actor and he shared that after his first episode as Pendrell aired on a Friday night, he was working a Saturday morning brunch shift the next day and several of the customers did a double take when they saw who was taking their order.
Wrapping up Friday's actor panels was The Lone Gunmen. Tom Braidwood (Frohike), Bruce Harwood (Byers), and Dean Haglund (Langly) as usual had the audience in stitches. There was some good natured ribbing about how the trio came to be. Dean said he auditioned five times for the role with a few different people playing Byers, so Bruce shot back that he only auditioned once. Tom told the story about how when they were trying to cast Frohike they weren't having much luck and joked "we need someone slimy, somebody like Braidwood." The group came out of the meeting and saw him and said "ah, Frohike!" He agreed to take the part thinking it was going to be one line, only for the Gunmen to become beloved characters with their own spinoff.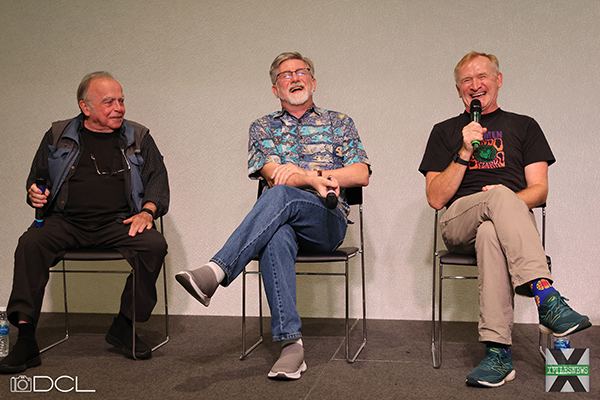 While we at XFN prefer the Joe Harris version where the Lone Gunmen live on in a bunker underneath Arlington Cemetery, the group was asked how they found out about their characters dying in Season 9. Dean said he was having a great day riding his bike on Venice Beach when he got the call, but then decided it was better to go out in a blaze of glory as heroes than to ride off into the sunset. Bruce joked that he was hoping for a big Fight the Future-style explosion to take them out with a whole building. Tom told the story of shooting their final scene in "Jump the Shark" with the Gunmen on one side of the glass and Jimmy and Yves on the other. He said that Stephen Snedden (Jimmy) was actually crying at one point and jokingly said "what a wimp!"
Friday also included a panel with author Dr. Bethan Jones, featuring her new book "The Truth is Still Out There: 30 Years of The X-Files." The work is described as "part love letter, part history, part analysis" and analyzes the entire scope of the series, including the two feature films. XFN was unable to attend the panel due to a scheduling conflict, but please be sure and check out the book here, it's a worthy addition to any Phile's collection.
---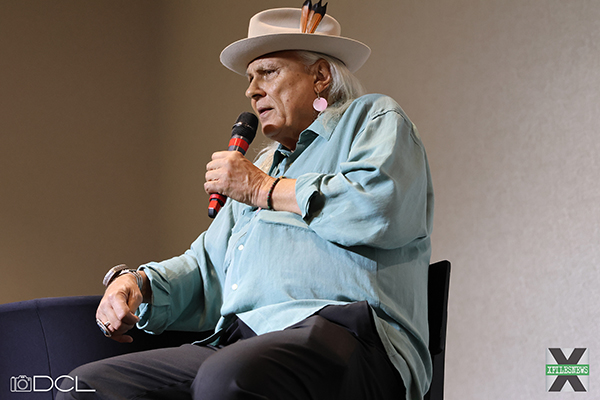 Saturday kicked off a jam-packed day with a special VIP event we dubbed the Father/Son panel with William B. Davis and Chris Owens. We only have photos to share from that event, check them out in the photo gallery. Actor Michael Horse, who had a memorable guest star appearance as Sheriff Charles Tskany on Season One's "Shapes," started the day for all audiences. He called his experience on the show "wonderful" and that he was fascinated by watching David Duchovny work. He knew many of the other actors on the series from his time working in Vancouver, notably on the show North of 60. While Michael is well known for his on-camera work, he also does animation voiceover work and shared a funny experience while working on Rugrats. Michael is also a fantastic artist and spoke on the artwork he creates, including beadwork and the ledger paintings he began working on between takes while on sets. He shared the history behind ledger paintings and how Native Americans began creating art on old ledger books and love letters during repressive times. To see more of Michael's work, check out his gallery here. 
Up next was a trio of delightful actors who portrayed three characters who couldn't be more different from each other, Annabeth Gish (Monica Reyes), Mitch Pileggi (Walter Skinner), and Nicholas Lea (Alex Krycek). This panel was a little different than others at the convention due to the ongoing SAG-AFTRA strike. Per union rules, as moderator Dr. Fiona Cox reminded everyone at the start of the session, the actors were not allowed to promote any past or current work that would be considered "struck." While this may have limited discussion about The X-Files, fans were treated to a great conversation about acting, favorite jobs, least favorite day on a film set, and other topics.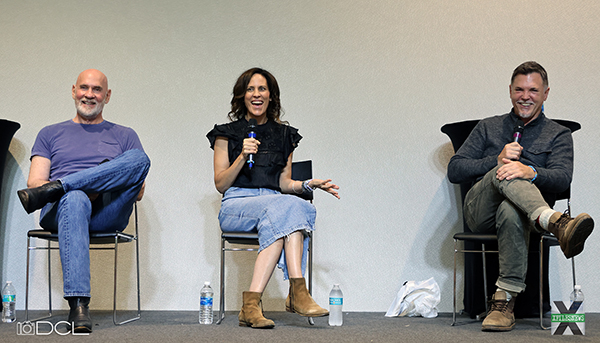 The panel began with Mitch presenting a henley shirt to Mel (the force behind Scully Coffee for NF, Mitch's Pledgies, and all-around fandom cheerleader) as a thank you for her support over the years. That set the tone for Nick to speak on the beauty of gatherings like Phile Fest, the friendships that form, and the need for more togetherness.
Speaking on their most miserable day on a film set, Annabeth described horror films being cathartic but that she's no longer going to be spending any time in coffins. Mitch described a movie he once did that involved getting shot while filming in the cold high desert and having to lay on the cold asphalt, freezing through multiple takes while also hung over. Nick shared that while acting can seem cushy, he's had grueling 18-hour days in freezing conditions and that you need to have a tough exterior to be an actor. Mitch joked in response that "you guys work too hard, I just wear make up, play dress up and make believe for a while."
All three actors have spent time on the theatre stage and described the challenge of it. Nick says he believes that's where you "really learn who you are as an actor." Mitch shared the story of how he once did a play at a theatre in Austin where he had once been a janitor. Annabeth spoke of a recent workshop of one-act plays she did in Los Angeles and how the experience was "terrifying and invigorating" and also very nourishing and connecting, without having to worry about the camera.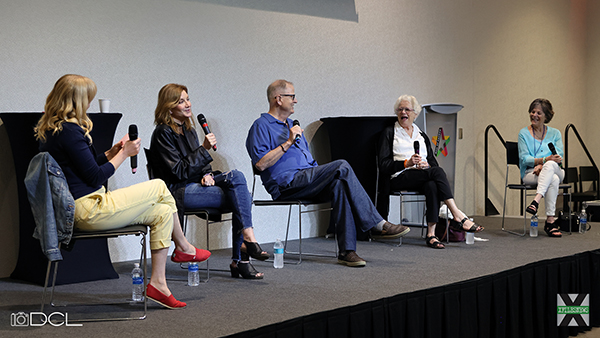 Rounding out the actors' panels for the day was one of the most talked about events on our Twitter feed, the Family Panel. The Mulder and Scully in-laws, Melinda McGraw (Melissa Scully), Pat Skipper (Bill Scully), Sheila Larken (Margaret Scully), and Rebecca Toolan (Teena Mulder) had the audience cracking up from the start while also ending with happy fandom tears.
The panel started out with some funny banter between the "in-laws" and jumped into some great questions. In discussing their backgrounds, all four actors trained as theatre actors first, with Melinda and Rebecca both having trained in London. Rebecca also shared that she tried doing theatre in Brazil with friends in her early days but that her Portuguese was "sorely lacking." Melinda and Sheila also attended the same college, Bennington College, in Vermont. When asked about the secret to his prolific career, (he's got 95 acting credits on IMDB, you most recently saw him in Oppenheimer.) Pat Skipper said that starting out he played a lot of bad guys because "there's only one Matlock" but "there are a lot of guys to kill" and that his frequent auditioning paid off. Pat has also written a book on the subject called "The Working Actor: A No Bullshit Approach to Winning the Acting Game."
Onto the X-Files-specific questions, Melinda shared that she didn't know at first that Melissa was going to die and was sad about the character's death, and that she was dating Nick Lea at the time he had to shoot her as Kryceck. Pat took a few good questions about Bill Scully and Mulder, explaining that as a military man, Bill would have seen Mulder as a threat to his family. He added "Bill Scully was right!" Rebecca told a story of how her son had once sent her to a fanfic site with several stories where the writers thought Teena Mulder was a bad mother and joked "I know they weren't criticizing me but I did take it a little personal!" She called Teena a "dignified, wounded woman" who had a lot of loss in her life and said she wondered about the character's choice to end her life because she had been so strong through previous issues. Sheila touched on one of the fandom's favorite scenes, the moment where Maggie learns that Scully has cancer. She said she told director Rob Bowman that she wanted to play the scene with some anger, "that if she's alive, I'm going to kill her" because of the feelings a parent would have in that situation. Rob told her to go for it and the result is one of the more memorable scenes in the episode.
Wrapping up the discussion, Melinda spoke on the importance of the writers and actors strikes, of the need for equitable pay and the risk background actors are now facing of their bodies being scanned for a one-time payment, as well as concerns around the use of AI and calling that art. The whole audience was fired up in support and she encouraged fans to write to the streamers. Sheila shared a story of a fan who she spoke with who told her he started watching the show at age 11. She said to him she thought that was a pretty scary show for that age, and he shared that it saved his life. When she asked him to explain, he said that he came from a bad family life and it gave him something to love. She shared how much that moved her, as well as the stories people have shared with her about their own mothers and the love they have for her character, and how those moments make the work worthwhile. The panel ended with a sweet thank you to the fans from all the actors.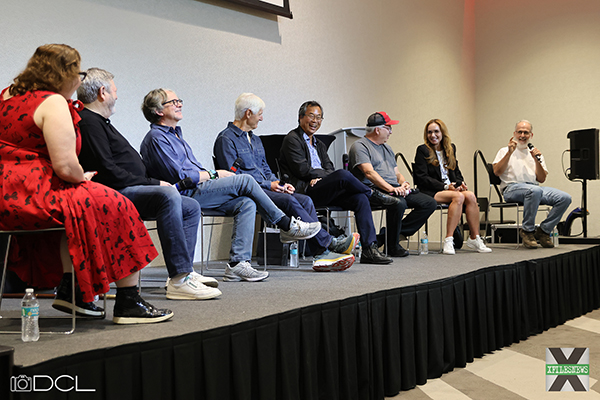 Even with all that, Phile Fest Day 2 wasn't done yet. They brought out the big guns with the creators panel. Chris Carter, Frank Spotnitz, R.W. Goodwin, Glen Morgan, Kristen Cloke, James Wong, and Darin Morgan took questions for nearly two hours in a wonderful behind-the-scenes look at the creation of our favorite show.
Moderator Alyse Wax got right to the point with Chris, asking him straight off about Scully's second pregnancy. He talked about how at first he appreciated the controversy but after comments Gillian Anderson made about it at a convention he thought further about it. He gets into how CRISPR and the creation of super soldiers inspired him and how Scully was "not a normal mother." It's an answer that's probably best explained by the man himself, you can watch it in the panel starting at about 2:50.
When asked if there were any characters they would revisit, James Wong said they really wanted to bring the Peacock family back and even tried to get them into an episode of Millennium. Glen Morgan agreed and said they got as far as Peter Roth (then an executive at FOX) saying yes and checking Karin Konoval's schedule, only to be told no in the end by the network. On the topic of "Home" James joked about not getting residuals due to the ban and Glen explained that the idea came to him from reading a Charlie Chaplin autobiography. And apparently the head of FOX called them up after reading the script and said "you're sick!"
Listening to the stories told throughout the panel, it's pretty clear R.W. (Bob) Goodwin is one of the true heroes of the Vancouver years. Bob said he prefers directing because executive producing is like "working with your father." He joked that he "practically had a nervous breakdown" at the start of Season Two, over the infamous nuclear sub coming up through the ice cap. He shared that in the writers room it was Chris Carter who came up with the idea. Someone told Chris "that's like a movie, you can't do this on television" and Chris replied "don't worry, Bob will figure it out." And figure it out he did, in one of the more iconic shots from the series. He also said that it got to the point writers would deliver scripts to him with a bottle of wine.
Frank Spotnitz fessed up to being the writer who gave Bob that nuclear-sub-sized headache as one of his first credits on the series. He also touched on how Samantha's story ended and that, to his memory, originally Chris felt the series would end after five seasons and Mulder would find his sister but that changed as the show's popularity and longevity grew. But when David Duchovny announced he didn't want to return after Season Seven they realized they needed to resolve that central story of the show before he left. He said they struggled with how to resolve Samantha's story and they believed finding her alive after all that time would feel rushed and "fake," which is why they chose the ending for her they did. And as king of the Shippers, Frank also weighed in on the question of when the creators thought Mulder and Scully were destined to be together. He said that he knew way back in Season One when they had the exchange of "if there's an iced tea in that bag….it could be love." 
Kristen Cloke spoke from both a writer's and an actor's perspective, having done both on the show. She said tackling the writing of Season 11's "RM9," where very little is said, was a good challenge, in that she is a "very wordy person" and likes big chunks of dialogue. She said without the dialogue, it was really a showcase for the talent of the production crew and the magic they created with effects and props. As an actor on the show in "The Field Where I Died" she said she spent a lot of time talking with director Rob Bowman about music and how certain songs felt like the scenes they were doing and how there was a lot of trust on set. 
Darin Morgan also wore several hats on the show as Flukeman, Eddie Van Blundht, and as the writer of many fan favorite episodes. He spoke on the challenges of the political world around the Season 10 and 11 revival and "The Lost Art of Forehead Sweat." Darin said that because of the nature of the two main characters being FBI agents while having a president who made disparaging remarks about the agency, it was impossible to not touch on it in some way. On what episode of his he would change, he said he would change the end of "War of the Coprophages" so that the roaches kill Frohike. He also joked that he still pays his SAG dues in case someone needs an actor for a character who needs to hide in a port-a-potty.
There were so many insightful and funny details shared about the production we couldn't possibly summarize them all, so do yourself a favor and go watch the whole thing here. And watch out for the giant clams.
---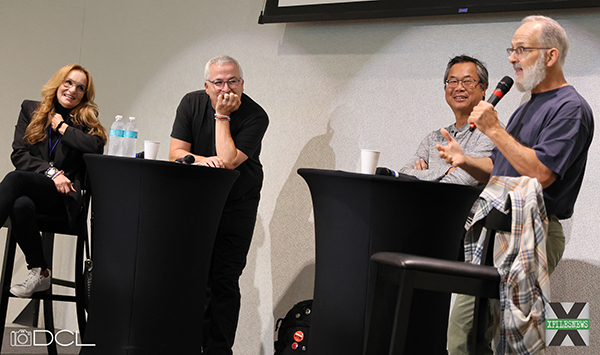 The weekend wrapped on Sunday with a VIP-only panel featuring Glen Morgan, Darin Morgan, Kristen Cloke, and James Wong. Phile Fest organizers agreed to let us record it so check out the intimate conversation here. The day also featured panels on the Millennium Documentary, X-Files comics creator Joe Harris, and a screening and discussion with the creators behind The X-Files Fan Retrospective documentary. Due to time constraints we unfortunately weren't able to capture the later panels on Sunday but we saw lots of great reactions on social media. For more about the Fan Retrospective documentary check out their site with links to all of the interviews here and for a live tweet of the panel check out this thread from the Audio Fanfic Podcast crew.
Overall, we can't think of a better way to have celebrated 30 years of The X-Files. It was wonderful to see so many fandom faces and to hear again from the actors and creators that made our show so special. Not many shows continue to be a cultural powerhouse so many years after their debut and you could feel the pride in that at every turn. At the end of the creator panel, when asked why fans are still coming back after all this time, Glen Morgan touched on the concept of "I Want to Believe." He explained how even the most skeptical person wants to believe in something and that in an era where it's harder than ever to find something to have faith in, Mulder and Scully still want to believe. Despite all of their own hardships they keep that hope, and that's why we love them. They want to believe just like we all do. Our constant, our touchstone, our reason and faith in harmony. No matter how much time passes, the Philes will be there, sharing the stories, the lessons, and keeping the characters alive whether it's 30 years or 300.
Thank you to event organizers Kristin Sauter and Trevor Nelson of Off Brand Events for a fantastic celebration.
And now before I put the press badge back on the hook where it belongs, I just wanted to say a huge thank you to Roi Ollson, Rebecca Welch, and Leah Perkins for stepping in when I wasn't able to be at the event due to illness, and to Dayna Loder for all her beautiful photos that captured the heart of an amazing weekend.