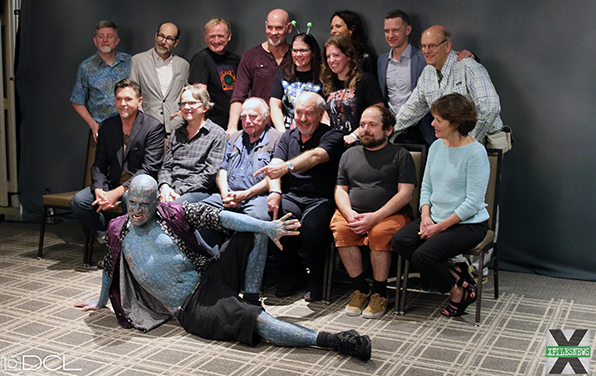 In Hollywood, it can be rare for a sequel to be better than the original. But if you head to Illinois, that's clearly not the case. After a rousing success in 2018, the creators of X-Fest were back for round two and from the happy Philes we spoke with it was pretty clear the events were even better than last year's.
X-Fest 2019 was held at the Hyatt Regency Hotel in Schaumburg, Illinois, and expanded to the entire weekend. Philes from around the globe converged for the chance to meet an all-star lineup including Mark Snow, Tom Braidwood (Frohike), Bruce Harwood (Byers), Dean Haglund (Langly), Mitch Pileggi, Nicholas Lea, Annabeth Gish, Frank Spotnitz, Susan Blommaert (Phyllis Paddock), Brian Huskey (Reggie Something), Rebecca Toolan (Teena Mulder), Sheila Larken (Margaret Scully), Chris Owens (Jeffrey Spender), Melinda McGraw (Melissa Scully), Jeff Gulka (Gibson Praise), The Enigma (The Conundrum), Karin Konoval (Chucky and Judy Poundstone, Ma Peacock), Larry Musser (Detective Manners, Jack Bonsaint), J.J. Lendl, Joe Harris, and Dr. Anne Simon.  
If you couldn't make the festivities, or just want to relieve the weekend, look here for the full panel videos and photo galleries. But there was much more to experience, so read on for a recap.
Friday night kicked off with a spirited trivia contest where Team Funky Poaching reigned victorious over 15 other teams. A cosplay contest was held as well, and while all the contestants looked fantastic, Karen and Chris stole the show and first prize with their amazing "First Person Shooter" cosplay. Philes also had the chance to cut loose with DJ Jess O'Lantern and watch the Enigma's amazing one-man show. Viewers in the front row may have spent some time picking apple bits out of their hair after the chainsaw incident. The show was followed up with a viewing of "Humbug."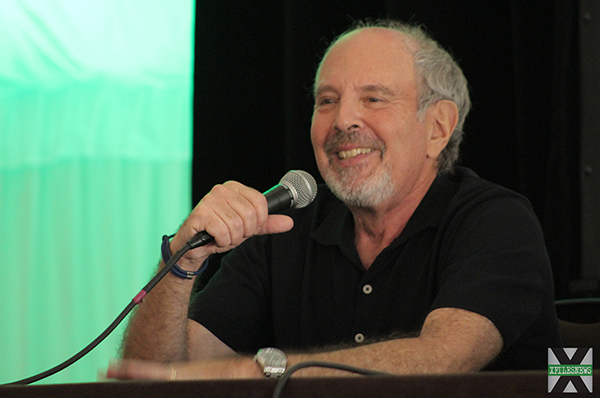 Saturday was packed with photo-ops, autographs, screenings, and panels. Mark Snow was the first to take to the panel stage, leading the crowd in a whistle of those famous 6 notes before answering questions. He shared the story of how his elbow led him to create the echo we love from the theme song. And that previously mentioned whistle? While he tried a variety of instruments first to make it work, the winning sound is something called "Whistling Joe." Mark also told the story of how Chris Carter left him alone to present the theme song to the executives at FOX. The guys couldn't quite find the words to express what they thought, which we've decided is the very first case of Mark giving someone the feels with his X-Files creations.
Up next was Nicholas Lea, whose line was so popular last year he missed his panel! X-Fest staff made sure he'd have the time this year and the man who played Alex Krycek had some thoughts to share about his character. Nick explained that he never wanted the audience to be certain if Krycek was good or bad, and that because the show was so complex he didn't spend a lot of time on Krycek's backstory but just decided to "roll with it." He also had a wonderful conversation with a fan, who mentioned she was nervous about speaking with him the next day at breakfast. Nick called himself "just a guy who got a job" and emphasized that we're all the same and people shouldn't feel nervous around him. He also added "don't worry about something that hasn't happened yet." On a lighter note, Nick shared some stories about his appearance on Saturday Night Live that had the audience roaring.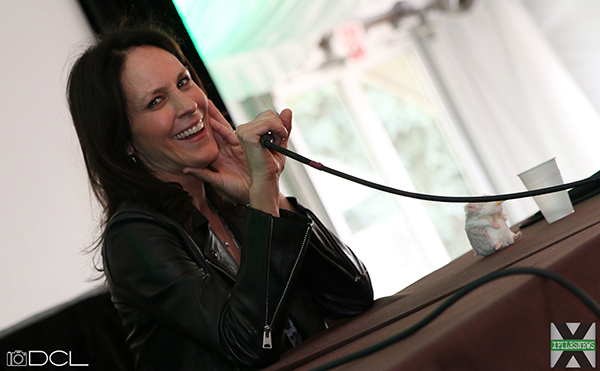 Annabeth Gish also returned for her second X-Fest, and started off her panel by saying that helping the CSM smoke through his throat was the weirdest thing she's ever done on a show. Continuing on the topic of the Revival, Monica Reyes' return came in a way that not many expected, including the actress who portrayed her. Annabeth emphasized that she was happy to be invited back for Seasons 10 and 11, but that she didn't have much input on Monica's actions. She said some of the things Monica did, she didn't think the character would have done. Annabeth also added that she thinks Monica was ultimately protecting William and Scully and that there were missed opportunities for Scully and Reyes to work together with "women power." And if you're wondering if Monica survived the end of Season 11, Annabeth says even Chris Carter admits that Reyes might not have died.
Mitch Pileggi had the audience in his hand from the start as he kicked off his panel thanking "the greatest fans in the world." Walter Skinner was another character left in limbo at the end of Season 11, but Mitch says our favorite A.D. definitely survived. He says Chris Carter called him and said "you are not dead," so fear not. Mitch has been busy apart from playing Skinner. He had a guest starring role on NCIS and shared that he recently shot a film called "Axis Sally" with Al Pacino. Mitch played a lawyer who opposed Pacino and said it was "glorious." And apparently David Duchovny isn't the only one trying his hand at music. Mitch treated the audience to a few lines from Jim Croce's "You Don't Mess Around with Jim" and we'll just say he might want to look into that record deal. See for yourself here.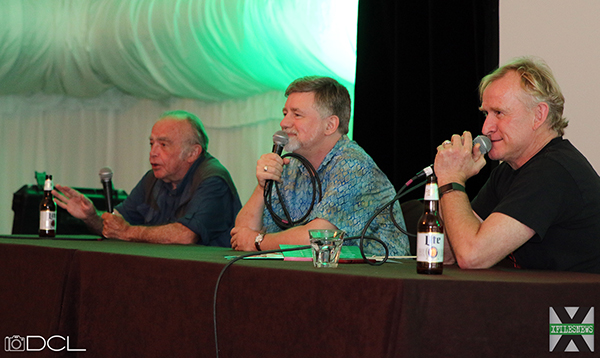 Saturday wrapped up with 2 episode screenings. First up was a Lone Gunmen reunion as Tom Braidwood, Bruce Harwood, and Dean Haglund screened "The Unusual Suspects." The banter between the three was as good as ever, with Dean cracking jokes about the technology he's afraid of, (that would be toilets connected to the internet) Tom sharing that it wasn't his real hair on screen in "The Unusual Suspects," and Bruce revealing how they found out about the Lone Gunmen spinoff. They read about it in "Variety" the day after it was announced, instead of hearing from FOX first. Dean also shared details about a few Lone Gunmen related projects he's working on, including a graphic novel. He says to stay tuned to DeanHaglund.com for more details about those soon. Next was Brian Huskey sharing laughs and thoughts about "The Lost Art of Forehead Sweat."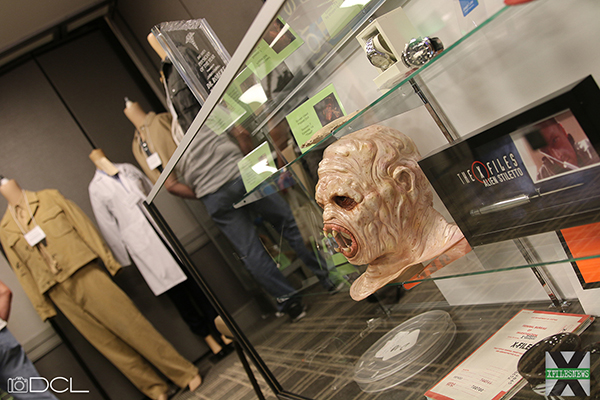 Sunday was a day for more panels, photos, and last minute autographs. But one stop not to be missed was a display from The X-Files Preservation Collection. Jim and Kelly packed up part of their extensive collection of props, wardrobe, and other memorabilia and drove it to the convention. Some of our favorite items were the burned doll from "Chinga," the alien stiletto, and the pinball machine. Check out our walk-through of the collection and then watch Jim and Kelly share their thoughts about why they're inspired to preserve this important X-Files history.
The first panel of the day was hosted by Frank Spotnitz, who put some of us from XFN in the hot seat. Myself, Avi Quijada, Roi Ollson, and Ky Johnson looked back on our history with X-Files News, now that we've ended the site. It was emotional and funny and I find I can't really write about it without getting teary so I'll just say watch it here. And we thank you all for your support.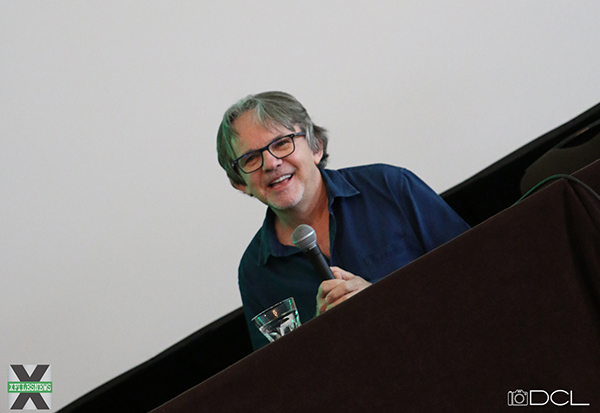 Next we turned the tables and it was Avi's turn to grill her boss. Frank Spotnitz was an executive producer, writer, and director on The X-Files, but before he got into television he worked as a reporter for 7 years. He first met Chris Carter at a book club in Los Angeles and told the story about how he almost missed his opportunity to pitch stories to Chris. "Memento Mori" is a fan favorite episode and Scully's cancer arc is one of the most devastating of the series. But that almost didn't happen. Frank shared that he, John Shiban, and Vince Gilligan only had 3 days to come up with a script after Darin Morgan was unable to complete his. Having previously been told "no" to a cancer arc, Frank realized his opportunity and said "that's it, Scully's getting cancer."
Frank's presence was noticeably missed during the Revival seasons and a few fans asked his thoughts on how Mulder and Scully's story turned out. Frank said he was surprised at William's outcome because that was not something he'd ever planned, but that he does still believe Mulder is William's father. He also said that he thinks The X-Files is a perfect vehicle for talking about what is going on in today's culture, and if he were writing them now he'd want to write about nationalism, chaos, and darkness, among other things. Frank has always been the one to tell us "Don't Give Up" and he remains hopeful we haven't seen the end of Mulder and Scully. He shared this lovely moment about focusing on the emotional depth and meaning of their journey. Frank covered a lot more in his hour, so just do yourself a favor and watch the entire panel.
Rounding out the day were some of the fierce women who surround the show. Amy Imhoff and Roi Ollson lead a spirited discussion about the Scully Effect and how Dana Scully changed the lives of many in our fandom. Amy is a tech writer who is writing a book on Scully and her impact, and Roi is a scientist who is studying to become a veterinarian.
X-Files Science Adviser Dr. Anne Simon also spoke and shared the story of how she was first introduced to the show. She joked that when she first watched The X-Files she was checking to see how badly they portrayed the science. It wasn't until later she realized the show was run by a family friend, "Dori's Chris," as they call Chris Carter. Chris' wife Dori is the best friend of Anne's mother. Anne recapped how she came up with the science behind "The Erlenmeyer Flask" and how CRISPR shaped the story of "My Struggle II."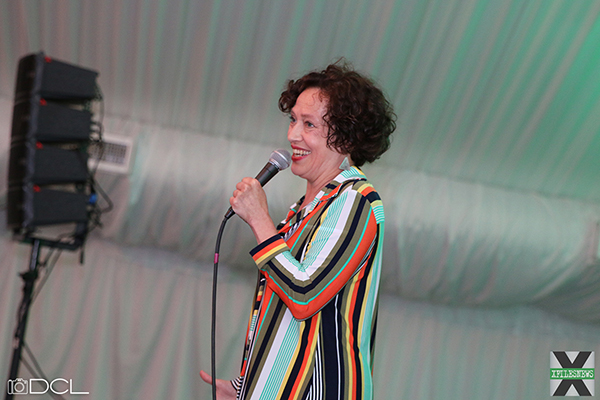 Wrapping up the night was a screening of "Plus One" with Karin Konoval. Before the screening got underway, Karin explained her process of how she created the different characters of Chucky and Judy Poundstone, and their good and evil sides. As she explained, Chucky and Judy appeared before our eyes. It's masterful to watch, so I'll stop talking and let Karin show you.
As the weekend ended and Philes departed, we kept hearing over and over how much everyone had enjoyed X-Fest. Conventions can be challenging and sometimes overwhelming, but the atmosphere sets X-Fest apart. After attending two, it's clear to me that the event is welcoming and the fans in attendance seem to work hard to make it a respectful, thoughtful weekend with good conversation and acceptance.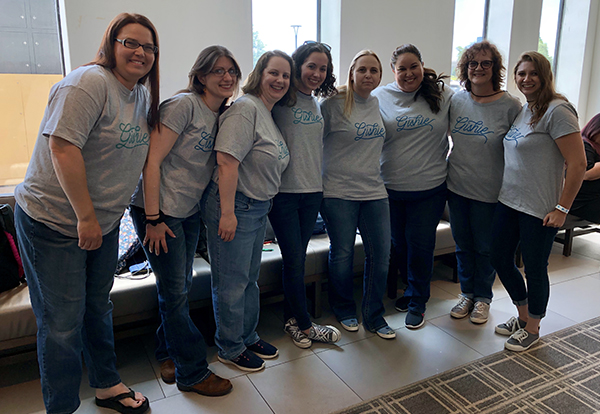 With all of that said, you may be wondering, will there be an X-Fest 3? We talked to Jay Repsel, one of the creators of the event, who said yes. There will be an X-Fest 3 and it's a matter of "when" and not "if." He says not only did 75% of you who attended last year come back, but there were many brand new attendees. And to all of you who were there, Jay says this: "I just want to thank everyone who made this such and amazing experience. I was a bit worried that moving the show would cause it to lose a bit of it's underground, smaller show vibe. The exact opposite happened. When the show closed on Sunday I had an overwhelming feeling of disappointment that the show was over so soon. The weekend flew by, and I miss my X-Files family already. This weekend legitimately felt cathartic to me, and it was almost as if something new was created for this fandom, our fandom, to sink our teeth in to. I hope everyone felt the same way."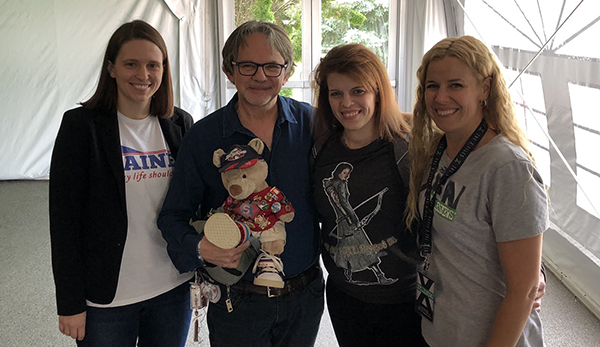 We were happy to bring you coverage of such an awesome event. But as we talked about in January, this was our final convention. It's been an amazing ride but we're looking forward to sitting in the audience with you instead of being behind a camera. Before we go, we owe thanks to a few more people.
XFN would like to thank Frank Spotnitz for his thoughtful panel questions but more importantly for all his support through the years. Thank you to everyone who came to our panel on Sunday, and who stopped to chat. We would also like to thank Dayna Loder for her amazing photography and Erica Fraga for her production assistance. No one gets there alone and we're grateful to everyone who made our final assignment such a blast.