"There has to be an end, Scully." When Mulder whispered that to Scully in "Requiem" back in 2000, our hearts nearly pounded out of our chests. These two people we'd come to love were at a crossroads, the future of their work uncertain. As the episode continues he says "It has to end sometime. That time is now." with certainty and devotion and a little fear in his voice. Well, today I know how he feels, if you'll pardon the sentimentality. Because that "sometime" has come for us here at XFN as well.
This will likely be our last post on XFilesNews. After 11 years, a feature film, two revival seasons, conventions, fan campaigns, contests, and more articles than we can mention, it's time for us to say goodbye. We announced back in May that we would be stepping back at the end of the year, and now that 2018 has come to a close we're ready to make that happen.

Going forward, this site will remain as an archive of all the work this fandom has done to keep The X-Files alive, and of the success you had in convincing the powers-that-be that there was still a need for more Mulder and Scully. We will retain the XFilesNews name and will maintain the site as long as we can keep up the server costs, which our TeePublic store will remain open to help support. We will stay somewhat active on Twitter,  Facebook, and Instagram, but our Tumblr will stop publishing after today as well. Our goal on social media for now will be to continue to boost the efforts of fan groups on things like charity drives and podcasts. But our days of contests, convention coverage, and fan campaigns are mostly done. We will provide coverage of X-Fest 2 in Illinois in June, as we want to honor that commitment we made last year. We also hope to have one more product review that we promised before the end of January but the timing on that is still uncertain.

It was an honor to bring you the news over the years, and to help tell the story of this fandom. Every interview we did and every press pass we got was all to share that information with you, and in return to tell the creators of this show how much their work meant to the fans. It's been a labor of love since 2007 and everyone who worked for XFN was a volunteer. We're so proud to have been a part of this fandom's story and we appreciate all the support and feedback you've given. We hope you've enjoyed being a part of our family. And we look forward to being there with you at events in the future, but like Avi said back in May, this time we'll be sitting right next to you as fellow fans instead of journalists.

Before we go, we wanted to take a look back through our family album at some of our favorite pieces of coverage over the years and we hope you'll page through with us and remember how far we've come together. Head to memory lane after the jump.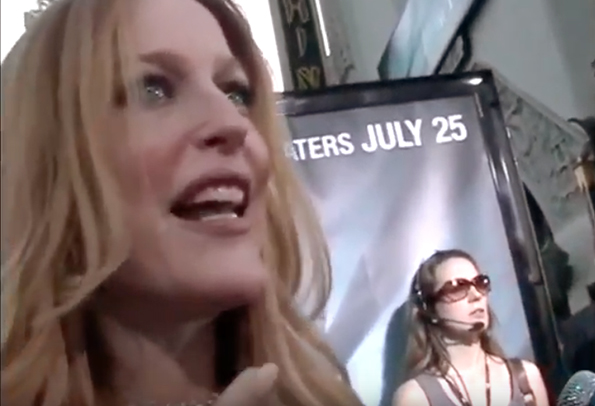 XFN launched on October 31st, 2007, to provide a community for the fandom and to help promote the upcoming release of The X-Files - I Want to Believe. One of the first events we covered was WonderCon in March, 2008, where 5,000 very excited Philes got the first hint of what was to come in IWTB. We continued with IWTB promotion through the year and were ecstatic to bring you coverage from the red carpet of the premiere in Los Angeles on July 23rd, 2008. Most of our red carpet footage was lost to the ages but what we were able to save has started to feel like a time capsule. See what David Duchovny, Gillian Anderson, Mark Snow, and Frank Spotnitz had to say that exciting day. 

IWTB sparked a new era of growth in the fandom and we wanted to bring Philes together from all around the world to say thank you to everyone involved in creating The X-Files. Fans from 26 countries created "Place," where we explained what makes our fandom so special. Because where we are from, it's always 10:13! "Place" debuted at an IBG charity event with Frank Spotnitz and was the first of many fan videos over the years. 

2009 saw the birth of "Frankenbear" whose world-wide tour raised money for the UCLA Rape Treatment Center. Frankenbear now lives with Frank Spotnitz in France but his earlier exploits were legend as his Facebook page shows. 2009 also saw the launch of the XF3 Army and the "Believe in the Future" campaign, our official action to call for a third X-Files film. And when we asked Philes to join us, boy did you respond. To show FOX how much we still loved these characters you bought out the stock of I Want to Believe DVDs on Amazon three different times and the ranking of the film jumped from 5,000 to 704. An Amazon executive told XFN that such a jump like that had never happened before. You created postcards and fan videos that XFN delivered to executives at FOX, along with "green light" M&M's.
Throughout 2010 and 2011 you kept that campaign going by creating XF3 trailers and posters. Some of those trailers still live on our YouTube channel and show just how creative this fandom is. You joined us in 10,013 Photos for a Green Light and sent thousands of photos of your fan experiences which we presented to FOX as a sign of your enthusiasm. We came together for an LAX-Files event to raise money for the American Cancer Society in honor of Kim Manners and laughed our butts off in Beverly Hills as Gillian Anderson and David Duchovny interviewed each other at the conversation event. 

In the fall of 2011 The X-Files turned 18 and we launched the first of our #XF3 Tweet-a-Thons. By 2014, the XF3 Army would trend hashtags on Twitter on 16 different occasions. As the deadline for the 2012 alien invasion came and went, Philes didn't give up hope of seeing our heroes again. You once again pulled out all the stops and joined in our parody video "Greenlight Baby" where we said "we need a third film, and don't mean maybe!" 

2013 sure felt like a turning point in the fandom. Not only were fans celebrating the 20th anniversary of The X-Files, but it felt like the whole world was. A new comic series from IDW was launched. There was the amazing panel at San Diego Comic Con.  On the show's 20th birthday on September 10th, 2013, members of the cast and crew shared letters with the fandom about what the show mean to them in our #XFTurns20 campaign. Take a minute to read thoughts from Gillian Anderson, Sheila Larken, Annabeth Gish, and more here.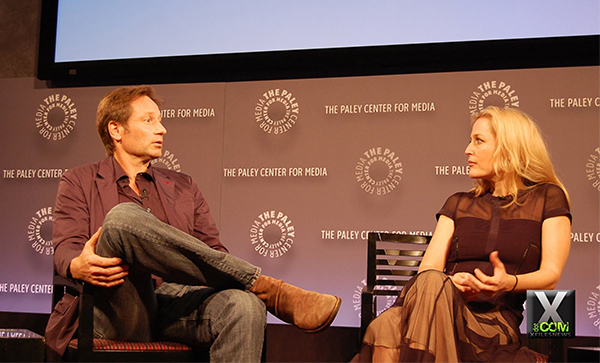 In October 2013, we had a 1013 weekend to remember. At the Paley Center event XFN was there to witness one of the most heartfelt conversations about the show we've ever had with Gillian Anderson and David Duchovny. Sure, we laughed about "what the fuck is magnetite," but we'd venture there may have been a tear or two shed over the conversations about the "Post-Modern Prometheus" dance scene and David's thoughts on the filming of "The Unnatural" and the work Gillian did in it. Then we moved on to NYCC and the panel where the crowd sang "Happy Birthday" to Chris Carter at David's request and two Philes got engaged with the blessings of our favorite TV couple.

All through 2014 rumors ran rampant that The X-Files would finally return, but to our TV screens instead of the big screen. We talked to Gillian Anderson at NYCC again in October about her recent projects as well as X-Files. And then...we come to 2015. Oh 2015….as Managing Editor Roi Ollson called it, "The Year of the Phile."  On January 15, 2015, news broke that FOX was officially in talks with Chris Carter, Gillian Anderson, and David Duchovny to bring the show back to TV for a short run. We waited on pins and needles with you until March 24th, when we got that official green light announcement you all fought so hard for. The X-Files Revival was actually going to happen, thanks to this amazing fandom.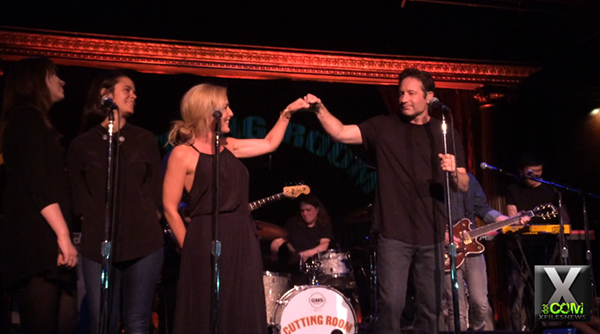 While we waited for the premiere of the six-episode Season 10 we found so many ways to keep ourselves occupied. Top Ten Lists. The X-Philes Talk X-Files Podcast. David and Gillian's infamous "Cutting Room" appearance. And starting in July you joined us for the Global X-Files Rewatch where we watched the entire series and both films, one per day, until the new season premiered in 2016. You had us laughing and crying with your tweets, which will live on in our "Best Tweets" collection. 
Then in October we got our first look at the season premiere at NYCC. Thousands of lucky fans joined us for the screening and then we hit the press room to hear from David Duchovny, Mitch Pileggi, and Chris Carter. We died a little when "The X-Files Reopened" special dropped on Christmas Day, which in turn inspired the #PlatonicActivity hashtag on Twitter as we debated about what was to come.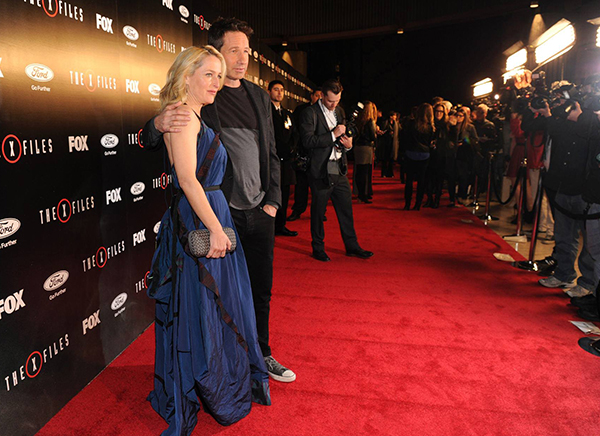 Then finally 2016 arrived and the wait was over. We walked the red carpet at the official premiere for "My Struggle" and interviewed members of the cast. We died laughing when David and Gillian appeared on Jimmy Kimmel. And when the big day finally arrived on January 24th, 2016, you blew the roof off expectations with amazing ratings. We rode the rollercoaster that was Season 10 and in a few short weeks it was over. With so many questions after the cliffhanger in "My Struggle II" we went back to the source to see if we could get some answers. Chris Carter was his usual enigmatic self but gave us hope we'd see our heroes again for Season 11.

So what's a fandom to do while we wait, yet again? You helped us thank the cast and crew for Season 10. You shared amazing fan art and wrote amazing fan fiction. You sent William the Rabbit on an adventure around the world. You cheered David Duchovny on as he got his star on the Hollywood Walk of Fame. 2016 rolled into 2017 and then finally, on April 20th, 2017, we got a the news we'd waited over a year for. Season 11 was a go! And this time we were getting 10 episodes.

Shooting got underway in Vancouver in late summer and the stars kept us hanging with sneak peeks from behind the scenes on social media. At the end of September we all freaked out when the image of Scully in a hospital bed appeared in Entertainment Weekly. Then at NYCC on October 8, 2017, Chris Carter, Gillian Anderson, David Duchovny, and Mitch Pileggi took time out of their shooting schedule to destroy us with a peek at the upcoming season. Between the teaser trailer, the hilarious panel, and the press room interviews, we had a lot to digest about what was to come in Season 11. As we waited for the January 3rd premiere date pumpkins were carved, fan videos were created, and every single promo shared was picked apart and analyzed for clues. Fans submitted their thoughts on what they hoped to see in Season 11, which we shared in a video as 2017 came to a close.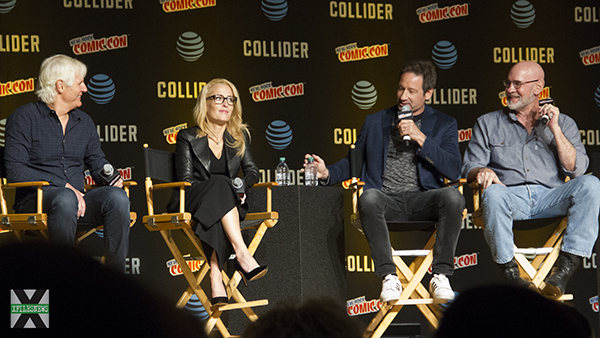 2018 came in like a whirlwind. "My Struggle III" premiered on January 3rd and stirred up a lot of controversy. Keen-eared fans caught something at the end of the episode which turned out to be a hidden message of thanks from Chris Carter. Philes from around the world turned out a few days later for Gillian Anderson's Walk of Fame star ceremony. And we all paused for a minute when Gillian confirmed, again, at the FOX TCA that she was done playing Scully. We're a fandom that doesn't give up, but it was also becoming clear that this time we were truly at the end of an era. 

As the season aired we had the honor of interviewing many of the cast and crew like Karin Konoval, Mitch Pileggi, Gabe Rotter, Benjamin Van Allen, Dean Haglund, Kristen Cloke Morgan, Shannon Hamblin, and Karen Nielsen. We went to X-Fest in Illinois and loved meeting many fellow Philes at the biggest gathering of X-Files cast members ever.  And then just like that, 10 episodes had passed, "My Struggle IV" ended with what David Duchovny called the "cliffiest of all hangers" and it was time to say good-bye again. Avi Quijada had a lengthy interview with Chris Carter that provoked a pointed discussion between fans who enjoyed the season finale and others that really didn't. 

By May, FOX had announced that there were no plans for more X-Files, and though we were sad to see that this chapter was likely closed for good we wanted one last chance to debate the series with all of you. Some members of XFN held a panel at SDCC in July where we talked about the cliffhanger and how the fandom will always keep the story of Mulder and Scully moving forward. 


How do you say good-bye to something you have loved for 25 years? How can you possibly thank the people whose creation has brought so much joy to your life? While we weren't sure how, we wanted to try. On September 10th, 2018, we threw a day-long 25th Anniversary party. We shared memories on Twitter, rewatched the Pilot, heard from the cast and crew, but most importantly we heard from you. Over the summer we had asked you to submit your memories of the show and as always Philes stepped up. Your beautiful thoughts, memories, artwork, photos, and heartfelt thanks became our documentary: 25 Years of X-Philes: A Tribute to the Cast, Crew, and Fans of The X-Files. Even though we might not ever see Mulder and Scully on screen again, this fandom has proven time and again that their story will never really die.
Before we go, some XFN staffers through the years wanted to share their thanks.

When I came to XFN in 2007, I had no idea the trajectory my life was about to take. The obvious highlights were getting the opportunity to interview the cast and crew and spread the love for all things The X-Files, but what I didn't realize, what I had no idea at the time, was that XFN would fundamentally change my life and bring me the most amazing friendships with incredibly talented, driven, and beautiful humans from around the world. What I found in XFN was a family; one of our own making, and it has been the greatest privilege to work and play with these beautiful souls. I am a better person for having known them, and a better person for having the opportunity to meet so many fans from all over the world. You have all laughed with us, cried with us, supported us, and been a part of our global family and it has been magic. This fandom is forever proof that no one gets there alone. Thank you to our followers and to my fellow XFNers for being my touchstones. I will forever be grateful for the impact you have made on my life and I will pay it forward as I move on into the next chapter. Much love to you all, always.

What can I say about XFN? The X-Files was the first fandom I ever joined and XFN received me with open arms. I have been with XFN for almost 11 years now and I feel like part of a family the same way today as I did those 11 years ago. I didn't know what fandom was when I joined. I just stumbled upon XFN when I needed someone who shared the same excitement about a tv show as I did when all my friends thought it was weird and funny to be so excited about something on tv. Specially a sci-fi show. No one can truly understand how amazing it is to spend hours on Skype talking about the silliest things you could ever imagine unless you were a part of it. I was lucky enough to join this fandom at the best time ever. We all just came together because we felt that need.

I can truly say XFN is the longest job I've ever had. I have never worked with a better group of people who are extremely professional about something as simple as a volunteer job. I have participated in so many campaigns and projects that have helped me grown and helped me become a better professional in my own career path. I will forever be in debt to XFN for that. It is so sad that we must now come to an end after so many years of so much great work. But like everyone says, all great things must end. Some of the most amazing memories I have are XFN memories, whether it was working at a Comic-Con or just spending hours on Skype saying Lamp-Palm back and forth to each other on a group chat window.

These people will forever hold a piece in my heart and I am so grateful that I met each and every one of them. Some of the best friends I have in life came from XFN. We are truly a family and we will be one for the rest of our lives no matter where we are. We have laughed and we have cried together. I will cherish these memories forever and I will always look up in the sky with wonder and thirst for knowledge because a fandom taught me to.
What can I say about this group of ladies that isn't already known? I've known XFN and most of its inhabitants for maybe over a decade now, being unofficially included in a lot of their antics over the years. And I've officially been a part of the team for 3 or so years. These ladies are ride or die and I think I knew that the moment I joined my first Skype call with them. RIP Skype Philes.
This show changed my entire life. I was late to the game, only discovering it years after it was off the air, but I was welcomed with open arms. In 2011, I attended the IBG Event and finally met some of XFN in person for the very first time. After the event, I joined them along with a few Phile friends for dinner, cultivating myself some lifelong friendships. Never forget that Cheesecake Factory bathroom... Hahaha.

A lot of my favorite memories involving XFN are moments that probably shouldn't be discussed in such a professional forum, haha! But there are so, so many. Being a part of the team during such a big moment for this fandom meant everything. Hosting episode rewatches and creating all the gifs for XFN's Tumblr. All the late, late nights leading up to the revival's premiere. Just being a part of something big like that. Including the stress and everything that came with it. That is one of my favorite memories.

Because of these ladies, my video editing has excelled exponentially over the years. They never stopped annoying me to finish a fan video, never stopped fangirling over any of my fan art. I'll never forget the night I posted a new fan video, before leaving for California for the IBG Event, Tiff and company sent it to Frank and he ended up posting it on his blog. I was so happy. Then, when attending the event a few days later, I had people to gravitate towards. I wasn't a stranger in the room and crazily enough, people actually recognized me from my fan videos. XFN and all their support for my craft over the years did that for me and that is pretty dang cool. Nowadays, I do more editing as my job, rather than a hobby, but I can look back on that time and think fondly of SexyCheeseNipNinja and what it used to be.
Having these ladies in my corner means everything. Over the years I've endured a lot. I still endure a lot. Never once has their support faltered and being scattered all across the world, all of us having crazy sleeping schedules, support is literally 24/7. So yeah, not only is the crew of XFN dedicated to the show, the fandom and everything it entails... they care about you individually. XFN encompasses perseverance, integrity, grace and intelligence. Its crew always looking out for and guiding the fandom.

Thank you Avi, Keva, Roi, Ky, Sophie, Tricia, Tiff, Lauren and everyone who has come and gone on the XFN team for setting an example for this fandom.  Thank you Avi, our backbone, for everything you have done for this fandom and this wayward crew of fan girls. Thank you for all your dedication. And thank you for always caring about me and the complete mess that I am. I'm so glad you're in my life.  I'm so glad all of you are in my life and in this fandom. We were all a part of a great legacy here. Thank you X-Philes, for you love and support for XFN over the years. Thank you X-Files. Thank you XFN for adopting me into your family all those years ago!

Also, let us not forget the time David Duchovny asked Roileigh if she was my mom. Because I sure won't. Haha! Thanks for being the reason I have the best photo ever with David, Roi!
An Apollo keychain and XFN taught me the same thing, and although I first heard the phrase from the former, it wasn't until the latter that I put it into practice: what can be imagined can be achieved, we must dare to dream, blah blah blah no one gets there alone. I remember being a twelve year old warrior knocking on puberty's door, living and breathing X-Files and having absolutely no one to talk to about it. I don't even want to admit how much Mulder and Scully consumed my thoughts. It was absurd, weird, and lonely.
But when the second movie was announced, I stumbled upon this ragtag group of ladies that was just as weird and obsessed and EXCITED as I was! We made up 9 minute songs, wrote sleep-med-induced emails to Frank Spotnitz, met up in person at the premiere in LA (and then literally shared beds and hotels with these fantastic women that night), traveled to Washington DC just to nerd out together with the backdrop of Mulder and Scully's stomping grounds, went to Comic Cons and Fests, took a road trip to Vancouver with my partner in crime for life, Roileigh, AND explained to David and Gillian that Mulder and Scully totally gave each other cylindrical sex toys and porn for presents in How the Ghosts Stole Christmas… it would not have been possible if not for XFN. I went from a lonely nerd to making lifelong friendships with people just as obsessed as me. Thank you so, so much. ROCK FROM MARS! 

When I began at XFN I was just a wandering fangirl, flitting from site to site, looking for my people. Avi stalked me, insinuated herself into my online life, and eventually demanded I write her an article. Just one. For fun. No pressure. It turned into a second job. I couldn't be more grateful.

Working for XFN has been a labor of love. There's no pay, but the rewards are plenty. In the eight or so years I've been a part of the team, I've gained so much: Teamwork, camaraderie, a chance to meet my teenage idols, and some of the best friends a girl could ask for.

We came from all different walks of life and bonded over our love of two dorks who couldn't get their shiz together long enough to invest in some form of birth control, (Once is an accident, twice is a pattern, guys.) let alone save the world from an alien invasion. But boy did we love watching them try.

Some of us are still just as big a fan as we were when we started, others twitch a little at just the mention of Chris Carter, but no matter our feelings about where Mulder and Scully's path led, how the series ended, and where it should go from here, the family we created beyond fandom remains strong. To everyone and everything that went into making The X-Files return, I owe you a debt of gratitude. You've improved me as a writer, you've opened a world of possibilities I'd never even considered, you've held me up and encouraged me along, and you've been there for all kinds of firsts and a multitude of finales.

Time passes in moments... moments which, rushing past define the path of a life just as surely as they lead towards its end.  If I could stop, to pause and take stock of each precious moment... I'd choose the same path.
I cannot thank this fandom enough for everything you've given me over the years. For the friendships, the heated debates, and the endless laughter. I'll never forget the endless XF3 Tweet-a-thons, the night of #ScullysHorribleLife, and the sheer joy when we'd finally accomplished our green light goal. It was a privilege to cover Cons and Star Ceremonies and everything in between for you all. Thank you to all the fan authors who have shared your talents with us over the years. And I don't know that I've ever cried so much while working on a project as I did putting together our last fandom documentary. You all made me so proud to be a Phile.  Thank you for giving us the chance to tell your story. Thank you to everyone who followed along, who tweeted, who gave feedback, who said hi at a convention. Thank you Dana Scully for putting me on this path all those years ago.
To my XFN sisters….where do I even begin? It's been an absolute joy being with you these last four years. Avi, thank you for giving me a shot...we'll always have Vancouver, and likely the bruises from the screeners too...  Thank you to this team of amazing women for becoming my extended family and for always having my back. I owe you everything and you owe me nothing. I don't know that I'll ever quite be ready to say good bye to this amazing thing we've built, but I'm so thankful to have shared this journey with you. You've changed my life for the better, and I'll be over here waiting for the Philemune. Anyone for a rewatch? ;)
It is incredible to think that XFN has been a decade of my life. While I discovered
The X-Files
later than most, it still came into my life at the perfect time. What's a better distraction from the perils of high school than intense philosophical debate over whether or not Scully secretly mouthed "it's yours" to Mulder in Season 8? Nothing. Who could have been a better role model to a young girl who liked science than Dana Scully? No one.
In my time with XFN, I've taken tens of thousands of photos, written hundreds of articles, covered dozens of events, conducted more interviews than I remember, saw The X-Files return twice, and took one incredible road trip to Vancouver. None of this ever would have happened though if one Spring day in 2009, Avi hadn't persuaded me to come write for XFN. The rest is history.
The XFN Team saw me through the end of high school, all of college, and now graduate school. I have no idea where I'd be right now if XFN hadn't taken me on this crazy, ridiculous, stressful, and exciting journey, but probably not in school because you guys proofread all of my admissions essays. I've traveled all over the country and even the world as part of XFN. The skills I've learned working with all of you will stay with me forever, but hopefully not my stomach ulcer that I've named after Chris Carter. Carl needs to go.
I hope one day in the future we're all relaxing on the beach at the Philemune reminiscing about all the amazing things we did way back when. Like the 8 page paper Jessa and I wrote on how Mulder and Scully got back from Antarctica. Or the time I made Gillian Anderson 17 different gifs of her hitting a tambourine. That afternoon when Avi almost ran over Frank Spotnitz with her car. Or the time we walked the red carpet at the premiere after talking about it for 8 long years. The conventions. The Skype Philes. The long nights. Frankenbear and CarterFox. And all the Philes we met all over the world.

Nothing Lasts Forever, but what a ride it has been. Thank you to everyone who came along—at XFN, on Twitter, Facebook, wherever you joined us—it wouldn't have been the same without you.
It seems almost surreal to say that I've been part of XFN now for almost 12 years. That is, by all means, a third of the time I've been present on this planet. Half of the time I've been a fan of The X-Files. The entirety of my actual, practical, away from my parents - take care of your bills - try to be a grown-up, independent adulthood.  Saying that these years were easy as a breeze would be a disservice to the amount of sacrifice put behind this project, but what made it easy was the company. What made me choose XFN over any other endeavor was the fact that we built a family in between sleepless nights, the dread of hacked websites, of deadlines, of countless hours trying to figure out what our purpose was.
It was all worth it, for me… but I always worried that I had chosen a path full of windmills and what about the group of unicorns that chose to come with me?
Being the one expected to have answers along the way made me grow up really fast. Being the one to set the example, made me want to never fail… all the while, inadvertently, challenging everyone around me to reach for their own unspoken goals and undiscovered paths. So I could then go and accompany them in their own crazy pursuits.  
Even when so many people found no importance in our cause, we learned as we went that we were indeed not only finding ourselves while in the company of supporting individuals, but also learned the definitions - the true ones - for words like bravery, selflessness, resilience, kindness, generosity, honesty, tenacity, care and love. I wanted to believe that the more we stood up for being good examples, the more that others would want to chase their own windmills with their own fable creatures. It may sound grandiose, but in the world where we were just there waiting for others to create something we could enjoy, it sounded like a good task to be able to create real things… and what's more real than the world around us?
For many, this site might be just a news site, the place they found the pictures of conventions they couldn't go to, reviews and listicles that brought amusement, and then we're also the hub where many found their best friend, their partner, their next passion, their kin. For the people on production companies, studios, and so many other places and entities, we went from "those people that won't stop emailing…" to "the people that we like having conversations with and partner together."
We saw evolution and triumphs we never expected and didn't realize we had been dreaming of; we saw each other blossom. We worked in the generality of nurturing this brain child, and in the minutia of caring for every limb of this operation. Because at some point we understood that we are nothing without the other… and that after everything is said and done, a show may come and go, a server may crash, a website could break, but we found human capital in ourselves and in everyone that opened their hearts to us. We may not have been completely successful at everything, every time… but damn, did we try.
Looking back, we once worried on how to solve the formula to get a movie greenlit, a show brought back, and in the way, we probably cracked other mysteries that will stand tall alongside the joy, growth and ambition that this series and these epic characters brought us.
I hope that everyone, at some point in their lives, finds a group like this for themselves.
Thank you to our XFN alumni:  
Tiffany Devol, 
Garrett Devol, Patricia Silva, Laura Dandar, Emily Galleazzi, Matthew Nygren, Jeremy Schoff, Sarken, Moxed, Nicole Hockenbury, Lisa Angelo, and Holly Simon.
We sign off with love and gratitude, your XFilesNews Team,
Sophie Brown - Staff Writer, Lauren Denney - Staff Writer, Jessa Schlitt - Staff Writer, Lauralea Sharra - Social Media Editor, Ky Johnson - Features Editor, Roi Ollson - Managing Editor, Keva Andersen - Deputy Editor-in-Chief, and Avi Quijada - Editor-in-Chief.