Details

Written by:

Keva Andersen | Deputy Editor-in-Chief

Category: Latest News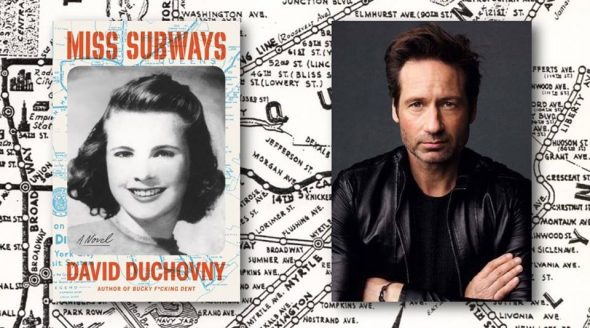 David Duchovny is kicking off a busy week of promotions for his new novel "Miss Subways," which comes out on Tuesday, May 1. "Miss Subways" is the story of Emer, who lives in New York City. She's described as "just a woman living in New York City who takes the subway, buys ice cream from the bodega on the corner, has writerly aspirations, and lives with her boyfriend, Con. But is this life she lives the only path she's on?" The story is inspired by the Irish myth of Emer and Cuchulain. 
David's press tour started Monday with an appearance on "Live with Kelly and Ryan." He also took questions during a live book signing on YouTube. You can get a signed copy of the book from that event here. David's next TV appearance will be Monday night on "The Late Show with Stephen Colbert" at 11:35 pm ET on CBS. He will also be on "The Late Late Show with James Corden" on Thursday, May 3, at 12:35 am. 
Details

Written by:

Keva Andersen | Deputy Editor-in-Chief

Category: Latest News

The X-Files could add more awards to its long list of accolades. The Saturn Awards released their nominations for their 44th annual ceremony and Season 11 made the list. The X-Files was nominated for Best Sci-Fi series. It has some tough competition in the category and is up against The 100, Colony, Doctor Who, The Expanse, The Orville, and Salvation. Gillian Anderson also received a nomination for Best Actress on a Television Series. 
Other projects involving X-Files alumni received nominations as well. Vince Gilligan's Better Call Saul was nominated for Best Action/Thriller Series on Television. American Gods, which Gillian Anderson guest starred on, received a nomination for Best Fantasy Television Series, and Twin Peaks: The Return, was nominated for Best Television Presentation. David Duchovny returned to his role as Denise Bryson on that series when it aired last summer.
The Saturn Awards honor outstanding work in the genres of science fiction, horror, and fantasy. The ceremony will be held in June but a date has not been set yet, so check back for updates. Check out the full list of nominees here.