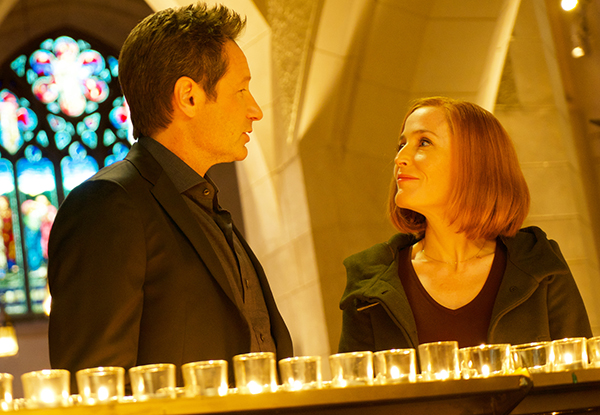 According to FOX, the door of Mulder and Scully's basement office is staying closed. FOX television CEO and chairman Gary Newman told reporters "there are no plans to do another season (of X-Files) at the moment," despite it being a "great show for the network." After the Season 11 finale, XFN asked Chris Carter about another season and at the time he told us "never say never." But with no plans from the network, and continued confirmation from Gillian Anderson that she's hanging up Scully's hat, it may be time to truly put a dimmer on that afterglow. 
TVLine's Michael Ausiello characterized the news of Season 12 as "following Gillian Anderson exit," to which Gillian responded on Twitter, "Well Michael, the truth is...after exit of 77% of viewership." And the numbers appear to agree with her. Curiosity was huge when Season 10 kicked off on January 24th, 2016, and a whopping 16.19 million viewers tuned in for "My Struggle." That grew to 21.4 million with DVR and streaming taken into account. Those high numbers were also due in part to the "football bump" of the NFC championship that aired directly before. A better comparison may be the ratings for "Founder's Mutation," the season's second episode, which drew 9.69 million viewers. But that high wasn't maintained. Season 10 ended with "My Struggle II," which was watched by 7.6 million viewers. Excitement was high for Season 11 in the fandom but the show premiered with only 5.2 million viewers and was third place in the time slot. After "My Struggle III," numbers fell again and never went above the 3.95 million that tuned in for "This" and "Plus One." The season ended with 3.43 million viewers watching "My Struggle IV." All of this is to say that in an industry where numbers matter, today's announcement shouldn't come as a huge surprise even if fans are disappointed. 
Gillian Anderson said way back in October that she was ready to be done playing Dana Scully, which she confirmed at January's TCA. She said "It's just that, you know, there's lots of things that I want to do in my life and in my career," she explained. "It's been an extraordinary opportunity and an extraordinary character, and I am hugely grateful. But there are lots of other stuff I want to do, and I don't really want to be tied down to months and months of doing any particular one thing that I feel like I've done. That's why." Even after making the decision to end her time as Scully, Gillian shared behind-the-scenes photos and stories, and participated in live Tweets as the episodes aired. Both David Duchovny and Chris Carter had indicated they would be interested in more X-Files possibly without Gillian and Scully, but for now we think it's safe to say that's not in the cards.
So where do fans go from here? Perhaps we take the advice of Darin Morgan's "The Lost Art of Forehead Sweat" and remember how good it all was.