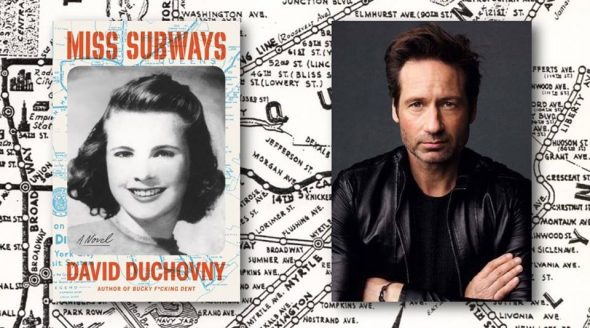 David Duchovny is kicking off a busy week of promotions for his new novel "Miss Subways," which comes out on Tuesday, May 1. "Miss Subways" is the story of Emer, who lives in New York City. She's described as "just a woman living in New York City who takes the subway, buys ice cream from the bodega on the corner, has writerly aspirations, and lives with her boyfriend, Con. But is this life she lives the only path she's on?" The story is inspired by the Irish myth of Emer and Cuchulain. 
David's press tour started Monday with an appearance on "Live with Kelly and Ryan." He also took questions during a live book signing on YouTube. You can get a signed copy of the book from that event here. David's next TV appearance will be Monday night on "The Late Show with Stephen Colbert" at 11:35 pm ET on CBS. He will also be on "The Late Late Show with James Corden" on Thursday, May 3, at 12:35 am. 
You also have the chance to catch David doing in-person book readings at events in the following cities:
May 1st: Union Square Barnes and Noble, New York City. 7:00 pm.
May 2nd: Harvard Books, Cambridge, MA. 4:00 pm.
May 4th: The Grove Barnes and Noble, Los Angeles, CA.  7:00 pm. Chris Carter will also be in attendance at this event.
May 7th: Books Inc. Opera Plaza, San Francisco, CA. 7:00 pm.