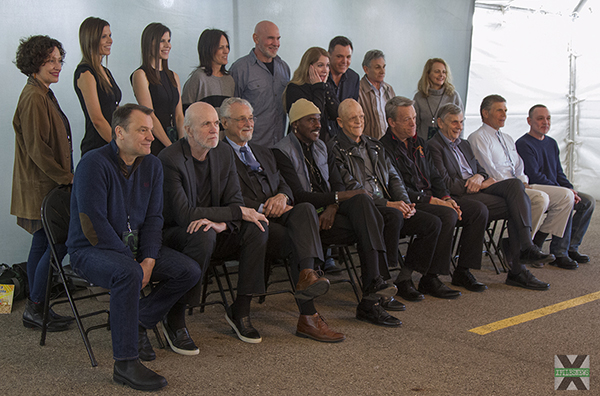 X-Philes from all over the world descended on La Salle, Illinois, on March 3rd for X-Fest, a celebration in honor of 25 years of The X-Files. The small venue outside Chicago hosted one of the largest gatherings of X-Files actors since the Expos we remember from the 90s.
Fans had a chance to meet with Karin Konoval (Ma Peacock, Judy & Chuck Poundstone), Erika and Sabrina Krievins (Eves), Annabeth Gish, Mitch Pileggi, Nicholas Lea, Steve Railsback (Duane Barry), Megan Leitch (Samantha Mulder), Robert Wisden (John Patrick Modell), Tom Noonan (John Lee Roche), Jerry Hardin (Deep Throat), Steven Williams (X), Michael Berryman (Owen Lee Jarvis), Brian Thompson (Alien Bounty Hunter), William B. Davis, Nick Chinlund (Donnie Pfaster), and Doug Hutchinson (Eugene Victor Tooms). 
In addition to the usual photo ops and autograph sessions, five different panels gave fans a chance to hear stories and memories from the actors who brought some of our favorite characters to life. Starting the afternoon was the "Monsters of the Week" panel with Steve Railsback, Nick Chinlund, Tom Noonan, and Robert Wisden. Though he's famous for playing one of the creepiest characters in XF history, Chinlund kept the audience laughing. He shared a story about how he and David Duchovny knew each other as kids in school. And I'm sure you can guess what Wisden's, aka Pusher's, answer was when a fan asked him what his favorite color is.
Next Sabrina and Erika Krievins took the stage. They played Teena Simmons and Cindy Reardon, two of the "Eves" in Season 1's "Eve." They've both moved on from acting but shared stories about their time on the X-Files set and how they dealt with fame at the young age. Three other panels featured Bounty Hunter Brian Thompson, Jerry Hardin and Steven Williams as Mulder's informants, and "series regulars" Mitch Pileggi, William B. Davis, and Annabeth Gish. Check out our video coverage of the panels here.
The day ended with two episode screenings. Doug Hutchinson hosted a viewing of "Squeeze," followed by "Home" with Karin Konoval. Both actors took questions from the audience and shared their experiences of making the episodes.
If you've ever been to a larger event like San Diego Comic Con or New York Comic Con, the giant venues and number of options can seem overwhelming. The size of X-Fest was very manageable and seemed more like a gathering of friends than a convention. Fans were able to have longer moments with the actors while signing autographs and the panels felt more like a conversation. The organizers said the day was so successful they're planning another event for 2019 so stay tuned for more details! From the amount of cheers that went up when that announcement was made during a panel, it's fair to say the attendees thought the event was successful too.  
We have two photo galleries for you to explore, one from inside the event and another from the panels. Find the photos inside the sliders below.