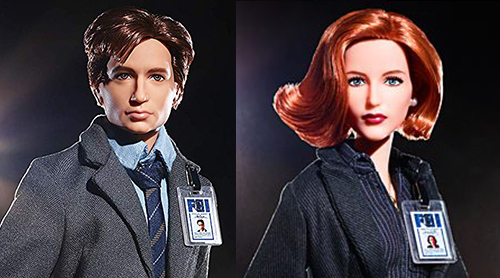 Are your Fight the Future Barbies looking a little lonely on the shelf? You can get them some company now. FOX has teamed up with Mattel and created these new Agent Dana Scully and Agent Fox Mulder Barbies in honor of the show's 25th Anniversary on September 10th. FOX says the dolls "celebrate the influential series that went from breakout sci-fi favorite to massive global hit, becoming one of the most successful television dramas of all time." 
The dolls will be released on Amazon on September 1, but you can pre-order Scully and Mulder now. Or find them at Mattel's official Barbie website, or at the FOX Shop where they've added some other 25th anniversary gear.
Check out some more of the doll details below.
Mattel describes the Scully doll as "a medical doctor and natural skeptic, Agent Dana Scully attempts to explain the paranormal with science. Idealistic, intelligent, and with strong convictions, she perseveres to unearth the extraordinary secrets contained within the X-Files, risking her career — and her life."  For Mulder, they say "Renegade Agent Fox Mulder is a talented profiler and strong believer in the supernatural, adamant about the existence of intelligent extraterrestrial life. In a world of distorted reality, manipulated facts, and government cover-ups, he is willing to risk everything to find what he desires most — the Truth."
Both dolls are dressed in their 90's style dark suits and come with the ID badges the agents wore in the early years. Look through the gallery for a look at some of the details.