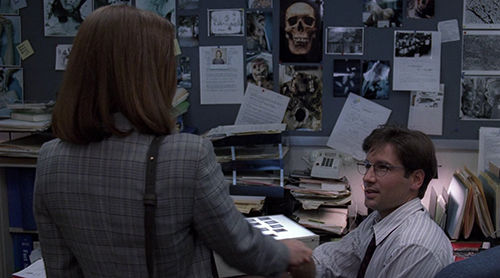 This handshake on our TV screens on a Friday night was the start of something amazing. TV critics didn't give it much of a chance, but little did they know how big this new show called The X-Files would become. It was September 10th, 1993, when Mulder and Scully first came into our lives when the Pilot aired on FOX. 218 episodes and 2 films later, this year marks the 25th anniversary of our beloved show. To celebrate, we want to hear from you! We are putting together one last fandom video hurrah and we want to include as many people as possible. We want to know, what does 25 years of The X-Files mean to you? Tell us about a favorite moment, why you became a fan, why you've stayed with the show all these years. Did the show inspire friendships? Marriages? Did you find your career because of Mulder and Scully? Do you simply want to say thank you to the cast and crew? That works too! Record yourself on video and share it with us! Here are a few guidelines.
Please record your video HORIZONTALLY if at all possible. Keep it to a minute or less, we want to hear from as many people as we can, and we may edit for length. Also, please don't include music. When you're ready, send the file to This email address is being protected from spambots. You need JavaScript enabled to view it. For larger files, try uploading them to Google Drive, Dropbox, or WeTransfer. And let us know what name to use in the credits!
Don't want to talk on video but still want to participate? We get that. If you've got a photo you'd like to share or a written memory that works too. 
The deadline for submissions is 11:59 pm PT on August 10, 2018 so get cracking! Be as simple or creative as you would like.