Details

Written by:

Ky Johnson | Staff Reporter

Category: Featured Stories
Execitive producer of "The X-Files" and "Homeland", Howard Gordon, has a new drama coming to TNT in August. "Legends" from Howard Gordon and Alexander Cary, and "Fringe" co-executive producer, David Wilcox, is set to premiere Wednesday, August 20th, at 9 p.m. ET/PT on TNT.
"Legends" stars Sean Bean from "Game of Thrones" as a deep-undercover FBI agent who may be losing his grip on reality and is based on the novel by Robert Littell.
Check out the trailer below which was just premiered at the SXSW film festival and head on over to TV Wise for more info. 
Details

Written by:

Avi Quijada | Editor-In-Chief

Category: Featured Stories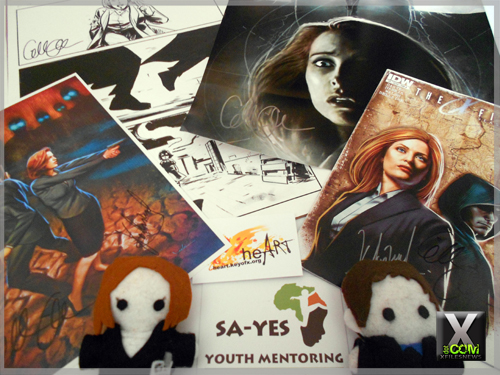 The final round of Scully's Birthday Charity is just around the corner and some of the upcoming auctions had been kept a secret, until now. You will have a shot at owning these one-of-a-kind, amazing artworks by IDW graphic artists Carlos Valenzuela, menton3, and Michael Walsh plus the talented creations by Janca, Finja Wölfinger and Iris Coster.
The artworks were donated by the artists exclusively to this drive and have been autographed by Gillian Anderson and the artists themselves. All the collected funds will benefit SA-Yes and you can check out the listings STARTING ON MARCH 6TH at heART for Charity & X-Philantropy's Ebay pages. The previous rounds have been an astounding success so don't miss your chance to get your hands on one of these pieces and help out one great cause.