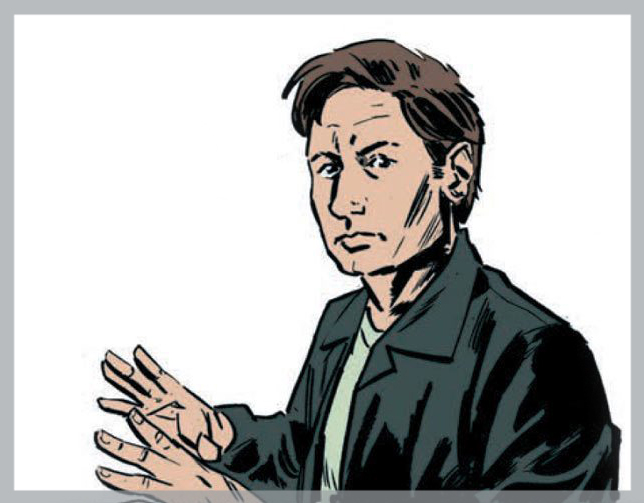 Now that you've probably had the time to read about a dozen times the first issue of the new X-Files comics, we'd like to give you a peek into the man behind the illustrations of "Believers."
Michael Walsh is a comic artist and illustrator, and based on his Tumblr, he's "best known for drawing the upcoming Image/Shadowline mini-series COMEBACK. His other work includes the Shuster nominated webcomic MURDERBOOK, BROTHERS JAMES (215 Ink), and the prequel comic for the popular Showcase television show CONTINUUM. But those aren't his only works. He's been very busy, among other things, bringing Mulder and Scully back to life with the news series of X-Files comics that just begun its run this past Wednesday.
XFN: For the Philes who don't know a lot about comics, can you tell us a little about what a comic book illustrator does and how the development of a project evolves?
MW: Usually the seed of the idea starts with the writer. They write out a script which comes to me. A script usually looks a lot like a movie or film script detailing the characters dialogue and breaking down the events of a page. From there, I visualize the story and put it down to paper. Bringing an idea into reality.
XFN: You've talked about instantly jumping at the chance to work on these new X-Files comics. What has it been like coming into the project as a fan, and how has this whole creative process unfolded for you?
MW: So far it's been a dream project. I remember hearing the announcement that IDW had picked up the rights to do some new X-Files comics and thinking it would be an amazing project to work on. When I was offered the project I was ecstatic! Coming into the comic as a fan of the show gives me a solid understanding of the atmosphere and characters as well as the ability to throw in some small visual easter eggs here and there. 
XFN: We've read that you like to make each project look distinct from past ones. How are you approaching the art for The X-Files?
MW: The X-Files really played a lot with shadows. They would go from a very well lit yet sterile and desaturated scene directly to a scene so drenched in shadow you could barely even see the actors. I've been playing a lot with this juxtaposition to not only add to the atmosphere but also to make the shadowed scenes that much more effective. I've also been analyzing how the scenes were framed and the camera shots used so that I can capture a bit of the same cinematic quality from the show.
XFN: In this X-Files universe, who or what is the hardest thing to draw and why? How about your favorite?
MW: Nothing is hard to draw when you are having this much fun! As for my favourite, I would have to say Skinner, in the first issue at least; the scene in the motel room was really fun and intense! Also, he has so much character in his face it makes for good drawing.

XFN: If you had your choice, what villain or character would you most like to see brought back in these comics?
MW: It's a toss up between Tooms and Flukeman. Tooms was the first legitimately terrifying monster of the week and Flukeman would just be a blast to draw.
XFN: Obviously we're all very excited to see your art in "Season 10", but where else should we be watching for your work? Any other upcoming projects?
MW: I'm doing a single issue of a book called ZERO which will come out in september. It's a spy/thriller and is very different from what you will find in X-Files. I'll also be posting up a webcomic short titled King Warlock & Bluebird which should be going up in the next two months. It's a dark fairy tale that I will be writing and drawing. Stay tuned to my twitter for updates on that.
XFN: What should X-Files fans be looking forward to in these new comics, and what do you want them to take away most from the series?
MW: Look forward to a new step in the ongoing mythology. We are going to be wrapping up some dangling questions while posing some new ones and introducing new and interesting characters into the X-Files mythology. One of the most rewarding aspects of this whole thing so far has been creating new characters for the world of X-Files.

The XFN Quick Six
Favorite Food: Pizza!
Favorite Word: Beelzebub
Favorite X-Files line: I've seen the future, and the future looks just like him! (points to Mulder) … This whole conversation at the end of Humbug is amazing!
Your guilty pleasure: Countdown by Beyonce!
Dream job: Comic Book artist ;)
I wish I had invented…  PIZZA! (artists note: I was hungry while filling this out.)
You can follow Michael's works on his Tumblr and even on Instagram. Don't forget his Twitter either. 
Our thanks go to Michael and IDW for not only this interview but also bringing XF back!