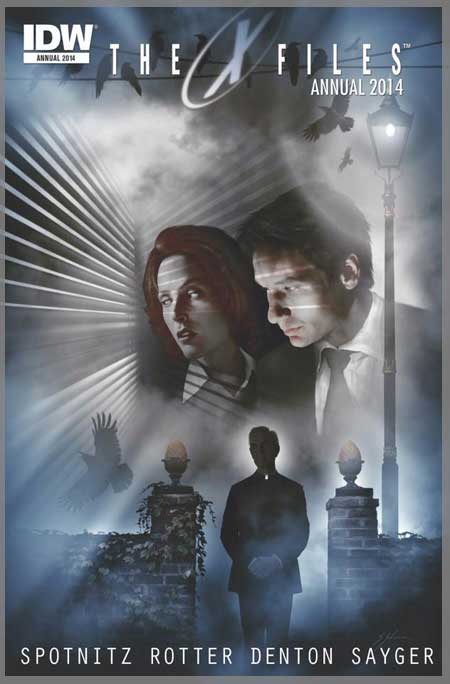 (Image courtesy of Shannon Denton)
We're sure that you've been diligently following all the new X-Files comic book releases that 2013 and 2014 brought us, The X-Files: Season 10 and the most recent The X-Files: Conspiracy crossover have been out and about for the enjoyment of everyone and giving us a lot to talk about.
But what is almost unknown is that there is one more treat coming to us this spring, one that had been stashed away for quite a while. Enter The X-Files Annual 2014.
The rumors about this project have been rounding the web for little more than a month since it was announced on The Nerdy Show, but to give you a bit of background on this "new" release, we spoke with Frank Spotnitz and Gabe Rotter, both very well known in the X-Files community and two of the writers of the upcoming release.
According to Spotnitz, this project had been on hold for a while, since 2009, and it gave him the novel opportunity to work with Rotter in a different capacity: "Gabe has been with Ten Thirteen Productions since forever and he's a really good writer and a really good novelist in his own right," said Spotnitz about his fellow writer, and the prospect of writing a comic with Frank Spotnitz was a delight to Rotter as well, who has been a huge comic book fan his whole life.
"When Wildstrom was doing the comics, Gabe had this idea that I thought was a great one," and while they both developed the idea, Rotter was the most involved in the actual scriptwriting task of the comic. "Really it was his work that I helped him with," claims Spotnitz, candidly. "But then the Wildstrom comics ended before we even got a chance to publish it."
But then Shannon Denton, former editor of the X-Files comics at Wildstrom, approached them and encouraged them to pitch the idea to IDW in the midst of the success of The X-Files: Season 10. The publishers loved it.
So what can we expect from the Annual?
"You can expect a creepy X-Files "Monster of the Week' type story that probably wouldn't have been told as a TV episode," explains Gabe. "It doesn't fit the Season 10 mythology storyline, which is why IDW decided to do it as an Annual. It's set in a different time and place." 
According to IDW April solicitations, The X-Files Annual 2014 will include two stories; the lead one, penned by Spotnitz and Rotter and sharing credits with Shannon Denton, involves "an untold tale from Mulder and Scully's first stint with the FBI. When a man returns from the dead with a warning for his wife, the agents investigate and cross paths with a very peculiar priest."
The second story is the first X-Files script by Cerebus creator, Dave Sim, who's delivering "Talk to the Hand" "" "a nightmarish tale starring a sleeping Dana Scully." Sim also created a Variant cover for the release, Stuart Sayger and Andrew Currie share Art credits, with colors by Sam Shearon.
While both Rotter and Spotnitz are experienced professionals, writing for comic books was relatively new for them at the time the original script was created, but more Rotter's case than Spotnitz, who had been involved in the original Wildstrom editions.
"It actually was a challenge, a fun one, but a challenge nonetheless. I found that it was akin to directing, because you really had to visualize how each frame would look when telling your story, which you don't have to so rigorously record when writing a novel or a screenplay," Gabe explains about his experience tackling the creation of the annual.
"You envision what your scenes will look like in those formats," Rotter clarifies about the comparison with working for TV or Film screenwriting, "But you don't have to necessarily write, for example:
"PAGE THREE, PANEL ONE. A REVERSE ANGLE OF THE PREVIOUS PANEL, TWO SHOT OF MULDER AND SCULLY WALKING DOWN THE WOODEN STAIRS INTO THE GLOOMY SHADOWS.'
So there was a learning curve but I enjoyed the heck out of it."
"You have to get used to the format as it is different than in moving image, you still get shots, but they're still shots, but they have to suggest movement so it's a different mindset," Frank elaborates about his own process. "This is the kind of stuff that I realized while doing the Wildstrom comics."
The last annuals released for The X-Files belonged to the editions created by Topps comics, more than a decade ago. Those were extremely successful and the copies, while they can still be found in sites such as Ebay, are very rare.
Both writers enjoyed this creating experience greatly, "I'm excited for Gabe, more than anything else, that this will finally see the light of day," says Spotnitz. Rotter is equally excited to have shared this experience: "It was fun working with Frank in this capacity. As anyone who knows him will vociferously attest, Frank is the best. Exceedingly kind, crazy smart, and always supportive."
As for new works coming up, this is what Gabe had to say: "I don't have any plans to write further issues of the comic, though I wouldn't be opposed to taking another crack at it. I enjoyed it quite a lot. As I said, we wrote this about four years ago so we didn't work with Joe Harris. But Joe is super cool and incredibly bright and creative and we love what he's doing with The X-Files: Season 10."
As for Frank's future plans to write additional X-Files comics: the truth is out there.
As always, my advice is to pre-order the The X-Files Annual 2014 from your local comic book store right now to ensure a copy of the regular issue and the variant, and expect more news from this and all additional comic news very soon!