Details

Written by:

Ky Johnson | Features Editor

Category: Featured Stories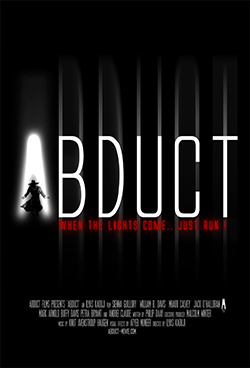 If you thought that you'd seen it all in the world of the unexplained, you'd better think again. Abduct, a new movie starring William B. Davis and directed by Ilyas Kaduji, promises to bring a new take into the world of supernatural stories and more.
The movie, still in post-production, is a fictional, supernatural, horror thriller set in Texas. The story is based on Crystal, a mysterious Texas orphan with a horrible and tragic history. Her parents ritually abuse her. One night, strange lights and sounds appear outside their home. Crystal blacks out and awakens to find them murdered. The girl is haunted by their deaths. Years pass. Now a young adult, Crystal flees her orphanage in a paranoid belief that otherworldly forces are after her, a supernatural terror that has stalked her since childhood and that follows her no matter where she flees.
Meanwhile, charismatic paranormal radio host Ridley Kay, is passionate about exploring the nature of phenomena like this. For some paranoid groups, the fate of the Earth depends on humanity exposing occult secrets to the light: UFO's and alien abductions, demons and spirit possession, the Shadow People and sleep paralysis, government conspiracy, mind control, and time travel. These dark subjects plague thousands of people across the world. For Kay it's all fun and games until Crystal enters his life.
People get hurt as mysterious government agents seek to take Crystal into custody. No matter how far the young woman flees, sinister people in black hunt her… but why?
Read more: XFN Exclusive: W.B. Davis & Ilyas Kaduji on "Abduct"
Details

Written by:

Sophie Brown | Staff Writer

Category: Featured Stories
"Retired serial-profiler Frank Black has moved his family to Seattle to escape the violence and horror he dealt with while working for the FBI in Washington, D.C. Although his uncanny and often unsettling ability to see into the twisted minds of serial killers has caused him much inner torment, Black knows his 'gift' can still be used to help protect and save others. For that reason he has joined the mysterious Millennium Group, a team of underground ex-law enforcement experts dedicated to fighting against the ever-growing forces of evil and darkness in the world."
Hello everyone, and welcome to the X-Files News Millennium Re-Watch. This is an exciting month for both myself and my good friend Keva Andersen as we join the staff of X-Files News, so we hope you'll forgive us the occasional stumble as we get to grips with the site. The idea for running a complete Millennium re-watch was actually conceived of over the summer, but given the recent announcement from IDW and Joe Harris it was decided to bring the timeline forward and leap straight into it! First of all, please let me apologise for the delay in getting this introduction out to you all. I wrote the original draft for this post somewhere over the Atlantic Ocean on my way home from a much needed family vacation in Orlando and I'm finally back on top of things and ready to get started.
On November 30th we will be launching the Millennium re-watch with a three episode mini-marathon which will hopefully allow everyone to really get a feel for the show. The episode watches will then run every Sunday night at 10.30pm GMT with both myself and Keva live tweeting throughout under the hashtag #XFNMLM. We hope that many of you will join us over the coming months.
Keva and I are coming at the show from two very different perspectives; myself as someone who watched the show as a child (yeah, I know) during its original run in the 1990s, and Keva as a newbie whose experience of Frank Blank extends only so far as the season seven crossover episode of The X-Files. Whichever end of that spectrum you fall on we'd love to hear from you, however we do ask veterans to do their best to keep the conversation spoiler free! Each week I will be posting up an episode summary to recap events for anyone unable to join in on Sunday, along with highlights from the previous Sunday's twitter conversation.
I hope many of you will join us on November 30th for the marathon, and onwards for the rest of the series. For now you can follow Keva and I at @easyqueenie and @synergy3k (plus make sure you're also following @xfilesnews as well) and take a look at the schedule for the upcoming few months which covers the first half of season one:
ALL TIMES IN GMT
November 30th:
10pm - Conversation begins on Twitter
10.13pm - Pilot
11.15pm - Gehenna
12.15am - Dead Letters
Dec 7th: The Judge
Dec 14th: 5-2-2-6-6-6
Dec 21st: Kingdom Come
Dec 28th: Christmas Break
Jan 4th: Blood Relatives and The Well-Worn Lock
Jan 11th: Wide Open
Jan 18th: The Wild and The Innocent
Jan 25th: Weeds