Details

Written by:

XFN Staff

Category: Featured Stories
Twenty years ago, on March 6th, 1992, in the fictional world created by Chris Carter & Co., Mulder and Scully met on a messy basement office at the FBI headquarters in the Hoover building. We know, we know, your lives changed ever since, and so did ours. In the four years and counting that X-Files News has been online, we've had the pleasure of being of service to what we believe is the Best Fandom in the World.This is why, on this important date, we decided to celebrate by reopening our doors to you guys with X-Files News, version 4.0.
In all of this time, we've come across many of you. We're proud to be part of this fandom and you make us want to keep working hard, not only to keep the old school fandom alive, but also to introduce the show and the movies to new fans and generations that fall in love with what the Cast and Crew of The X-Files once poured their hearts on.
It's because of the power of this fandom that many things come to fruition, like the many X-Phile driven charity drives that have helped dozens of causes worldwide. We've also carried a tenacious campaign for a 3rd X-Files movie to come to life and we continue to share and create online into what has put us among the top of the most active and representative fans in the history of Television and Movies.
Details

Written by:

Avi Quijada | Editor-In-Chief

Category: Featured Stories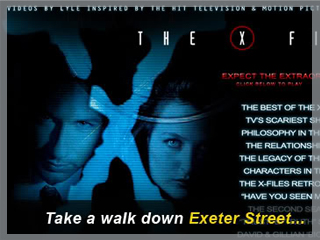 His hauntingly perfect videos have been a part of 'X-Files' Fandom for 9 years. His name, regaled as one of the best fan vidders of all time...but don't tell him that.
Lyle seems happy to just create, experiment and sometimes, transcend...and to the few who have not seen his work? You are missing out on an almost spiritual experience. Check out our interview after the jump.
Details

Written by:

Avi Quijada | Editor-In-Chief

Category: Featured Stories
This Article has been partially formatted to match its original post on a previous site migration.
---
While we were away, we managed to get some awesome goods for your entertainment, and what can be better than a great conversation with the enigmatic Annabeth Gish?
This experienced actress, who has been in our Phile minds as the quirky and brave Agent Monica Reyes, has taken under her wing a great portfolio of acting experiences that she has been brewing since childhood. Many parts come to mind, like the naive teenager alongside Julia Roberts in Mystic Pizza, one of the first daughters to President Bartlet in The West Wing, our very own Monica Reyes on The X-Files and her most recent venue in TV as a troubled wife in Brotherhood.
Coincidentally, our interview with Annabeth was scheduled for the same day we scheduled an interview with another Phile favorite and also Annabeth's: Mr. Agent Doggett himself, Robert Patrick.
Just out of luck, another role in Annabeth's life took over: Her wonderful kids Cash and Enzo came first in her list of priorities, and we can't praise enough the good work of a good mom, but in a second time at our "Skype experience" we sat for 45 minutes and the first topic that came to mind was the recent loss of X-Files Extraordinary, Mr. Kim Manners. 
Read more: XFN Exclusive: Annabeth Gish Talks Manners, Family and X-Files