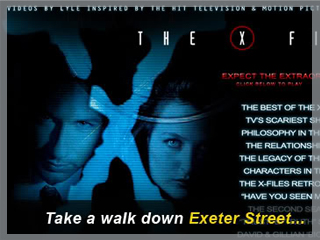 His hauntingly perfect videos have been a part of 'X-Files' Fandom for 9 years. His name, regaled as one of the best fan vidders of all time...but don't tell him that.
Lyle seems happy to just create, experiment and sometimes, transcend...and to the few who have not seen his work? You are missing out on an almost spiritual experience. Check out our interview after the jump.
The first obvious question Lyle, since I know you have been around since the Pilot episode of "The X-Files, " is when did you begin vidding?
I began vidding nearly ten years ago after first seen Shakerbaker's 'shipper' videos on the main page at Haven. While Mulder and Scully's relationship was barely simmering, Shakerbaker had stitched together video clips of their exchanged looks, holding hands and touching faces to create a visibly romantic portrait. Knowing "The X-Files" like the back of my hand made me instantly aware of what she had done, and the power and control created through editing, so I wanted a go! This was long before the days of DVDs and YouTube. Amy from Haven graciously set me up with my own web space and the rest is history.
Some fans vid for fun, others to convey an emotional connection they have with the series. Why do you do it?
While I enjoy giving something back to this show which has given me so much, it's this process of marrying artistry with technical skill that's most rewarding. Finding ways to present "The X-Files" in such a way that entices new viewers as well as fans is always challenging. The show combines various styles and genres, and there's so much footage to work with that the video opportunities with "X-Files" are limitless. Also, I always discover things along the way, so a video never turns out how I first envision it, and often for the better.
What was the first video you did and how do you see it in comparison to your more recent work?
My first video was a Scully tribute using an instrumental track by composer Hans Zimmer back in early 2000. It's a primitive edit in retrospect that was all about finding the connection between images and music. I'm very critical of my early "X-Files" work, but like most skills you learn them through doing-and without those earlier videos I could never create what I can today.
Which videos are you most proud of?
I'm especially proud of 'The Psychology of The Sopranos' for tapping into the modern day morality tale that is "The Sopranos." It's the most challenging edit I've ever pulled off. For "The X-Files," I'm most proud of 'TV's Scariest Show.' There's a fan trailer every bit as thrilling as what a big budget studio could come up with - great visuals with great sound design that entices new viewers yet still faithful to the series. (FOX, let me come work for you!)I do like 'The Best of The X-Files' for all its epic montage coolness, it confirms "The X-Files" status as TV's most visually interesting show. And the endless e-mails I get about 'Have You Seen Me Lately' always amaze me. It's even inspired t-shirts, which is amusing.
For some vidders, their inspiration is the relationship, for others, it is the mythology. What inspires you?
I love the subtext of the relationship, yet that's only part of the emotional drama going on in "The X-Files." Like Duchovny says, the reason the pairing works is because Mulder and Scully are two interesting characters in their own right. For example, 'Philosophy in The X-Files' gives no hint of a romantic entanglement, and is that much stronger for it! "The X-Files" really is the sum of its parts, so I love the intriguing case files, the smart dialogue, the moody cinematography and the rousing music in equal measure. Composer Mark Snow especially is the show's foremost talent and I cannot praise him enough. Bring on his new "X-Files" soundtrack CD coming later this year, with many more to come.
Do you follow other vidders?
Always. I won't mention anyone because I'm afraid to leave someone out, but I'm probably less loyal to particular vidders than I am specific videos. Most recently, Requiemx's 'To Build a Home' is a must-see retrospective of the relationship after I Want to Believe; Astartexx's 'Clear the Area' a terrific depiction of Scully's take on Mulder with top-notch editing; and Giandujakiss' 'Hell of a Place' is evocative of the whole "X-Files" world. This was a great year for "X-Files" videos. From the wealth of material in the new film, to "The X-Files" cast and crew attributing much of their inspiration to these 'fan videos' on YouTube, 2008 was truly Year of the Vidder, and it's exciting to wonder what we'll be treated to next.
We asked fans to write in with questions for you.
Tracey from Knoxville, TN writes, "What tools do you use to create / edit your videos - off the shelf custom, or professional? PC or Mac? Any tips for novices?"
I use Final Cut Pro (as part of Final Cut Studio) on the Mac platform. The creative ease in its intuitive design makes it the best editing software I've come across by far. If that's on your expensive side, check out Apple's Final Cut Express which is a slimline version still aimed at the "prosumer" market. Once you go Mac you'll never go back!
I recommend to always edit what you know; the more familiar you are with your source material, the better. Invest in a capture device (anything from Canopus' ADVC range is a winner) to avoid the painstaking process of "ripping" scenes from DVD; getting yourself bogged down in the technical stuff will really kill your workflow. And familiarize yourself with the editing going on around you every day. I'm progressively aware of 'how they did that' all the time, so engage yourself with this process.
Joselyn from Maracaibo, Venezuela writes, "How do you make the videos in your head? (Do they) pop up with certain lyrics?"
Every video is different. More often than not, I'll discover something that 'works' by playing around with it on the editing timeline. It's a discovery process, and therein lays the thrill. A video's tone is largely dictated by its music, so I'm increasingly becoming less a fan of the conventional 'songvid' than I am working with instrumentals and sound. They reverse the process - you dictate the tone - which makes everything far more nuanced and subjective, and hopefully this resonates with viewers too. Case in point: when someone doesn't 'like' a song, the best editing in the world cannot save that video. This was an issue with my relationship montage set to the Graham Norton's 'Best Days.' That music doesn't exist in the world of The X-Files - this isn't Grey's Anatomy - but it might work as a packaged promo so that's how I approached it.
XFN Editor-in-chief Avi Quijada, "How did you learn the basics of editing? Have you taken lessons or tried to pursue editing as a career? Are you interested in filmmaking? You have aesthetics, and that doesn't just come."
Thank you, Avi. My studies were business and journalism so I have no formal training in editing. I have however produced numerous 'in house' corporate videos for clients around Australia (see some hilarious outtakes of my latest effort here). This lucrative field of videography has afforded me the luxury of paying my way through university without ever really working, and none of this would never have happened if not for "The X-Files!"
I'm pretty specific about the entertainment I consume because my time feels so valuable, but I love movies and finding a good series on DVD to sink my teeth into. Much of my inspiration in editing is drawn from today's best trailers and promos. Watching - and listening - to trailers is my favourite part of going to the movies (as they're invariably better than the films they're promoting anyway). I love that sweet spot where the picture and music meets, mostly through a killer soundtrack that 'brings it home' in an audio-visual orgasm. We regularly dismiss films on the basis of their advertising, so trailers deserve more credit for combining art and advertising. A successful trailer lies more in the editing than the actual film it's marketing - it's about pacing, condensing the narrative in a dynamic fashion, the selection of music, and so on. These are fairly intuitive skills to nail down so maybe it's all somewhat innate? I try to emulate this craft with "The X-Files."
Most vidders have actual jobs, what pays YOUR rent?
After graduating last Christmas I've been working as a sales rep for a national telecommunications company. I get to travel around the country and interact with cool people but my interest is waning... I would love to vacate Australia's suburban monoculture to pursue this long-time editing hobby working in a trailer house in the US or the UK, and I'm preparing a showreel as time permits…

Are there other fandoms that you are interested in?
I'm a big fan of HBO's masterpiece "The Sopranos" and have created a series of montages for that series which you can find here. It has such a keen sense of the absurd, is far funnier than any sitcom and much deeper than any 'quality' drama. It's is the only other series I've come across that reaches the aesthetic heights of "The X-Files" (even surpassing them). Interestingly its creator, David Chase, was about join the staff writing team on "X-Files" before penning "Sopranos," which makes me wonder how "The X-Files" would have fared at a less restrictive network. Would it be much more than a potty mouthed Scully and Mulder?
I've recently discovered the great staple cable television dramas "Oz" and "The Wire," and saw a thrilling BBC America-British miniseries called "The State Within" which harkens back to the early bureaucratic conspiracy in "X-Files." Many critics state that today is 'The Death of Broadcast Television,' but I'm loving the new season of "24" and "Family Guy" hilarity continues to rock my world.

With Google joining YouTube, more and more fan videos are having their music stripped or the videos are being taken down for copyright infringement. What would it take to convince entities like FOX that this form of art is an honor and not an illegal practice?
We need greater communication between the marketing and legal teams at FOX. Lawyers are undermining Fox's longstanding commitment to the quality and presentation of "The X-Files." Studios and networks are well aware of the power of YouTube by creating their own channels and posting videos. Fan videos, then, are the best form of viral marketing that substantially increases TV-DVD sales which directly impact News Corp's bottom line. Beyond this, "X-Files" producer Frank Spotnitz has recently stated he draws much inspiration from seeing his art reflected back at him through fans. In the wake of an irrational, needless 'infringement' policy fans are less inclined to do so, which is the greatest shame of all.
What does "The X-Files" fandom mean to you?
I'm 23 now so really grew up watching the "The X-Files." The privilege of witnessing its meteoric rise beyond obscure internet sites to a mainstay worldwide phenomenon has been fascinating and rewarding. "The X-Files" remains the yardstick by which I measure all other entertainment; years have passed but numerous episodes remain the very best of what television and film have to offer. And of course, I'm inspired as much by other fans of the show than I am the show itself. The endless discussions and charming antics on discussion forums never cease to enthrall and humor. This jewel-encrusted madness fuels my ongoing interest, and our collective depth and breadth of knowledge is astounding. At the end of the day, "The X-Files" is meaningful, quality entertainment in this age when most popular culture is somewhat infantile, so "The X-Files'" ongoing popularity gives me faith that when something is good, people will follow.
On December 21st, 2012...where will Lyle be?
Oh, I'm not keen for an 'alien-invasion' oriented motion picture at all. I loved the mythology of "The X-Files" because those were the episodes which took our agents to their greatest depths of anguish and thwarted hope, which gets back to that emotional drama I spoke of earlier. To see their quest degenerate into such conventional sci-fi fare would be pretty disappointing. Watching aliens chasing after Mulder and Scully through a spaceship in "Fight the Future" wasn't very successful, after all. The best paranormal sequences in "The X-Files" occur in dreams or hallucinations, and always visually on the edge of somewhere else. 'Hiding things in shadow', 'not outside the realm of extreme possibility.' These are the central tenets of "The X-Files," which elevate it to 'non-fiction science-fiction.' It's clear that the mass audience wants aliens in the wake of I Want to Believe, but bringing back Tooms is really a more novel idea. Now there are a couple of episodes Hollywood couldn't do better.

Any final thoughts for XFN?
XFN has come into a class of its own since production began on "I Want to Believe," and continues to deliver great content. "The X-Files" grew up with the internet but there's always been that gulf between fans and The Powers That Be, yet XFN is closing that gap so keep up the great work. We fans are eternally grateful to Frank Spotnitz for gracing us with his enthusiastic presence. He's da man! I'd really like to see involvement from creator Chris Carter in the future. It's easy to forget the art and artifice that goes into one man's vision, but "The X-Files" is his brainchild, and the opportunity to pick apart his brains on the world, on ideas and those glory days of "The X-Files" should not be missed.

XFN Quick 6
Favorite Food? Mangoes
Favorite Word? "...douchebag"
Favorite 'X-Files' phrase?'   'Deceive, Inveigle, Obfuscate.' It's a literate show. I miss the Carterlogue.
Wish I had invented... eBay.
What is your dream job? I'd love to pursue my passion for editing and land a job with a trailer house or a studio in the US or UK, and prepping a showreel DVD as we speak….
What is your addiction? This question is dangerous. I have an addictive personality, so it's a lot of things. A lotta lotta lot. Let's just say that I stand up in support of David Duchovny...