X-Files News had the pleasure to talk to Carlos Valenzuela, one of the artists commissioned to draw the newest installment of The X-Files comic books.
Valenzuela, a professional illustrator and comic book artist from Chile, has worked for several companies in the entertainment industry, like Fantasy Flight Games, Pyranha Bytes, SQP Publishing, Under The Floorboards, Ballistic Publishing, IDW Ltd, just to name a few.
XFN: How did you get into the business of illustrating?
"I always wanted to enter the world of illustration. My artistic influences are mainly from classic illustrators like Frazetta, Corben, Wrightson, Moebius, Elvgren, etc. and thanks to some online communities like DeviantArt or CGSociety I was able to show my first works. Also, I work for a couple of years being represented by an US agency. With them I did almost illustration work, from book covers, card games, to posters and comic book covers.
Right now, I work mainly as an illustrator, but with some comic book works from time to time, like the upcoming Mars Attacks story from IDW."
XFN: You mentioned in a past interview that you're a horror fan. You also seem to have drawn a lot of Marvel characters. What are your influences and how do they transfer into your work?
"I grew up watching horror and sci-fi movies, and thanks to my older brothers that collected several superhero comic books, I spent a long time reading (and copying) the covers from Hulk, Iron-Man, Batman, etc."
"As I mentioned before, my main artistic influences coming from illustrators and artists from the 50's and 70's, as well as my favorites movies are from that period (the classics are still unbeatables). So as you might guess, I'm a bit of an old fashion artist," he laughs.
XFN: What is your ultimate dream franchise that you'd love to illustrate for?
"Well, I'm a huge Star Wars fan, so I would love to illustrate anything that happened in that galaxy far far away. Everytime that I have some time to do something just for me, I put my hands on those classic characters."
XFN: Everyone has seen your artwork for the new comics and can't wait to see more. So what can you tell us about your involvement in the new X-Files project?
"At this moment I can tell is like a dream come true. Is a very strange and funny feeling to become an official X-Files artist being a big fan also. This is the first time that I work with a franchise so huge and with a really big fanbase, so the excitement is equal big as my responsibility. Each time that I show any preview or little advances I feel so many eyes watching, but gladly people and specially X-philes seems to be enjoying what I've done so far," he hopes.
"Also I would like add that besides the covers for the comic book from IDW, at this moment I'm preparing, along with the great people of Under The Floorboards, another X-Files print to be presented at this year London ComiCon. The print that we did last year was a big success, becoming some kind of cult piece for X-Files fans, and also was the work that produced that I landed at IDW as a cover artist. So X-philes, stay tuned for this!"
XFN: We read that you were an X-Files fan before this project. Can you tell us how you got into the show originally and what it's like as a fan to be creating new X-Files material?
"The show started airing here in Chile almost at same time than US, so I became addicted almost immediately! I'm always being intrigued and fascinated by UFOs, extraterrestrial life, conspiracies, strange creatures, monsters, crime thrillers... and The X-Files has all that ingredients, and much more. I felt that Mulder's crusade represented us all in one way or another."
XFN: Favorite episode? Character? Guest star? Monster of the Week or Mythology?
Several indeed, but to name just a few: "Home", "Our Town", "The Host", "Post-Modern Prometheus", "Duane Barry'", "Agua Mala", can I continue?" he laughs. I must say that Monster of the Week are my favorites, but I enjoyed as well the Mytharc storyline.
XFN: Mulder and Scully are iconic characters, even for those who've never seen the show. How do you go about bringing them to life while still maintaining your own artistic style?
"That's a good question. One of the things that intimidated me when I started with this job was exactly that thing. Both of them (as well as the other characters from the show) are truly icons. I think that IDW and FOX liked the way that I approach to them, trying to keep the likenesses as much I can, but bringing my 'classic/noir/vintage' vision as well. And being myself a big fan, I always try to see the work from that point of view, and trying to maintain the overall atmosphere of the show."
XFN: When it comes to X-Files comics, many artists have come before you. Do you look to past artists for inspiration or do you prefer to keep your work separate from that influence?
"I try to avoid as much as I can to watch anything that has been previously done. I want to keep things fresh, but as I said before, being faithful to the spirit of the show."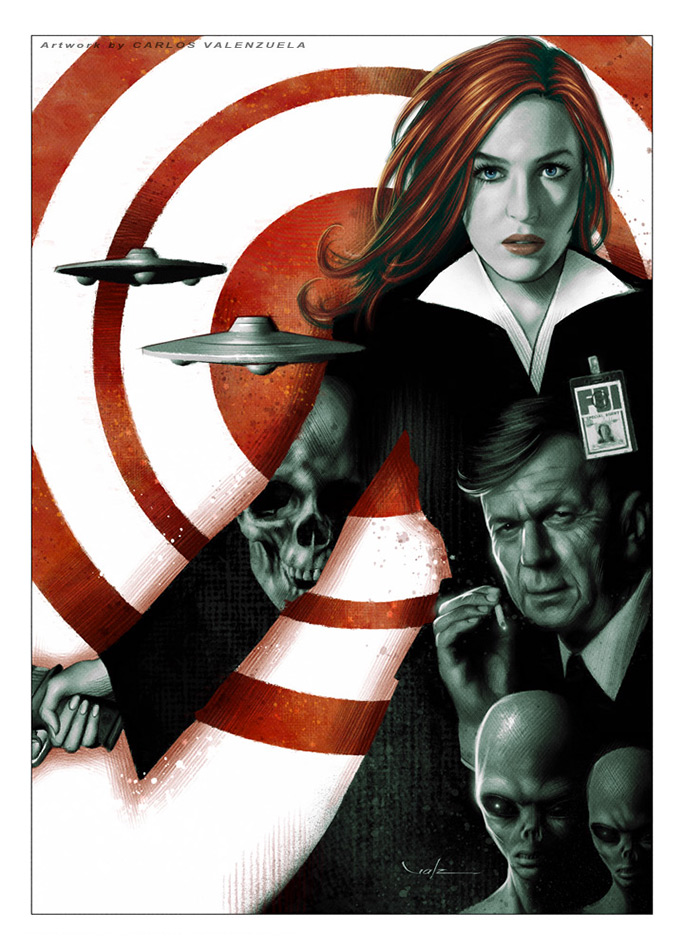 XFN: What do you want X-Files fans to take away from these new comics? Anything you'd like to tease for the fans, or will the Truth remain out there?
"Well, I don't have permission to reveal much information besides the previews and sneak peeks that I've shown already. Since I started working on this job that I have the very strange feeling that my phone line and internet connection has been hacked, and also a very suspicious black van is parked in front of my building since the first cover... uh oh there's someone's at my door!"
The XFN Quick Six
Favorite Food: Spaghetti
Favorite Word: Awesome
Favorite X-Files line: Mulder: "Scully, I was like you once. I didn't know who to trust. Then I chose another path, another life...another fate" [from episode 'The Sixth Extinction, part 2, season 7]
Your guilty pleasure: Learned to make sushi and eat until almost explode
Dream job: Bartender in the Mos Eisley cantina
I wish I had invented… the human teleportation machine
Thanks so much to Carlos for sharing this insight into his work and his excitement for The X-Files comics. You can check out more of his artwork on his DeviantArt page and continue to follow his work through his website. Remember, the new stories hit the stands starting in June, so make sure to get yours from your favorite supplier.