Details

Written by:

Roileigh Ollson | Managing Editor

Category: Reviews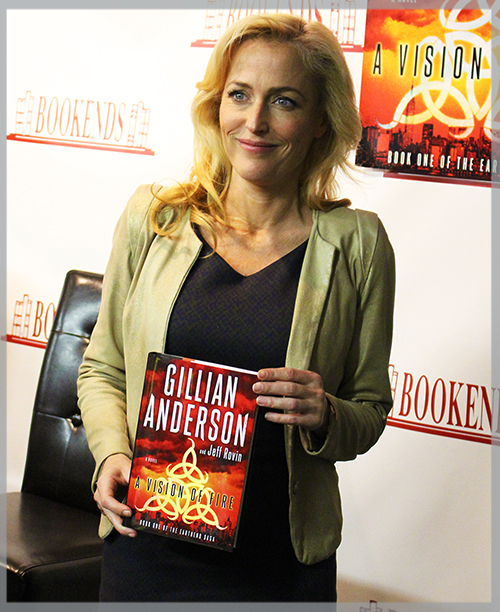 A Vision of Fire is officially out there! Gillian Anderson's first novel has been released, and some of you may have already started reading! However, if you've been living in an ancient pueblo with the Cigarette Smoking Man these past few months, then here are the basics that you need to know about Gillian's new book.
A Vision of Fire is the first in a three novel series called The Earthend Saga. Gillian and Jeff Rovin, a New York Times bestselling author, have written the first together and are working on the final two.
The series centers around Dr. Caitlin O'Hara, a renowned child psychiatrist who treats children in the midst of some of the worst mental crises. In the opening pages, an assassination attempt is made on the Indian Ambassador to the United Nations who is in the middle of tense nuclear peace talks. When his daughter Maanik, who witnessed the incident, suffers a strange breakdown, Caitlin is called in to help.
There's a lot to talk about when it comes to A Vision of Fire, so hit the jump to read more, but beware, there are spoilers! Below is a synopsis, so if you want to read the book first, don't look any further.
Details

Written by:

Ky Johnson | Features Editor

Category: Reviews
The X-Files: Year Zero, issue #3, delivers the goods again this month, with gorgeous artwork and a storyline that keeps the pages turning.
We learn a little more about the mysterious Zero/Xero, and a lot more about the Manitou/wolfbeast threatening to take out our 1940's heroes when we last visited this story. With Mulder at his snarky, and Scully at her skeptical best, this series continues to be one of my favorites.
Read on for the spoiler-filled recap after the jump.