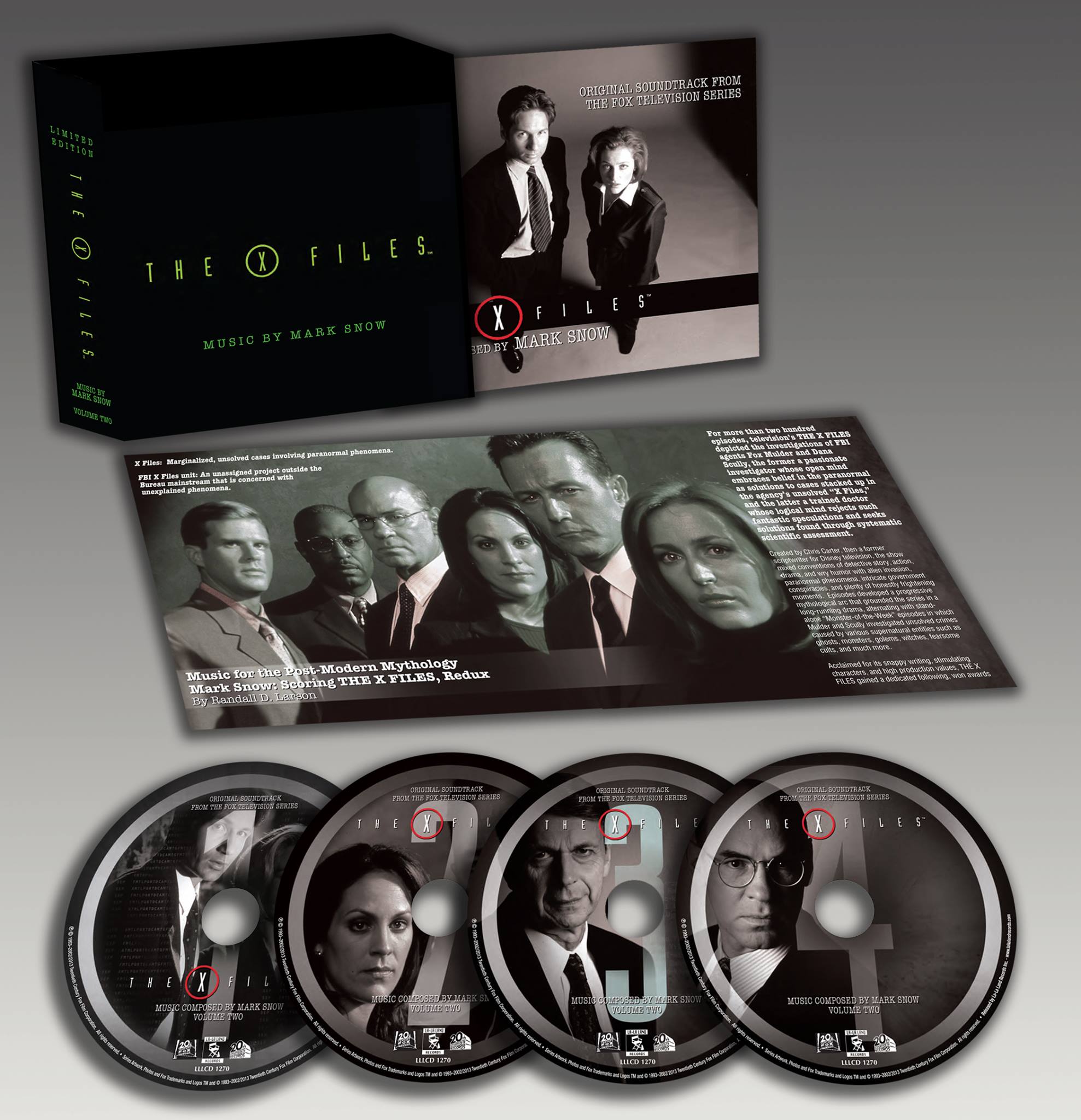 Just in time for The X-Files 20th Anniversary on September 10th 2013, La-La Land Records will release The X-Files: Volume Two - Four CD set. With music by Mark Snow, the company will sell a limited edition of 3,000 units for a retail price of $49.98.
The soundtrack produced by Mark Snow, Nick Redman and Mike Joffe, was mastered by James Nelson, liner notes by Randall Larson and art direction by Mark Banning.
The record company, in conjunction with 20th Century Fox have gathered an incredible music selection from the episodes that weren't included the first time around.According to their press release, "this epic 4 cd set features 5 hours of music to give the listener an even greater listening experience than what they found in Volume One! Housed in an attractive hard cardboard shell (like Volume One) this collection includes a 4 disc clamshell case and a 40 page booklet that takes the listener deeper into the musical world of Scully and Mulder. We hope some of your favorites made the cut!"
And we hope so too!
The first 250 orders through the La-La Land Records website will receive a signed cover of The X Files Volume Two at no extra charge. Quantities are limited. You are not guaranteed a signed copy. It goes on sale at 12pm PST.
Go after the jump for the track list!
Disc One
1. THE X-FILES Main Title (Season One)
2–4. EVE
5–8. YOUNG AT HEART
9–10. E.B.E.
11–13. TOOMS
14. BORN AGAIN
15. BLOOD
16–18. DIE HAND DIE VERLETZ
19–20. COLONY
21–22. END GAME
Disc One Total Time: 74:49
Disc Two
1. THE X-FILES Main Title (2nd. Season)
2–4. SOFT LIGHT
5–6. F. EMASCULATA
7. THE BLESSING WAY
8–10. PAPER CLIP
11–12. CLYDE BRUCKMAN'S FINAL REPOSE
13. GROTESQUE
14–15. TALITHA CUMI
16. HERRENVOLK
17. HOME
18–19. TUNGUSKA
20. THE X-FILES End Credits (Extended #1)
Disc Two Total Time: 74:23
Disc Three
1. THE X-FILES Main Title (7th Season)
2–3. TERMA
4–5. TEMPUS FUGIT
6–8. GETHSEMANE
9. REDUX
10. REDUX II
11–13. THE RED AND THE BLACK
Disc Three Total Time: 76:35
Disc Four
1. THE X-FILES Main Title (9th Season)
2–3. ALL SOULS
4–5. S.R. 819
6. BIOGENESIS
7. THEEF
8–9. REQUIEM
10. 4-D
11–13. EXISTENCE
14–15. DEADALIVE
16. THE X-FILES End Credits (1st Season)
17. I Made This/20th Century Fox Fanfare*
* - Music Composed by Alfred Newman
Disc Four Total Time: 76:04
Total Set Running Time: 298:27
Original Series Score and Fox Fanfare
Published by T C F Music Publishing, Inc. (ASCAP)