In short, a call sheet from June 16th, 2015 was leaked. We will break it down for you... BUT before you advance any further, what we will discuss here contains potential spoilers. Click after the jump at your own risk.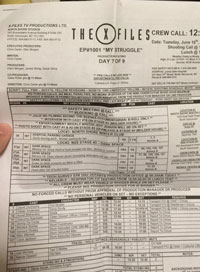 So sit back as we break down this call sheet for you guys. 
- We've greyed some areas because of sensitive information that we at XFN won't facilitate.
- The episode seems to be called "My Struggle" penned by Chris Carter. Production # 1AYW01
- This is a call sheet of the 7th day of the 9 in total expected to complete the shoot for this first episode. 
- For those not versed, They're working off a script finalized in its "pink version" (that's usually a 3rd version after a finalized full draft) that was locked on June 3rd. There are some revisions on this script made on a 4th instance revision of the script locked on June 9th. The crew is using a "one liner" and DOOD (day out of days) updated on June 15th and a Shooting Schedule still on its first version.
- As per the notices in the top header: there's a documentarian interviewing Annet Mahendru (who's playing Sveta and has been previously in shows like The Americans) at Set #3 that's Mulder's house... So, Mulder has a house.
- Jeff Jensen from Entertainment Weekly is on set and interviewing Gillian Anderson and David Duchovny at a set up set and Mulder's house.
-Scene 39, shot at the parking garage of the North Shore Winter Club, doubles for the parking garage of the hospital and features both Scully and Mulder and he's waiting for her by the description of the scene.
-Partial of Scenes 27, 30 and 12 were shot at North Shore Studios and consisted in inserts of possible flash backs or memories of: sharp medical tools pressed into men, women and children, a clean shaven doctor (played by Giacomo Baessato) inoculating abductees with alien blood, Sveta on a table screaming as a fetus was lifted and a dead alien full of bullets.
- The tech survey ( a tour of the locations for a shoot) for the second episode departed at 8:30am from the main office.
- A respirator fit was tested from 18 to 20hrs at the lunch tent.
- Everyone had to wear their ID badges on set and be provided of one and no one could bring their own vehicle.
- Besides David Duchovny being #1 on the call sheet and Gillian being #2, and Mahendru and Baessato being confirmed part of the call sheet, we also see Sandy Da Costa as an Alien, Melissa Stubbs as a stunt coordinator and Samara Stubbs as stunts abducted child. Mike Mitchell as a stunt abducted man, and Carol Jackson as a stunt abducted woman.
- Joel McHale was on hold, meaning that only if they were forced to change plans he would be called to set, and Rance Howard, playing an Old Man was scheduled for fittings.
- Steve Kiziak and Christine Knight were called in as stand-ins for David and Gillian, respectively.
Now onto the round of additional information out there:
TV Wise has UNCONFIRMED information that Jaden Smith (son of actor Will Smith) could be in the radar for a role on the revival.
As reported on our Twitter, the production also shot at night at Ashcroft, BC, where an UFO-like structure could be seen on a field, and a series of film shoots took place at the reknown location of the Riverview Hospital.
For further discussion, don't forget to visit our X-Files Revival thread at our forums, for all the excitement and fan chatter!