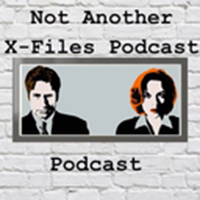 Poor Skinman is having a bad day on this episode of Not Another X-Files Podcast Podcast. Hosts Vanessa, Amanda, and Carolyn dive into Season Three's "Avatar."  It's an episode that leaves them with more questions than answers but an epic trivia contest with a great soundtrack saves the day. Your hosts also talk the trials of watching the show "retroactively" and living in the "golden age of television." All that and some of your favorite segments make an appearance too.
Check out this week's episode here or find it on iTunes, Podbay, PocketCast, or others.
Want to know more about the team behind this podcast? Check out our interview here.