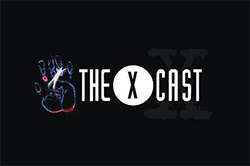 We'd like to introduce you to a new X-Files podcast that's joining our podcast round-up family. The X-Cast is hosted by Tony Black, and starting September 30th we'll be featuring new episodes here. The X-Cast recently wrapped up an in-depth look at Season One and will be moving onto Season Two episodes in September. During the break between seasons, Tony has a special episode featuring IDW comics Editor Denton J. Tipton, who is part of the team behind The X-Files comics. You can check out that episode here. 
So other than the obvious, what exactly is this podcast about? I talked with creator and host Tony Black about his inspiration for the show and what new fans can expect to hear.
What got you into The X-Files? What was your first episode?
It was probably when it started airing on BBC2 in the UK around 1994, and popping up in the old VHS packs that badged two or three Season One episodes together. I was a massive Star Trek nut at the time and haughtily disliked this new upstart which everyone was talking about. Then I saw "One Breath" and, well, my breath was taken away. It became very quickly, and remains, my favourite ever TV show.
What inspired you to start doing the podcast?
A desire to share my love of The X-Files more than anything else, and to talk about it. I'd not been able to do that for a long time, and as the revival series loomed, I was already established doing film podcasts so I had the tools and means at my disposal, I thought now would be the perfect time given the show was back in the public consciousness. It's been a lovely surprise to see just how strong the fandom still is, and how many new people are finding it thanks to the new series, Netflix and such, and hopefully podcasts like this.
Read more after the jump.
What makes you different than other X-Files podcasts out there?
I don't know of any others with a British bloke from the Midlands hosting! That's probably our USP, the fact we're from across the Pond. Even though we have a core of American guests, I've had on people from across the UK and Ireland discussing the show and their love for it, which perhaps the majority of other XF podcasts wouldn't have. It perhaps just gives another angle of the fandom. Plus we do interviews where we can get them with X-Files related creatives, and (though I may be wrong), I don't think many others aim for that either.
What can fans expect from each episode? Do you have a particular formula or featured segments, or is each different?
We do have a formula with segments, yeah. Unless we're doing an interview, each episode focuses on one of the episodes of the show (though we intend to expand and cover the novels and comics too in time). If a guest is new to the show, they are asked "The Five Questions of X," which gauge their fandom and reveal their favourite episodes & seasons. Otherwise, we tend to start with an overview of what we thought of the episode, score it out of 10. Then we break it down, scene by scene, analysing the episode (picking apart any flaws too, with love), and giving hopefully interesting factoids along the way. I then ask the guest "Do You Believe In?" where I ask if they believe in the specific paranormality of the episode. Finally, guests take the "X-Quiz," five questions and a quote about the episode they've just watched, which has come to be dreaded by recurring guests given how fiendish I (unintentionally) make it! 
How often do you record episodes, and when can fans look for new ones?
It took around six months to record Season One, as we tend to record weekly. Sometimes we record 'two in one', but that depends on schedules and availability - arranging podcast recordings can become a tricky business! But when we premiere, our aim is to stay on the air every Friday until the season is done, so you can (all going to plan) expect new episodes from September 30th, every Friday, uninterrupted until March 2017, when we'll take a little break before we start Season Three.
Are there any "frequent flyer" guests you'd like to share more about?
Each episode is hosted by me, Tony, but we do have frequent guests who rejoin us for episodes, fans and friends who love talking the show. Andrew Brooker is a British film critic who appeared probably the most in S1, and will be back for S2; Lee Howard is a British film critic podcaster with an excellent show called Movie Matters and was one of the first people to collaborate with me on the show; Tanya Hernandez is an American mega X-Phile who was our first guest and good enough to talk the two revival mythology episodes with me; Zach Moore is the American host of the Always Hold On to Smallville podcast which is about to enter S2 itself, and I'll hopefully be appearing on in the coming months; Matt Latham is a British TV writer with his own site called The Bottle Episode and Wayne Talbot is one of the leading lights of Ireland's geek scene, plus co-hosts the excellent Irish Pubcast all about geek interests.
Most of these guys will be back in S2, and we're adding lots more new faces to our recording roster I'm excited to share as we go.
What is your favorite X-Files episode?
"Pusher." No question. It's just got everything - excitement, mystery, suspense, brilliant writing, perfect casting, and an ending about as thrilling as anything I've ever seen on TV. It's the first truly magnificent thing Vince Gilligan ever did.
Who is your favorite X-Files character?
For years, it was the Well-Manicured Man - loved that guy. John Neville played him with such gravitas and depth. I was always happy when he popped up on the show. 
Do you consider yourself a skeptic or a believer?
I want to believe! Cheesy as it sounds, that's my best answer. I've never seen anything weird enough that makes me truly certain the paranormal exists, but I've been fascinated by the strange and wonderful since I was a child, and I'd love to believe. So I'm more believer than skeptic, for sure.
Anything else you'd like fans to know that I didn't ask?
I am the Alien Bounty Hunter in disguise.
Thank you to Tony Black for chatting with us!
You can find The X-Cast on their website, on iTunes, on Libsyn,  Facebook, and Twitter.