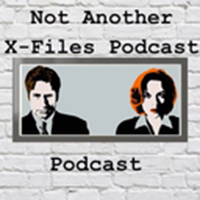 Detective Manners says you should really listen to this bleeping episode of Not Another X-Files Podcast Podcast. Hosts Amanda, Carolyn, and Vanessa do their best girly scream while talking Season 3's "Jose Chung's From Outer Space." Author Heidi Bleackley joins the girls to talk Mulder's problematic interrogation techniques, the prison system, and why it's good to be alive in 2016. The hosts also share that they discuss rape from 22 minutes to 25:45 and again from 27:30 to 28:30 if you'd like to avoid the topic.
Check out this week's episode here or find it on iTunes, Podbay, PocketCast, or others.
Want to know more about the team behind this podcast? Check out our interview here.