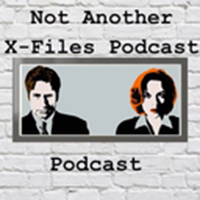 Nothing says awesome like black oil leaking out of a trapped Krycek's face, right? On this week's Not Another X-Files Podcast Podcast hosts Vanessa, Amanda, and Carolyn dive into Season 3's "Apocrypha." It's a well balanced X-Files meal that your podcast chefs describe as "an appetizer of a completely improv-ed song, a main course of found diary entries, and some shipping for dessert!" Throw in some Foo Fighters and German Polka and you've got a recipe for fun.
Check out this week's episode here or find it on iTunes, Podbay, PocketCast, or others.
Want to know more about the team behind this podcast? Check out our interview here.