Details

Written by:

Keva Andersen | Deputy Editor-in-Chief

Category: Fan Writers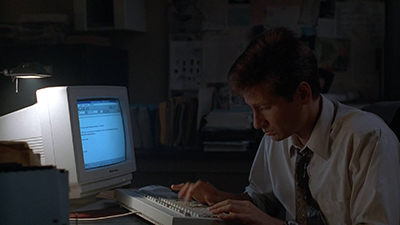 Gather round kids, we're going to tell you a story from the X-Files Fandom days of old. For the "old timers" like me, join in and smile at the remembrances of EMXC, Gossamer, and the old alt.tv newsgroups. This week's author was there for all of it. Vickie Moseley and her stories were a staple in the fandom for years. Her fantastic body of work will keep you occupied for ages, with 252 credits to her name on Gossamer alone. Vickie also contributed to the "Virtual Seasons" project that spun off to continue the stories of Mulder and Scully in a different direction when Season 8 took to the TV airwaves. If you've never explored their seasons, bookmark that page for when you've finished reading this interview and then dive in.
If you like family fic, "Flight Into Egypt" is a long series I revisit frequently when I need to forget that Mulder and Scully didn't get to raise their son. It soothes that pain quite nicely. Another favorite series is "By Her Side" which is told through Billy Scully Jr.'s eyes. Vickie does a wonderful job looking at Big Brother Bill as someone other than a jerk and fandom's favorite punching bag. In "Joy and Sorrow," Maggie Scully guides us through the moments of Mulder's rebirth in "Dead Alive." It's touching and sweet and will have you wishing they would have given us more screen time with Mom Scully in Season 8.
I could go on and on with recs but I'll cut to the chase and get to the interview. We talked with Vickie about writing, inspiration, fandom, and of course The X-Files.
How long have you been a Phile?
I stumbled onto the fandom in March 1995. I'd been a fan of the show since it first aired (actually, I was a fan once I read the TV Guide Fall Preview issue for Fall 1993 and saw the small blurb about the 'new science fiction show about aliens'). When my husband 'gave' me the internet for my birthday I immediately typed 'X-Files' into the yahoo search engine and after some sites dedicated to the actors and character bios, the old Rutgers Fan Fiction site came up. From there, I was hooked.
What was your first episode?
The Pilot. I saw every episode as it aired up to Season 8. I watched "Within" and couldn't stand the changes so I resorted to reading about the episodes on Haven until David Duchovny reappeared. I am very much a Mulderist. I have only watched "Trust No 1" and "The Truth" from Season 9.
How long have you been writing fic?
September 1995 was my first posting – "Aftermath." You can read it, warts and all. I was attempting to write a fill in the blank for the summer after the season 2 finale "Anasazi." Within a week of posting the story became 'alt.universe' because Chris Carter went in a totally different direction than I had taken.
Details

Written by:

Keva Andersen | Deputy Editor-in-Chief

Category: Fan Writers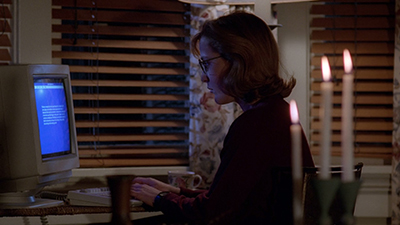 After a short hiatus, we're back with our author profile series! Meet crossedbeams. She's a relative newcomer to the fandom and found her way to The X-Files in a way that's a little different than most. But despite only meeting Mulder and Scully a short time ago, she's taken to the characters like an author who's been with them for years.
Take some time and read through crossedbeams' collection of "MSR Moments," a collection of ficlets and prompts that are fun snapshots of Mulder and Scully's day-to-day life. With a little angst thrown in too, of course. If AU's are your thing I highly recommend "One Week at Quantico." The story looks at what might have been had Mulder been teaching at the Academy while Scully was there. Jump in for this line: "But for the sake of argument, quantum physics doesn't actually rule out time travel" and stay for the rest of the story! And if, like me, you're looking for a great post-revival kick in the feels check out "Lost Letters." The story explores how Mulder and Scully deal with Maggie Scully's death in a world where "Babylon" and "My Struggle II" don't exist.
We talked with crossedbeams about writing, inspiration, and of course The X-Files.
How long have you been a Phile?
I'm pretty new! I think I watched my first ever episode in November 2015, I completed my first watch through two days before the revival started and I joined the online fandom a year ago! I came at it all kinda backwards… I'm a massive theatre nerd who missed the London run of "Streetcar" (my favourite play) thank to illness, and had never quite gotten over it! The NY show announced summer of 15 and I'd already decided I was going, hell or high water. Then when I was reading about the production it mentioned that "Blanche" was in The Fall, I'd only seen Ep.1 so I got hooked on that, figured I'd see what else Gillian had done, saw The X-Files, I only knew it was one of those cult shows I'd missed thanks to my TV-less childhood and so I figured I'd give it a go… little I knew!
What was your first episode?
The pilot! I'm a completist to a boring level, chronology is my jam (which makes late season mythology suuuper fun!). I think I actually saw the pilot three times before I made it further, once with my sister who wasn't interested, once when I was so tired I couldn't remember what happened and then finally the day I watched most of S1 in one hit. Whoops!
How long have you been writing fic?
According to my blog I posted my first drabble on March 28th, 2016! So almost a year, which seems both way too long (I still feel like a desperate newbie) and not long enough.