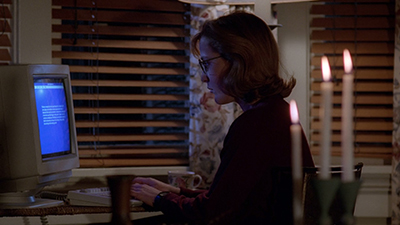 After a short hiatus, we're back with our author profile series! Meet crossedbeams. She's a relative newcomer to the fandom and found her way to The X-Files in a way that's a little different than most. But despite only meeting Mulder and Scully a short time ago, she's taken to the characters like an author who's been with them for years.
Take some time and read through crossedbeams' collection of "MSR Moments," a collection of ficlets and prompts that are fun snapshots of Mulder and Scully's day-to-day life. With a little angst thrown in too, of course. If AU's are your thing I highly recommend "One Week at Quantico." The story looks at what might have been had Mulder been teaching at the Academy while Scully was there. Jump in for this line: "But for the sake of argument, quantum physics doesn't actually rule out time travel" and stay for the rest of the story! And if, like me, you're looking for a great post-revival kick in the feels check out "Lost Letters." The story explores how Mulder and Scully deal with Maggie Scully's death in a world where "Babylon" and "My Struggle II" don't exist.
We talked with crossedbeams about writing, inspiration, and of course The X-Files.
How long have you been a Phile?
I'm pretty new! I think I watched my first ever episode in November 2015, I completed my first watch through two days before the revival started and I joined the online fandom a year ago! I came at it all kinda backwards… I'm a massive theatre nerd who missed the London run of "Streetcar" (my favourite play) thank to illness, and had never quite gotten over it! The NY show announced summer of 15 and I'd already decided I was going, hell or high water. Then when I was reading about the production it mentioned that "Blanche" was in The Fall, I'd only seen Ep.1 so I got hooked on that, figured I'd see what else Gillian had done, saw The X-Files, I only knew it was one of those cult shows I'd missed thanks to my TV-less childhood and so I figured I'd give it a go… little I knew!
What was your first episode?
The pilot! I'm a completist to a boring level, chronology is my jam (which makes late season mythology suuuper fun!). I think I actually saw the pilot three times before I made it further, once with my sister who wasn't interested, once when I was so tired I couldn't remember what happened and then finally the day I watched most of S1 in one hit. Whoops!
How long have you been writing fic?
According to my blog I posted my first drabble on March 28th, 2016! So almost a year, which seems both way too long (I still feel like a desperate newbie) and not long enough.
What inspired you to start writing?
I've always been a reader, no TV as a kid = loaded bookshelves, my family are wordy, my degree is in English literature and I work with books, so words are my most constant companion. I've always liked to write, the process of catching an idea or a sensation just perfectly in a sentence is on of the most satisfying things I can think of, but while I was at Uni, it was like a switch flicked in my head. I think it was perhaps the first time in my life I was truly unhappy for more than a few hours, and also the first time I didn't have anyone to talk to that I trusted. I became very isolated, shut myself in my room a lot and all the words that used to be my friends where just fighting in my head, angry or sad or whatever, the noise was endless. And on day I just snatched up my laptop and started writing. I don't even remember what, probably some self-pitying explosion of adjectives, and for a little while I felt better. I wrote a lot of poetry, essays and journaled while I was at uni, my only attempt at stories was curtailed by a creative writing tutor who I despised, but in one form or another I've been writing ever since.
Who is your favorite XF character to write?
Originally it was Scully, I tend to gravitate to female voices and hers is the kind of awesome, no-nonsense, bad ass lady voice I wish I had, but lately Mulder has crept in and I honestly enjoy writing both their perspectives equally, though Scully still comes a little more easily. "Quantico" was the first time I feel like I successfully pulled off a split narrative between the two and kept both their characters completely clear. My absolute favourite thing to write though are the bits in between the characters, the omniscient narrator parts where you get to dig into your vocab to try and describe succinctly the emotional impact of a word, or the desperation of their need etc. But that's not really a character so… Scully!
Are there any XF characters you dislike or find too difficult to write?
Besides Mulder and Scully, I've only ever tried to write Maggie, and that was in letter format which is kind of a cheat, so I don't feel like I've necessarily got enough experience to answer this well. I'm pretty good at writing within a brief, so I'm not adverse to writing anyone, I just don't have any ideas for most of them! I suppose Reyes appeals to me the least, just because I don't feel like I ever properly connected to her or understood her true purpose in TXF universe (especially post-revival). I don't dislike her at all, I just don't get her and so likely couldn't do her justice.
Is there a story you're most proud of or that's a favorite?
I think "Quantico" will always be special because it took me by surprise; it was the little request drabble that grew and I am still overwhelmed by people's response to it… but.. "Trinity" is my baby, and also my great shame, because it's been a WIP for way too long and I'm still dithering. I'm proud of it because it's the biggest risk I've taken in my writing; my first proper case file and my first attempt at crossover. Writing Scully, Stella Gibson, and Blanche Dubois into one canon compliant universe is possibly the stupidest idea I have ever run with, but so far it has paid off and the feedback from those prepared to risk it has been phenomenal. I love writing Blanche, Stella fights me and Scully is my safe place but the mental process of characterizing that story, advancing that plot, is the most satisfying, terrifying, exhausting writing I've ever done. And I desperately need to get on with it.
Where can people find your work, and what's the best way to send feedback?
I have a master list that I update regularly on my blog header and I'm also on AO3 as crossedbeams and everything is indexed there too. Feedback can be via tumblr message, comment or ask, AO3 comment or people can email This email address is being protected from spambots. You need JavaScript enabled to view it. I'm still amazed that people read what I write so any feedback is the cherry on top! I'm also good with constructive criticism, I'm still new and learning after all.
Do you take fic prompts from fans?
Yes, though it can take a while. There are guidelines to what I will/won't write on the Request A Fic tab on my blog, and a disclaimer too! But I'm always open to discuss it.
Have you written your own original characters outside of fandom?
Yes. I have a few unfinished short stories, a couple of finished ones, and in my previous incarnation on tumblr I wrote a pretty long, often terrible, series that covered several generations of a cast of original characters!
Anything you'd like to share about your writing process?
I'm kind of a messy writer. I write mostly in long sittings and the words just come. Most of my favourite drabbles have been written in a single sitting and posted when the last full stop drops. (Hence the typos in early reblogs!) I find this stops me over working the prose and getting too verbose but it does also backfire at times. I find it much harder to write longer form pieces, because my writing is often emotion driven. There was a six week gap between most of "Quantico" and the final two chapters, a four week gap between parts 3 and 4 of "Close" partly because I put immense pressure on myself to "finish things well" but also because emotionally I couldn't find the right groove. "Quantico" began in a fluffy, happy place where I was optimistic and not in my head, "Close"… I think I was tipsy and had come in from a date! Trying to finish those fics as they deserved to be finished when a week later I was miserable and self-flagellating, or feeling decidedly unsexy felt almost impossible. I often wish my process were more considered and structured, that I could sit and get down a couple hundred words and edit it better later, but my mind just doesn't work that way, and I've learned that I can't force it to.
Do you have a favorite author? (fanfic or published!)
Only about 9000000! Fic wise, somekindofseizure on tumblr has a gorgeous way with words I envy and aspire to. I could list so many more but I'll only leave people out so I'll just say that if you check my ficrecs tag you'll find so many people, many of whom I'm lucky enough to count as friends, who do so many things so well. Some of them are plot beasts, others ruin me with beautiful language and some are just steam queens.
My favourite print authors are probably Ngugi, John Burnside, LM Montgomery, Roald Dahl, Alice Hoffman and Oscar Wilde.
Is there any advice you'd give to aspiring writers?
Just do it. Keep doing it. Until you've actually scribbled or typed something down it's only ever an idea. Even if you hate it, keep it, try again. You can't get better at something you're not actually doing and thinking your ideas til you're blue in the face doesn't count! Read, learn what you like and don't, be inspired. Keep writing. And don't compare your work to the work of others, you'll never match "their voice" so don't try. Mark yourself against yourself, if you capture something better every time you sit down and write, you're headed the right way. Just do you, do it regularly, ask for help, and keep going!
Anything else you'd like to share that I missed?
I'd just like to say thank you for asking me to participate, I'm still finding my feet in this strange new fandom place and I am so very grateful to you for asking, to all those who read my writing and to everyone who has embraced me and made this such a great year, I've been a fangirl of many things, but it's my first time as part of a family and it's been such a lifeline.
Thank you so much to crossedbeams for talking with us! We're always looking for authors both new and old favorites, so if you have suggestions please message us on tumblr, hit us up on twitter or facebook.