Details

Written by:

Keva Andersen | Deputy Editor-in-Chief

Category: Fan Writers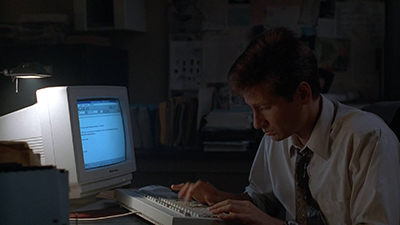 "Her smile is genuine but it is not permissive, it is not a change of heart." This line comes from an excellent series by a fantastic author who is new to the X-Files fandom. It's just one of many examples of how this week's author, somekindofseizure, beautifully captures the spirit of Scully and Mulder. That line is from "Things You Said Sitting Still," which is the first in a series that now has 7 parts. And if you missed this recent piece "London Calling" go read that first and then come back to this interview, I'll wait. It's Scully's birthday after the events in "Fight the Future" but I think it's the reader who gets the gift from this wonderfully-woven ficlet.
We talked with somekindofseizure about writing and The X-Files.
How long have you been a Phile?
I binge watched it (the first time) starting about a year ago. I think it's really nice that longtime Philes are so welcoming of newcomers.
What was your first episode?
The Pilot. The first one that really got me was "Ice," the neck-check scene. The stakes are "I might have to kill you," but the subtext is, "I want to kiss you." The X-Files is special that way.
How long have you been writing fic?
About seven months.
Details

Written by:

Keva Andersen | Content Editor

Category: Fan Writers
Here's the story of an author named storybycorey, who was writing us some very lovely fic.... Ok I'll quit with the Brady Bunch reference and sing the praises of this week's author storybycorey instead! If AU's are your thing, check out her college AU that starts with "You'll Forever Be in Debt to a Bunsen Burner" and has two more installments after that. If you're looking for a short and sweet kick in the feels I highly recommend "We Discussed It" and "Peonies." If more "adult" stories are your thing and you want to know what happened post hand-holding in Season 10's "Babylon" well let's just say "Wonders Never Cease" may hit the spot!
We talked with storybycorey about writing, The X-Files, and what got her into fanfic.
How long have you been a Phile?
I've been a Phile since 1997. I started watching because the guy I was dating recommended it. He watched it for the supernatural, and I watched it for the romance. We broke up soon after, but there was no turning back for me!
What was your first episode?
I honestly don't remember. They aired reruns on cable at the time, and once I started watching, I watched every night trying to catch up with the current season, so it all sort of jumbles together for me!
How long have you been writing fic?
I published my first fic in 1998, and began several others at the time, too, but never completed them. Then I took a longgggg hiatus, and began writing again last year. And I haven't stopped since!
What inspired you to start writing?
Once I became addicted to the show, I began scouring the internet for all that I could find about it. One lucky day, I discovered fanfic, and my entire world opened up. I honestly had no idea that people did this thing that I'd always thought about- write stories about Mulder and Scully actually getting together. I am an artist, so have always been creative, but I'd never actually written anything creatively. But once I knew it was a "thing," I had to try my hand at it.
Read more questions after the jump.