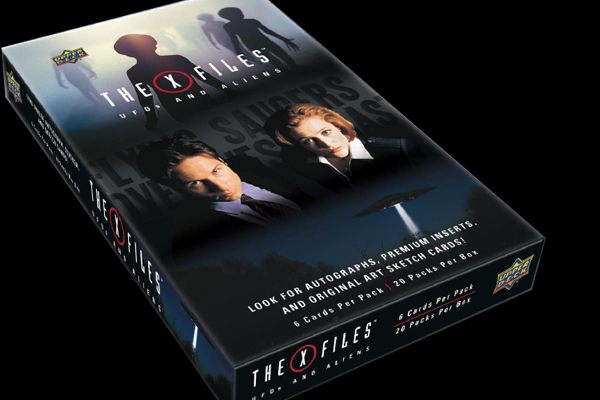 We know many Philes are always looking to add new pieces to their X-Files memorabilia collection, so we were excited to hear about a new set of trading cards called "The X-Files: UFO's and Aliens" being created by Upper Deck. Released on March 13, the new set has some interesting things to offer, but how does it stack up to previous collections from Topps or Inkworks? XFN checked out a box, see what we think and find out how to get a discount on your own box.
Each box sells for $72.90 and comes with 20 packs of cards, with 6 cards to each pack. The base set consists of 300 cards from the episodes but there are many extra insert sets to hunt for as well. These include stickers, autographs, behind-the-scenes moments, character cards, original sketches, unexplained phenomena, and "redacted files" cards to watch for. Check out the list of every available card here.
In the box XFN received from Steel City Collectibles, we had an interesting mix of episodes and extras. In the episode cards, the early seasons featured heavily with fewer cards from the later seasons. And what about Seasons 10 and 11? More about that in a bit. Of the "extras" options, we found 2 autographs, 3 stickers, 3 unexplained phenomena, 3 behind-the-scenes, and 8 character cards. We also received a metal printing plate card which says it's a "trading card that includes an authentic piece of the printing plate used in the production of the card."
Overall, it's an ambitious collection with lots of fun extras to hunt for. In the box we got, there were no double cards and we're well on our way to having the full base set of episode cards. The cards look great and they picked memorable moments from the episodes. If you're a fan of the early seasons, you'll be able to track those down fairly easily as they're most common, with the later years being "short print" or "super short print" and more rare to find. The stickers are nice and as Doggett and Reyes fans we were happy to see them included in the stickers as well. The printing plate card was an interesting touch, and we don't think we've seen something similar in the past.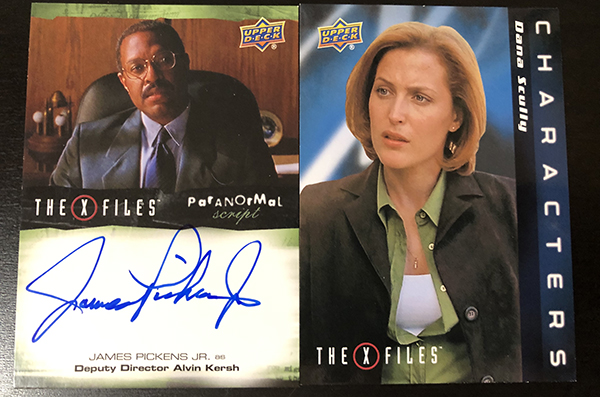 That said, there are some cons to the collection as well. For starters, they only included Seasons 1 through 9, but nothing from the films or revival era. Including "Fight the Future" and "I Want to Believe" in with the TV series can get tricky because of legal reasons, and it's possible that Upper Deck was not given the rights to the newer TV material. Rittenhouse put out a series of Season 10 and 11 cards back in 2018. Whatever the reason, as a collector it's disappointing to not have the opportunity to get the entire TV series in one set.
We found some of the choices for autograph cards to be a little strange too. There is one from an actor who played a train station clerk, but nothing for Frank Spotnitz or some of the other writers. There may be a few reasons why some of the more important cast and crew members were left off the list, including payments to autograph signers, or their availability, which could be why Upper Deck didn't include them. And while the redacted files cards are interesting, they almost feel like filler in an already big collection, if you're interested in tracking down all the extras. We also caught a pretty big typo. On the episode cards, Season 4's "Memento Mori" is spelled "Momento Mori." Which is something a true Phile would have caught immediately. And if you're looking for a special XF binder to store them in, as other collections have done in the past, Upper Deck isn't making one.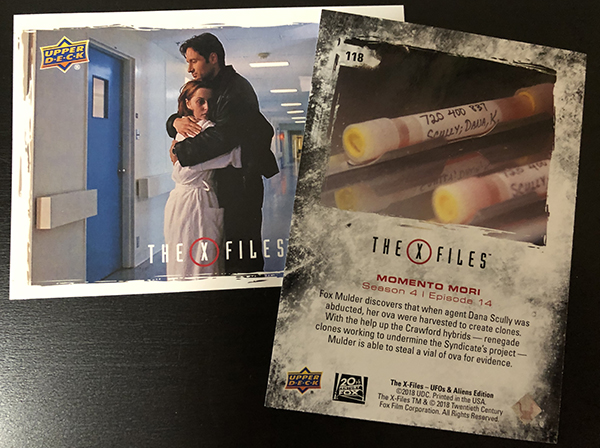 Overall, it's an interesting set, but some things fall short and keep this from being a "must have" item if your XF budget is limited. But if you enjoy the thrill of the hunt, the search for the base set and all the extras should be enjoyable. And to get started on that hunt, Steel City Collectibles is offering a coupon code for $5 off the purchase of $50 or more on their website. Use XFILES5 at checkout, and the code will expire June 1, 2019. 
Have you bought your own box yet? Let us know what you think on Twitter or Facebook.