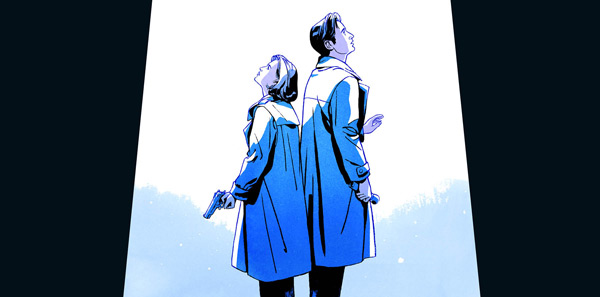 There's always been a very succinct way that we as fans identify our favorite parts of The X-Files: whether it be Shippers or Noromos, or we use abbreviations like MSR, or DRR, and then Mythology and MOTW.
The latter is the center of the newest critical companion written by Zack Handlen and Todd VanDerWerff. Monsters of the Week presents itself as the most complete one, with a foreword by Chris Carter and interviews with Vince Gilligan, Howard Gordon, Darin Morgan, Robert Patrick, Mitch Pileggi, Frank Spotnitz and James Wong. This isn't just a book about reviews, but it is one that is a very well placed balance of opinion and history.
We had the opportunity to speak with both Todd and Zack about their motivation for writing this collection of reviews.
Zack Handlen: "We're both long-term fans of The X-Files, and getting a chance to cover the whole series in a go had a lot of appeal, both as a chance to revisit the material itself and as a way to express our own appreciation (and issues) with the show as a whole. As bonus, the hardest part of the work--the rough drafts, so to speak--were already done when Abrams, our publisher, reached out to us about the possibility of this book. The original versions of these reviews all appeared online at the AV Club when Todd and I traded off writing about the series a few years back. Getting an opportunity to edit and rewrite those reviews in a more definitive, permanent format was hard to pass up."
Todd Vanderwerff: "The X-Files was the first TV show I ever really loved. It's ground zero for the entire career that followed, so when I got to cover it at the AV Club, it felt like a weird culmination of sorts. But now that we have this definitive book about the show, which people will have on their shelves to pull down any time they want to read about the show, which Chris Carter himself wrote a lovely little introduction for? To say 14-year-old me is freaking out is an understatement!"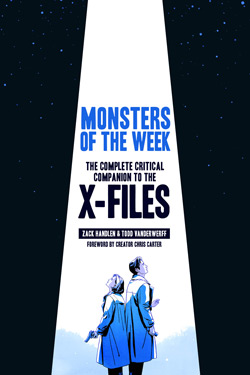 XFN: Why focus on MOTW over the mythology or the show as a whole? Would you find it attractive to write a book only about reviewing the Mythology?
TVDW: "Well, we've reviewed all of the mythology episodes, too! Monsters of the Week just makes for a better title, honestly. That said, we hope the book can keep alive the old debates over which sorts of episodes are best. I think both Zack and I prefer the MOTW episodes, but I found a newfound affection for the mythology working on this project. At its best, it has a propulsiveness like few other things in TV history."
ZH: "I think a book that focused on the mythology would start exciting but get fairly depressing before the end. But I agree with Todd that this book helped me appreciate the show's attempts at long-term serialization, at a time when that wasn't really the norm for television. While there were some great MOTW episodes in the first couple of seasons, I don't think the show would've become the pop culture juggernaut it was (and, to some extent, still is); the way the conspiracy builds and intensifies in those early mythology storylines is still fantastic stuff."
XFN: What was the process of writing the reviews? How long did it take from conception to finishing? What was the hardest of the whole process?
ZH: "This is a bit unusual, as most (but not all) of these reviews were done in two parts: the first, when they were initially published online five or six years ago, and the second, after we knew we'd be putting this put together, and were going back in and reworking and editing everything for the book. So it's hard to say how long it took--the editing process was over the course of a year or so, going back and forth with our (terrific) editors, but there were also those initial drafts, which were written with a very different context in mind. For me, the hardest part of the whole process was trying to get back in the mindset of those original reviews and finding a way to bridge the gap between how I watched and wrote about television back then, and how I watch and write about television now. The changes weren't drastic, but they were often more substantial than I was expecting."
TVDW: "A lot of the first drafts of those reviews were written in a panic on a Saturday morning, when they were due to publish in a couple of hours. So it was great to go back and smooth out the problems in them, and even look at some of the comments people had left on those reviews to consider other opinions on certain topics. (I especially found this useful in "Small Potatoes," which I had reviewed in a way that glossed over some of the episode's less amusing bits.) But Zack is right that we did a fair bit of rewriting, and there are a lot of reviews in the book that are brand new, including much of season one, some of season two, our discussion of the movie, and then plenty of seasons 10 and 11. Even if you obsessively followed the AV Club reviews, you're going to get a lot of stuff you've never read before in this book!"
XFN: MOTW for The X-Files range between humor, science, horror, suspense, fantasy, religion - sometimes a mix of all those elements. Which mix do you think worked best in the final draw of it all?
TVDW: "I love the comedy episodes, of course, but a format that almost never went wrong for the show was "Mulder and Scully try to survive in an isolated location." It's present in the show's first capital-G Great episode, "Ice," and it keeps popping up throughout the series. There's even a great example of the form in season eight, when Mulder and Doggett head out to the oil rig in "Vienen." Something about isolating the characters so they had only their wits to work with really reflected well on the show."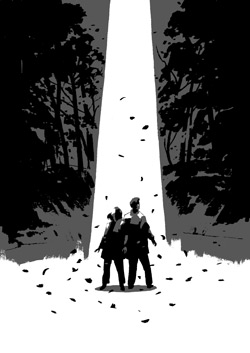 ZH: "I'm not sure I could pick out one specific mix that always worked best; one of the things that makes The X-Files such a great series is, as you say, the show's range. One week you could get something absolutely terrifying, like "Home" or "Folie a Deux;" the next, you could get something as funny as "The War of the Coprophages" or as outright loopy as "Hollywood A.D." The first couple of seasons (especially season one) are fairly consistent in terms of approach, and while there's a lot of great episodes in there, for me, the show really found its voice when it started experimenting. So I guess I'd say it's not one specific mix (although I agree with Todd with that isolating the characters was always a great idea), but rather a willingness to keep trying new things that ultimately served the series the best overall."
XFN: Which writer - besides Chris Carter - do you think was the champion in writing these MOTW? Why?
ZH: "I have to go with Vince Gilligan for this one. Darin Morgan (who wrote, among other things, my favorite episode of the series) was tremendous, but Gilligan (who did classics like "Pusher," "Drive," and "Bad Blood" among many others) really helped to establish the flexibility of the concept. Among other things, he's just a master of structure--it's something he took to Breaking Bad and Better Call Saul, and you can already see how good he is in building up a story and putting the characters through their paces."
TVDW: "Zack took my answer, in that Gilligan was the show's best writer among its most prolific writers. (I love Darin Morgan, but he's written just six scripts for the series!) But let me give a shout-out to Glen Morgan and James Wong, who solidified so much of what The X-Files was in those early days and, more importantly, wrote the first true monster of the week episode in "Squeeze."
XFN: Was there any particular surprise while writing the book, in terms of knowledge gained or anecdotal?
TVDW: "I will say that I had always respected Chris Carter as a writer and director, but I'd also found his approach to showrunning just a bit curious. Where other showrunners kept a super steady hand on the proceedings, Carter was always willing to give in to an idea if it was good, which meant the show often ranged all over the map. Most of the time, that was for the better (it's why the series still holds up today), but there are certainly a few episodes in that vein I'm sure all would prefer to forget. But in talking to people who worked on the show, I came to realize that Carter's willingness to let others play in his sandbox was a strength, not a weakness. Not only did it make The X-Files as elastic as it could be, but it also trained a whole generation of great showrunners, like Gilligan, Howard Gordon, and Alex Gansa."
ZH: "I guess I'm continually surprised at how well the show holds up. Which may be slightly disingenuous, coming from a guy who just co-wrote a book on the whole thing, but so much of what The X-Files did well--great character work, a willingness to mix standalones with serialized entries, and the show's gorgeous visual style, which only got more impressive over the course of the series--is what we look for in television today. Heck, plenty of modern shows could stand to take a few pages from The X-Files playbook."
XFN: If you could pick one MOTW episode of the whole series as your favorite, which would it be?
ZH: "Clyde Bruckman's Final Repose." It's been my favorite ever since I saw it as a kid, and it still holds up beautifully today."
TVDW: "I adore "Jose Chung's From Outer Space." It's one of the 10 best episodes of TV I've ever seen, and I feel like I've learned so much about myself from watching it obsessively. But if I were to pick a truly scary episode as my favorite, I'd likely go with "Home."
XFN: Do you think it's possible to watch the show without paying attention to the mythology, focus on the MOTW episodes and still be a sound show?
TVDW: "I think it is, sure. The great thing about The X-Files is that its endless inventiveness means you can watch it pretty much however you want and get something out of it. The true story at its center isn't the alien conspiracy so much as it is Mulder and Scully coming to trust each other, and a whole country full of monsters that they bring into the light. Sure, I think most viewers should watch the mythology episodes, and I imagine in a Hulu binge, they will. But why not pick and choose? It's one of the great shows of all time for doing that."
ZH: "Agreed. That's part of the genius of it--you can pick up pretty much any place you want to, but it'll always leave you coming back for more."
Accompanied by the great and moody illustrations by Patrick Leger, reading "Monsters of the Week" is the book version of every Sunday night that you sat down to watch the show and then discussed it with your friends; the book version of binge watching the show today and live-tweeting each episode, while stopping here and there to explore in the behind-the-scenes and several critical and widely informed conversations about what it took to create this show.
Whether you agree with all of their opinions or not, it is truly refreshing to read a collection of reviews by people that devoted great appreciation for the object of their examination, which isn't always the case. Their reviews are rich on filmmaking criticism, based on knowledge and respect for the creators of these 218 episodes and 2 movies.
So, if you're in the market for an elevated discussion in book form, this is definitely a must. Beyond that, this is a great addition to your collection, to be filed under "essential books for an X-Phile education."
---

As you know, we're running a contest for Monsters of the Week - go here to participate! You can also purchase the book directly from the Abrams website. For a limited time, those that have pre-ordered the book could receive a book plate signed by the authors and Chris Carter.