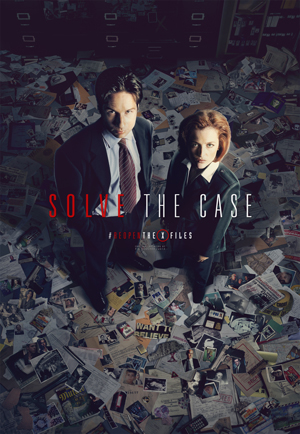 We've had such an amazing time with this contest! It was really a treat for us to see how many of you kept following along, the anticipation growing as we got to the end. If you didn't join the #ReopenTheXFiles puzzle contest, this is what it entailed: We released a piece a day since October, ending on January 24th, 2016 while we counted down 100 days to the premiere of the new X-Files.
PL Boucher is the talented artist behind this creation; the level of detail and attention to each portion of the larger image is quite stunning and we were so honored to have been part of this great piece of memorabilia in some way.
We had an overwhelming amount of submissions; the rules were:
- You had to submit by Jan. 24th, 2016 starting 7am ET/10am PT.
- The puzzle had to be complete, with all of its' pieces.
- The submission had to match our registrar key that would confirm that every piece was indeed in its correct place.
In the event that there were two or more submissions with the correct arrangement, it would be decided by the timestamp of their entries landing on our submission inbox.
So drumroll, please...
The winner of the #ReopenTheXFiles contest is... Paula R.! She submitted her entry at EXACTLY the start of the submissions, seven minutes ahead of the next correct answer. Paula R. will be receiving: a print of the poster designed by PL Boucher, plus a few other X-Files extras like: scripts, swag and a couple of other surprises that we hope hold a dear place in her collection. 
Since we had quite a few of you that also got the correct order, we've selected the next 10 contestants and you will receive the full sized HQ poster electronically. 
Congratulations, Paula... and stay tuned because we have more exciting contests coming up!