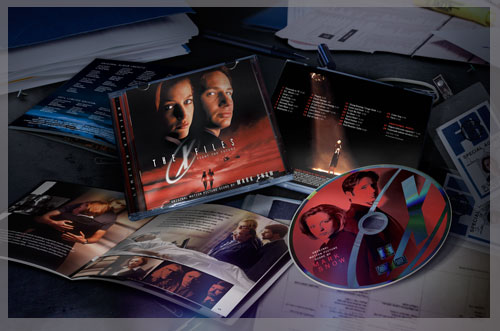 You heard that right! A 'new' score for the blockbuster hit The X-Files: Fight The Future will be released as soon as noon of July 29th, 2014, Pacific Standard Time.
The release, brought to you by the folks at La-La Land and 20th Century Fox, is a remastered and expanded tracklist by the talented composer of the series, Mr. Mark Snow. Four previously unreleased tracks are included in the final list.
According to the producers: 
This special limited edition release features much improved sound and contains some music not previously released. Also, the incorrectly reversed stereo channels on the original soundtrack release have been corrected here. Produced by Mark Snow and Nick Redman, and mastered by Mike Matessino, this exciting release also contains exclusive liners by writer Julie Kirgo and an updated print interview with Snow conducted by film music writer Randall D. Larson. 
The score will be available through La-La Land Records website and other online soundtrack boutiques; only 3000 copies were produced in this limited edition, and it will be sold at a retail price of $19.98. 
For a complete track list, click READ MORE.
 TRACK LISTING: 
01) Threnody in "X" 3:18
02) B.C. Blood 2:28
03) Goop 4:20
04) Soda Pop 4:46
05) Quitting* :53
06) Already Dead 1:43
07) Cave Base 1:32
08) Remnants 2:13
09) Plague 3:24
10) Fossil Swings :59
11) Goodbye Bronschweig 2:41
12) A Call to Arms :59
13) Elders / Crossroads* 2:35
14) Corn Hives 3:06
15) Corn Copters 2:36
16) Out of Luck 1:01
17) Stung Kissing / Cargo Hold 4:13
18) Come and Gone 5:29
19) Trust No One 2:53
20) Ice Base 1:35
21) Space Hole* 2:14
22) Mind Games 3:53
23) Nightmare 2:45
24) Pod Monster Suite 5:23
25) Crater Hug 2:04
26) Facts 2:35
Additional Music
27) Plague (alternate segment)* 1:29
28) Crossroads (album version) 2:20
Total Time: 75:48
* Previously Unreleased