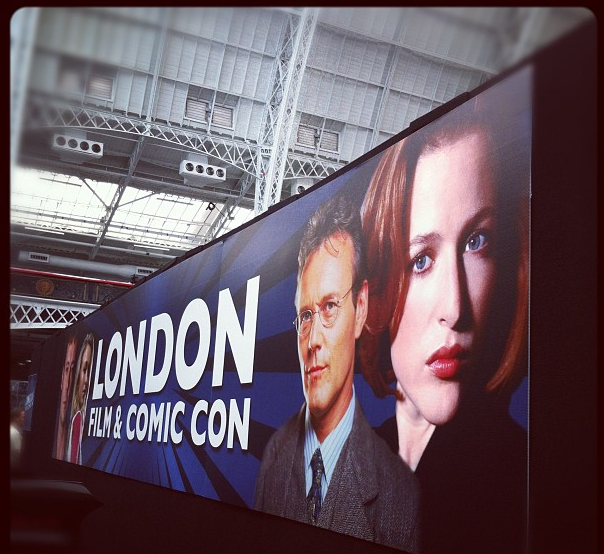 Thanks to Bertha Chin and Bethan Jones for providing us with these great tidbits of what the conversation included!  They're having fun at London Film and Comic Con, and they'll be bringing more material when possible. Here are some of the important things they had to say at the Mitch Pileggi and Nick Lea panel.
"Mitch answering the door with his short off everytime." - Nick Lea
"I got punched so many times on the show I can't even remember now which ne is which." - Nick Lea
How do you feel about people coming from all over the world to see you considering show ended 20 yrs ago? Nick Lea & Mitch Pileggi: Lucky to be part of the show which is part of history. Amazing to be a part of something that lasts.
Mitch's 14 yr old daughter just started watching the show.
Mitch to Gillian in the Green Room: "Can you please just call me sir one more time?" He says that Skinner had a massive crush on Scully.
Mitch on Gillian: (Joking) "Hate her. Speak American!!"
Passion and creativity drive the show early on when Fox didn't give them so much money. - Nick Lea
Writers didn't spoon feed audience. You're allowed to come to your own conclusions. The X-Files didn't pander to anybody and it succeeded becase it was smart and made its fans think. - Mitch Pileggi 
Great to have a shorthand with Rob and Kim because we're all such great friends. They're like big kids. - Mitch Pileggi 
Nick's Fav directors - Kim Manners and Rob Bowman!
X-Files didn't pander to any specific demographics, and that's what makes it great. - Nick Lea 
 You can also follow Bertha and Bethan at their own twitter feeds.