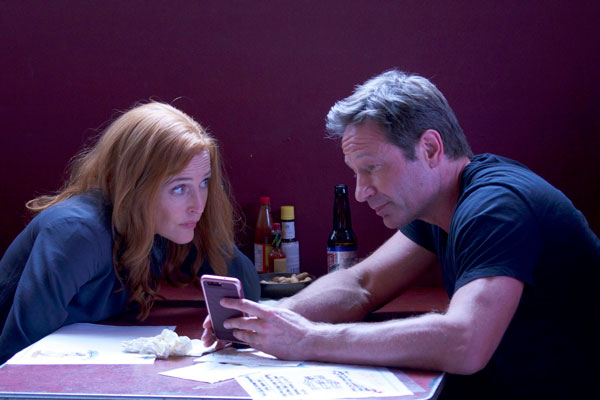 Here we go, guys. Gather round, because we finally have the FINAL episode order, titles and log lines for the last four episodes of Season 11!
"Rm9sbG93ZXJz," airing Wednesday, Feb. 28 (8:00 PM-9:00 PM ET/PT)
Plot: In a world of ever-increasing automation and artificial intelligence, Mulder (David Duchovny) and Scully (Gillian Anderson) find themselves targets in a deadly game of cat and mouse. Episode written by Shannon Hamblin & Kristen Cloke; Directed by Glen Morgan. #XFRm9
"Familiar," airing Wednesday, March 7 (8:00 PM-9:00 PM ET/PT)
Plot: Mulder and Scully investigate the brutal animal attack of a little boy in Connecticut while suspecting darker forces are at play. Episode written by Benjamin Van Allen; Directed by Holly Dale. #XFFamiliar
"Nothing Lasts Forever," airing Wednesday, March 14 (8:00 PM-9:00 PM ET/PT)
Plot: While investigating human organ theft, Mulder and Scully uncover a mysterious cult consumed with macabre rituals. Episode written by Karen Nielsen; Directed by Jim Wong. #XFNothing
"My Struggle IV," airing Wednesday, March 21 (8:00PM-9:00 PM ET/PT) — Season Finale
Plot: Mulder and Scully rush to find an on-the-run William (guest star Miles Robbins) while the Cigarette Smoking Man (guest star William B. Davis) pushes forward with his ultimate plan. Mitch Pileggi also stars. Annabeth Gish, Joel McHale and Barbara Hershey guest star. #XFMyStruggle4
Check out the new trailer for "Rm9sbG93ZXJz" and stay tuned for our usual breakdowns, upcoming promotional pictures and many other goodies to come.