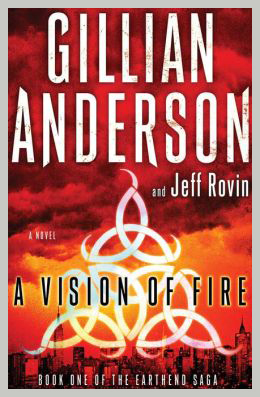 Everyone is dying to get their hands on Gillian Anderson's debut novel "A Vision of Fire." You still have to wait a little longer, less than a month now, but in the meantime, you can mark your calendars and plan a road trip for one of her book signings coming up next month.
Ridgewood, NJ - October 7th
Gillian will be signing at Bookends at 6PM. There are no details about this event yet, so please check their website should you have any questions. 
New York City - October 8th
Gillian will be signing at Tribeca Barnes & Noble at 6PM. She will be joined by her co-author New York TImes bestseller Jeff Rovin to discuss their work together. There are no specific details about this event as well, so check with a BN bookseller if you have questions about the event guidelines. 
Gillian Anderson was also scheduled for a West Coast tour, however due to unforeseen circumstances she has cancelled her appearances in Los Angeles and San Diego. Mysterious Galaxy Books in San Diego is trying to make arrangements to attain signed copies for their location. Check with them for aditional information on this.
XFN will be present at both events, so make sure to follow us on Twitter for live updates.
Gillian Anderson and Jeff Rovin's "A Vision of Fire" comes out October 7th, but it is available for pre-order at Barnes & Noble. $19.99 Hardcover and $12.99 eBook.