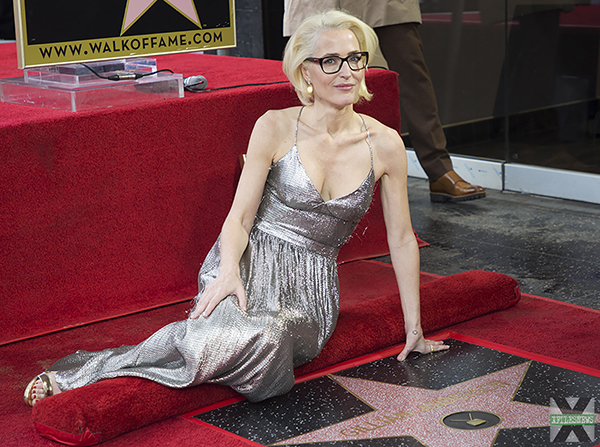 Mark your calendars, fans have a new holiday to celebrate! The Hollywood Chamber of Commerce declared January 8th "Gillian Anderson Day" in Hollywood after she received her star on the Walk of Fame, but there's no reason why that shouldn't be celebrated worldwide. Fans gathered from around the world to attend the ceremony and to celebrate Gillian Anderson's many accomplishments on screen and off. Bryan Fuller and Joel McHale were the featured speakers. Chris Carter was supposed to be speaking as well, but was unable to attend due to a threat of mudslides near his home. For all the details, check out our recap below. If you caught the ceremony online and just want more pictures, we've got you covered there too with our photo gallery.
The ceremony began with an introduction by Hollywood Chamber of Commerce President and CEO Leron Gubler, then Bryan Fuller took the stage. Bryan cast Gillian in Hannibal and American Gods and quipped to the audience, "we're standing on David Duchovny!" David's star is two away from Gillian's, so the platform covered his star as well as George Burns', who rests between them. Bryan said the first thing that comes to mind when he thinks of Gillian is "Aperture. That through which light travels." He joked about that sounding pretentious, and then shared that he met Gillian because he "loved that idea of her playing the only person who may be more deranged than Hannibal Lecter."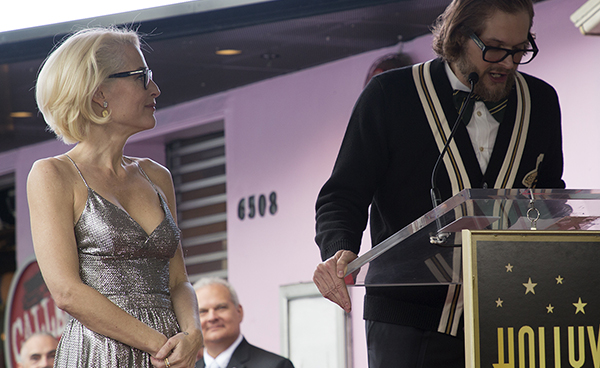 Bryan complimented Gillian's intense work ethic and gave an example of how she would work on three different projects and fly between three different countries over the course of two days. He wrapped up with this sentiment: "when Gillian focuses on you, when her face ignites with a smile, when the aperture of her eyes fully dilate...and I'm not talking about her pupils….I'm talking about that which through which light travels. It is dazzling and warm, genuine and joyous, and star-like. The only question I keep asking myself, Hollywood Walk of Fame people, is why it took so long!"  
Then it was Joel McHale's turn. He declared "X-Files fans, your queen is here!" to huge cheers from the audience. Joel had the audience cracking up from the start. He first met Gillian on the set of The X-Files in 2015 and said "when I saw the images from the set of me with Gillian and David I thought, wow. That is one of the most attractive, legendary onscreen couples on the planet and I look like their enormous Norwegian volleyball-playing exchange student." He said he wasn't sure what to expect when first meeting Gillian but said she was "reserved, she was poised, she was incredibly kind and welcoming. She did not have to be cool. Many people in her position, with her success, are jerks." He said to Gillian, "the way I saw you handle everyone from Chris Carter, to David Duchovny, to the 19-year-old production assistant standing in the Vancouver, B.C. cold, is how it should be done. She is good!"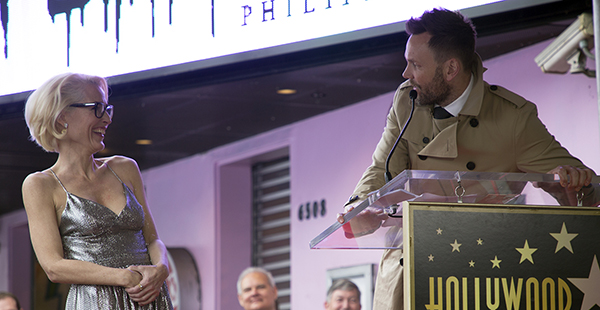 Joel also shared the story of the time they were shooting the scene where Mulder and Scully get into the limo with Tad O'Malley. The fans around them apparently couldn't stop asking about Gillian's wig. His explanation of why Gillian wore the wig is hilarious and you can find that in the full video starting here. He told a story of how he and his wife enjoyed watching The X-Files together and joked "Gillian is soley responsible for my marriage! That's how powerful she is!" In closing he told fans that if they ever had the chance to see Gillian in the theatre to run to do so, and once again declared her Queen.
Mitch O'Farrell of the Los Angeles City Council was up next. He praised Gillian as a "profoundly gifted, talented stage actress, wonderful film and television actor" and celebrated her devotion to charitable causes before officially presenting her with the first star on the Walk of Fame for 2018.
David Duchovny was unable to attend the ceremony because of a prior commitment but he did send a message. Leron Gubler read it on his behalf. The letter said "Gillian, you said you would be next to me when you died, too. Well, you were right. But this isn't death, it's a beginning. So much more to come for you. In the meantime, I hope your fans sprinkle chocolates on your star the occasional Hollywood midnight and some kind soul builds a Gilly ramp from your star to mine. We will always be joined as partners, friends, and now neighbors. Congratulations Gillian. Love, David."
Leron then declared it "Gillian Anderson Day in Hollywood" to which Gillian quipped "what's that gonna cost?" Her tone then turned more serious as she began her speech and she spoke about Chris Carter and The X-Files. "I first moved to Los Angeles 25 years ago to become a film actress. But then I had the great good fortune of landing in Chris Carter's television universe and the shoes of Dana Katherine Scully. A woman who wasn't just the object of a man's desire, but a strong-willed, smart, brave woman who was career-driven and fiercely independent. The combination of Chris' creation and whatever rookie, naïve, terrified, determined will I brought to the table manifested a young woman yet to be depicted on TV. And as the fan response would soon prove, a desperately needed role model for women of all ages, everywhere, who it turns out were simply not seeing themselves represented."
She thanked Chris Carter for fighting for her to be Scully, and for shaping the woman she is today. She thanked Bryan Fuller for stretching her belief of what she was capable of and for making her a better actor. Gillian thanked Joel for speaking and said "you made me a better listener, motherfucker" to the delight of the audience. To David Duchovny she said "I could not have wished for a more perfect platonic partner to spend 25 years of my life."  In conclusion Gillian spoke of being humbled by the star and thanked "all of the fans far and wide who have fought so hard to keep these characters alive" and for supporting her endeavors. If you'd like to read the full speech, find it here.
With all the speeches complete, Gillian's star was officially unveiled. You can find her star at 6508 Hollywood Boulevard near the Fox Theatre. Watch the ceremony in full from the Hollywood Chamber of Commerce here. Check out all our pictures from the event in the gallery below.