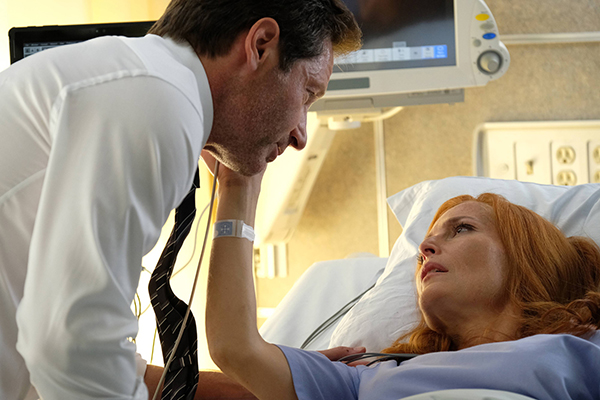 Following on the heels of last night's Season 11 premiere of The X-Files, FOX held their Winter TCA to talk about the future of shows on their network. According to Deadline, FOX Television Group Chairman and CEO Gary Newman had this to say about the potential for more X-Files: "You could've asked Chris (Carter), David (Duchovny) and Gillian (Anderson) at various times since the show originally premiered whether they would do more. Some days you'd get a 'yes', some days you'd get a 'no.' I would not exclude the possibility that there would be more. But not only is there no plan, there hasn't been a single conversation. It's too early to even speculate." 
That said, Gillian Anderson has stated several times, starting with New York Comic Con in October, and again in an interview with TVInsider that Season 11 will be the last for her. She also indicated in behind-the-scenes videos she shared that the scenes she was shooting as Scully were her last. Chris Carter was asked about continuing the show without Anderson in his recent Reddit AMA and said "for me, the show has always been Mulder and Scully. So the idea of doing the show without her isn't something I've ever had to consider." 
Obviously the future of any show depends on the actors playing the roles, but success in the ratings is a determining factor as well. Season 11's premiere episode "My Struggle III" struggled in the ratings compared to last season's. The episode drew a 1.4 rating and a 5 share in the crucial 18 to 49 age demographic and was watched by 5.2 million viewers. It came in at 3 out of 5 in the network time slot. Compare that to the beginning of Season 10 and "Founder's Mutation" which was the first Season 10 episode not to benefit from the "football bump" of viewers from the NFC Championship. It received a 3.2 rating and a 10 share. 9.69 million viewers watched that episode and it won the time slot by nearly 2 million viewers. It's not unusual for ratings numbers to decline as the season continues. "My Struggle II" pulled in 7.6 million viewers. The overall ratings average for Season 10, according to Variety, was a 3.2 and 9.8 million viewers. The X-Files ratings got a boost from DVR viewings last season, so the next few days will show if those early numbers climb any. FOX NOW, OnDemand, iTunes, and Hulu viewings are important to engagement as well. 
The future of The X-Files always seems to be out there. Whether that includes more episodes or perhaps another movie time will tell. But right now the truth may be that we're closing in on the end for Mulder and Scully, at least on our screens. We know the fanfic authors will keep their spirit alive no matter where the series goes.