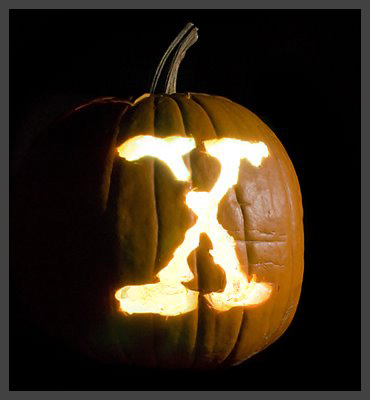 Update: Gillian Anderson will be the judge for this year's contest, so sharpen up those carving tools and get to work on your X-Files masterpiece. 
The leaves are falling, the air is cooling, and just around the corner monsters are lurking. When you hunt the paranormal for a living, Halloween is the most magical time of the year. Who knows how many dark corners Mulder and Scully investigated every October. It was probably just swamp gas though, right Scully?
Well in celebration of the spookiest holiday of them all, it is time for The 8th Annual XFN Pumpkin Carving Contest. The rules are simple:
Your pumpkin must feature The X-Files in some way, but you already knew that because that's why they put the I in FBI.
You can submit a pumpkin you didn't carve for the contest, but not one you've submitted before.
You must send a photo of your pumpkin to contests[at]xfiles.news by 11:59pm PT on October 31st, 2017.
One entry per Phile.
Why join this illustrious contest, you may ask? Well the winner always receives a special X-Files prize. Plus, you'll probably recognize the contest judge. In the past our judges have included Gillian Anderson, Mitch Pileggi, Annabeth Gish, Chris Carter, and Frank Spotnitz. So you know there's going to be a qualified judge deciding your pumpkin's fate. Who will it be? We'll let you know, but in the meantime, the Truth is out there.
If you need some XF inspiration, check out some of the previous entries from 2016, 2015, and 2014. Happy carving, Philes!