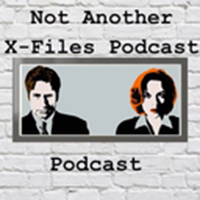 Pull up a seat at the dinner table, we're talking cannibals on Not Another X-Files Podcast Podcast. This week hosts Vanessa, Amanda, and Carolyn are sinking their teeth into "Our Town." Who knew ritualistic cannibalism could have a lighter side? The hosts also share some fun facts and "Improv of the Week." 
Check out this week's episode here or find it on iTunes, Podbay, PocketCast, or others.
Want to know more about the team behind this podcast? Check out our interview here.