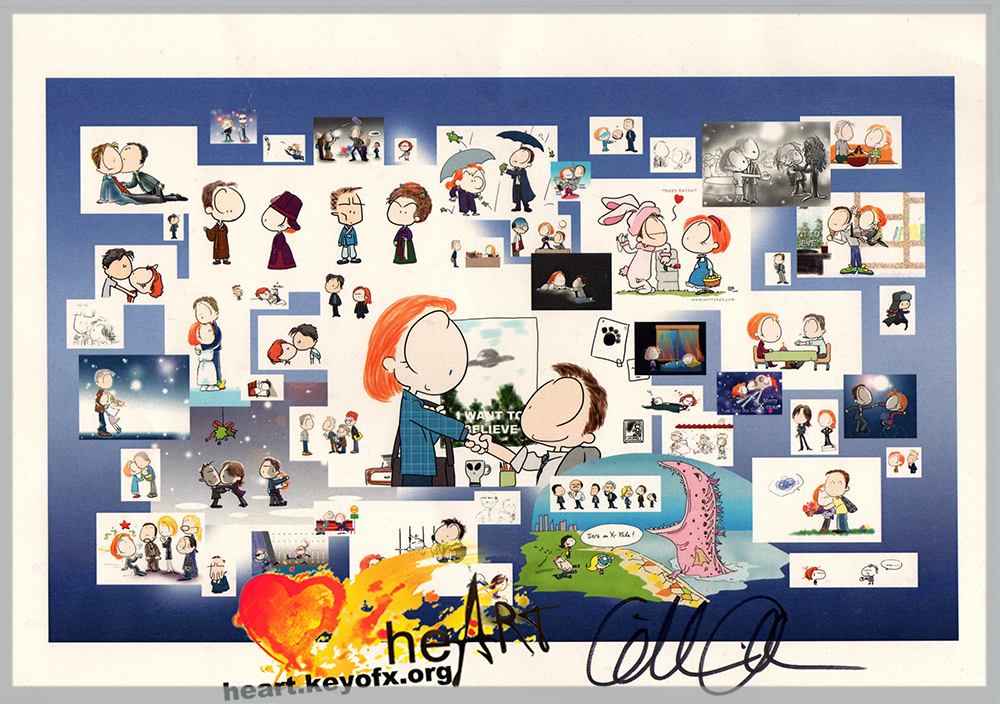 You can't go many places in the X-Files fandom without seeing her artwork. Worrynet is famous for her adorable Mulder and Scully cartoons, and today we're getting to know her a little bit better. Worry participated in the first heART for Charity auctions, and she is back again with two different pieces up for auction.
A stunning set of Tarot Cards already went on a previous round but more  of her is currently being auctioned here. All proceeds will benefit SA-YES. 
Hit the jump to learn all about Worrynet! 
XFN: In a nutshell, tell us what inspires you as an artist. Who are your favorite artists?
Worrynet: I'm usually impressed by simple things with layers, I mean it looks simple, but underneath there are a lot of meanings. And not too much didactic, because I think the world is vast and there are so many views in the world. It's hard to interpret something even similar. Sometimes good wills turns into disaster. But at same time, we should keep to open eyes on social or political issues. So such 'layered' works are rare but precious, that is the thing seizes me. The X-Files can be a beautiful example, its surface is a fine Sci-Fi work, but underneath it enlightens our views.
My favorite artists:
-Literature: Hwang Sun-won (Korean novel writer. I really love especially short novels.), Philip K. Dick, Sir Arthur Conan Doyle, and Stephen King.
-Film: Ken Loach, Chris Carter, Kim Manners, Misha Collins
-Painting/Drawing: Caravaggio, Charles Schulz
XFN: What type of materials/means and styles are your favorites? Water colors? Pencils? Photoshop? Tell us a little about your creation process.
Worrynet: I prefer absolutely(!) pens and pencils. They are easy to bring everywhere, and my works are based on pen and pencil. I started to draw cartoon/manga with pen, then I got my personal computer and made them on a tablet, and now I'm back to drawing with pen. Recently, I make outlines with pencil and pen, and scan them, then revise and color in photoshop. So the result is digital work but it is close to analogue, I think. Still, it's hard to make pen-like lines digitally. 
Now my hobby is taking instagrams of my doodle. :)
XFN: What motivated you to create these particular works of art?
Worrynet: This is the most difficult question for me. :) Recently, I am interested in fandom study, especially messaging-fuction of fan art. Visual image is hard to define as a solid meaning, but its power can communicate over the language. Now fandoms are all over the world, and each fandom shows similar pattern despite the area. I am a Korean X-Phile, and always surprised to hear the news that US and European X-Philes have almost the same behavior as us. And, it was amazing that people of other countries like my cartoons. That's what I am interested in now. 
What I mean, the motif of my works is based on this resonance or compathy. When I feel something and produce it, it means there is someone who thinks similar with me. I want to share with someone. And it also means that there is something somebody wants to let people know ahead. I want to hold onto that.
XFN: As a fan of Gillian Anderson's work and most likely an X-Files fan, what part of their work has been life changing to you?
Worrynet: I always say "The X-Files changed my life", and it's true. I was in the theater/film department in university when I watched The X-Files, and it was almost a revolution. The X-Files was already equal to film; now, TV show are an art as literature, film, music and etc. So I made my master's thesis about The X-Files, and doctoral one about 'series' narrative. Now I am interested in fandom study, and of course that's because I am an X-Phile.
XFN: What strikes you as the most important thing that SA-YES does for their people?
Worrynet: I have heard of SA-YES from heART for Charity, so all I know about SA-YES is too general, I hope you appreciate that. I think it's really important to keep the motto "Sustainability". I think it is the confidence that education/studying is everybody's own right.
XFN: Scully turns fifty this year; she was a female character that many follow as an example, mainly because in one way or another she is a beacon that questioned the world around her. How do you think that you as an individual can help change and improve the world around you?
Worrynet: First, I have to study more about fandom and let people know what fandom is and how it has changed the world up until now. :) Second, I should be honest in many ways. I didn't recognize this when I was young, but now I realize how it's hard to be honest to my conscience. Third, I should keep drawing. :) 
You can find all of Worrynet's artwork on her website. Also be sure to follow her on Twitter to stay up to date. The current round of heART auctions are live on eBay, so bid high to support SA-YES!