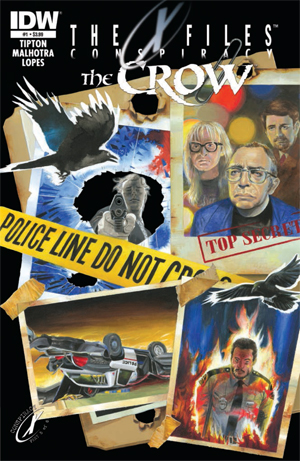 Up until now, I've been enjoying the bi-weekly releases for The X-Files: Conspiracy without a pressing need to get the story to end. It kept building and building and I was fine with that because I know that some kind of resolution was coming soon. And that moment might soon be approaching.
In the latest edition of this crossover, The Lone Gunmen cross ways with The Crow, and while I'm not a gigantic fan of the lore, it is part of my filmmaking education from back in the day.
Starting my read of this issue made me realize how nothing is gratuitous in this collection; the story comes full circle with one of the scenes that we enjoyed in the first issue and suddenly a lot of things now make more complete sense. As I said, and trying to be the least explicit as I can, resolution is near, or so we are led to believe.
Warning: Spoilers ahead!

A couple of patrol officers that are getting some action on the side are involved in a collision that plays back to issue #1; the gunmen are pursued by shadow members of an unknown group and in the midst of it all, Robin, the female officer dies. While the male counterpart makes it out alive, he gets shot by one of these mysterious agents.
In true The Crow fashion, Bernie, the male officer comes back from death and with the help of his fellow bird, he will avenge Robin. The gunmen get an additional tip-off about the files that they've been decrypting from CERN; it lets them know that there's an importance to the otherwise insignificant collision a few days ago and that it's tied to an Indian legend that puts Langley on an edge.
Kickassing ensues when Bernie tracks these shadow agents and along the way manages to prevent them from killing to the Lone Gunmen, but not before making a display of his supernatural abilities. The boys make it out in one piece and presumably start making their way back home, not before noting that Bernie should be the missing piece of the puzzle they've been trying to figure out. He's the "supernatural entity that could guide a Higs-Bossom sent back in time…" and with that we close until the next edition… The X-Files: Conspiracy #2.
I love a good game of clue. I think that this issue was superior because it was action packed; Denton J. Tipton, who you might know from his editorial job at The X-Files: Season 10, did great following along with the tone that has identified this saga. I found that he writes a great banter between the Lone Gunmen, perhaps my favorite so far, and that shows that he does indeed pay attention to what made these character who they are, besides the comic relief.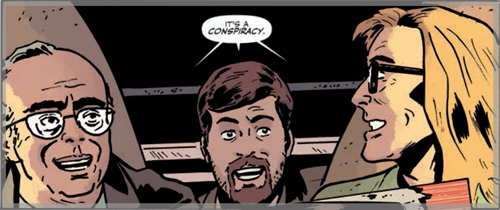 Art wise, Vic Malhotra did a good job, though I found myself enjoying The Crow panels more than the gunmen ones - they were far moodier and very effective in relaying the emotional state that the story Tipton created called for. In regards to the covers, we have three this time as well, a standard by Miran Kim, the subscription edition also by Malhotra and the RI cover with art by Joe Corroney and colors by Brian Miller from Hi-Fi Studios. Out of the three, even though I always find the mock up tabloid ones quite humorous, my favorite is Malhotra's; it's simple, it communicates, and it engulfs a lot of content in just a few elements.
As always, my invitation is for you to rush over to your comic book store and order ahead, and if not, use platforms such as Comixology, that are quite interactive and very convenient.
The X-Files: Conspiracy - The Crow - Written by Denton J. Tipton, Art by Vic Malhotra, Colors by Matheus Lopes, Letters by Shawn Lee and Edited by Sarah Gaydos.