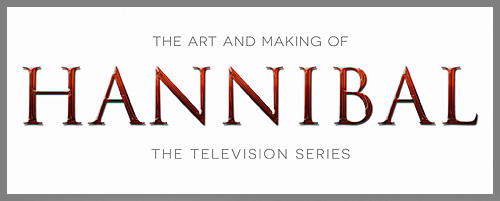 Thanks to yesterday's #BrideOfHannibal trailer we're now even more excited for the season three premiere of Hannibal on June 4th. If you just can't wait that long for a fresh slice of stylish horror then The Art and Making of Hannibal: The Television series was released by Titan yesterday. Take a look at the book behind the jump.
The Art and Making of Hannibal is a beautiful book, but then it had to be in order to really showcase the stunning visuals of the show. It is loaded with full colour photographs of the sets, cast, crime scene tableaus, and behind the scenes shots – many of them full page or even spread across both pages. Of course considering the nature of the show, these detailed shots are frequently stomach churning. If the brief sight of the human cello, or of Dr Sutcliffe's "smiling" remains made you feel queasy when watching, then keep in mind this book allows you to examine them in far more explicit detail. It probably isn't something you want to read before dinner. In fact even the cover - stark white with an embossed, glossy, raw human heart radiating out from its centre – could be enough to put off readers with weaker constitutions.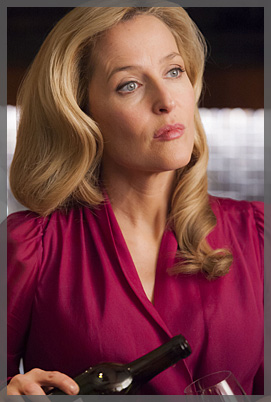 All the major recurring stars get their own sections including Gillian's character Dr. Bedelia du Maurier who has her very own two-page spread. The problem right now is that we actually know very little about Dr. Lecter's enigmatic psychiatrist and so the details here are somewhat sparse. I have to admit I wish this book was coming out after season three, purely because I imagine we would be able to find out a lot more that is currently being kept under wraps. That being said, Bryan Fuller discusses Bedelia's motivations and offers some significant insight into the kind of woman she is. Even with such a small amount of space devoted to her, I still felt like I came away from the book with a better understanding of one of my favourite characters.
Away from the character profiles, The Art & Making of Hannibal really delivers on giving readers an understanding of the processes involved in making the show. Included alongside the photographs are sketches and computer renderings that chart the progression of concepts from the initial idea through to its final appearance on set. It's startling to consider how much thought goes into every pattern, colour scheme, and architectural detail, whether for clothing, set design or food styling. Behind the scenes stories from the crew such as Hannibal's "culinary consultant" Jose Andres and "food stylist" Janice Poon add weight to the images. Despite the gruesome nature of what's being prepared there is a lot of fun to be had reading about the difficulty of creating something that looks like a human thigh cooked in clay – especially when Bryan Fuller only came up with the idea for the scene "after midnight the day before shooting".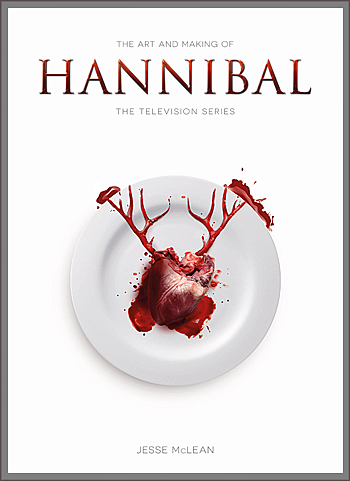 The Art and Making of Hannibal is a stunning (and grotesque) book that will fascinate both fans of the show and those interested in the production of television. Just don't leave it lying around where small children might find it, unless you too want to explain why there is a human heart on a plate to an inquisitive five-year-old.
Out now through Titan Books. A limited run of 250 special edition copies signed by Bryan Fuller, Mads Mikkelson, and Hugh Dancy is available on the Titan website.