The first season of Millennium draws to a close as the Black family visit Catherine's parents and Frank gets drawn into a case that hits too close to home. Read after the jump for our recap of "Paper Dove".
For the season finale, Millennium brings in Ted Mann for his 4th and final writing credit, plus Walon Green who will write just this one episode.


Directing is Millennium regular Thomas J. Wright.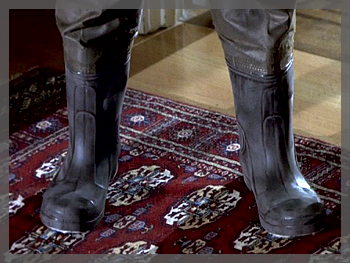 The music playing over this scene is "Stranger in The House" by Wayne Kramer.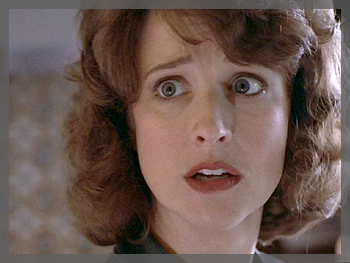 Amy is played by Angela Donahue, she played Alice in "Unruhe".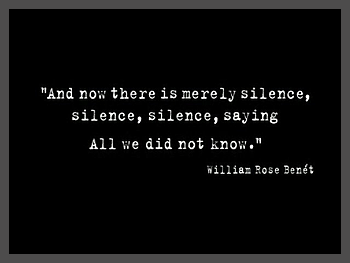 This quotation comes from the poetry collection "Starry Harness" (1933). Benet won the Pulitzer Prize for Poetry eight years later.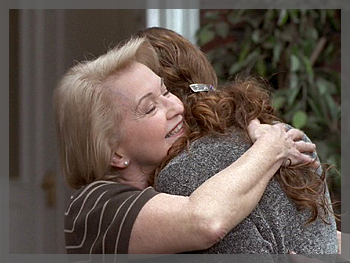 This episode gives us our first look at Catherine's extended family. We met Frank's brother and his family back in "Sacrament".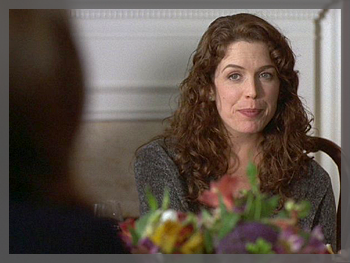 Family dinner parties in the Carter-verse are formal affairs if this & the one Maggie Scully held in "Gethsemane" are representative. I think Catherine and Scully could get on well, they'd certainly have plenty of stories to swap.
Catherine's sister Dawn gives us some background on their family: Catherine speaks Arabic, the family once lived in Cairo, and were in the Foreign Service. She has been on screen for approximately eight seconds and she's already deeply annoying.
Is that one of the Men in Black? "The Figure" is played by Paul Raskin, he appeared in "The List", and "Sanguinarium".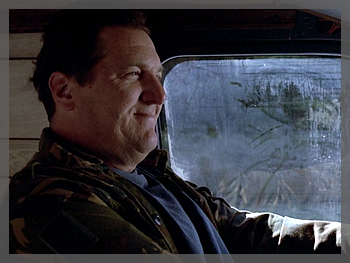 "You see that? Historical marker. I know 'em all. Every one of 'em. All up and down the state."

This guy would be a riot on a long road trip...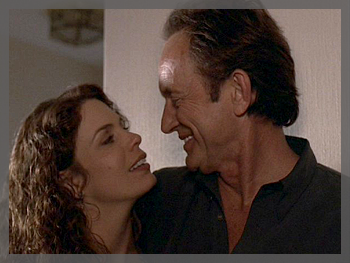 "I like being away with you. Makes me feel kind of naughty."

Mr Black!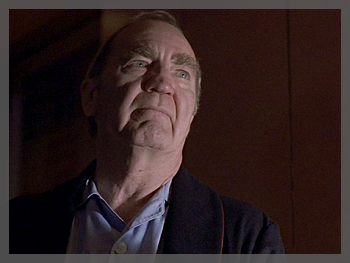 "You've seen so many tragic situations, I thought maybe you could give him some perspective on this. It's hard on Adele. It's obvious to everyone Malcolm committed this horrible crime, but she still clings to the hope that he's innocent."

Some vacation... Normal people go to Disneyland, Frank ends up discussing murder with his in-law's neighbours.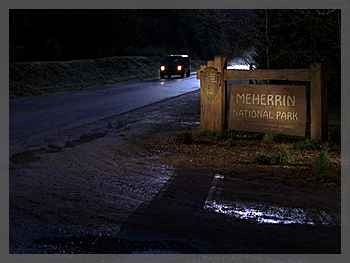 There is no real Meherrin National Park, however, Meherrin is the name of a small village in Virginia and the Meherrin Nation are one of eight State recognised Native American Nations in the USA.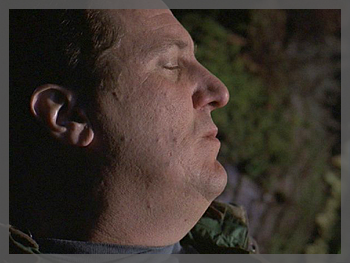 "Frere Jacques, Frere Jacques. Dormez vouz? Dormez vouz? Sonnez les matines, sonnez les matines. Ding, dang, dong. Ding, dang, dong."

I learned that song in French class at school. The line "dormez vous?" is especially creepy here, it translates as "are you sleeping?"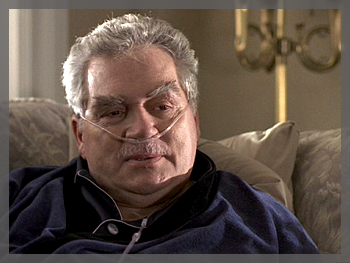 C.R. is played by William Nunn. He appeared as General John Steffan in "Unrequited".
"You know, my dad will understand if you just want to drop this and enjoy yourself."
"In all fairness, I'd like to check a few things out, if you don't mind, before I let this go."

Frank does visits to see family about as well as Scully does. This whole situation reminds me of "Christmas Carol"/"Emily".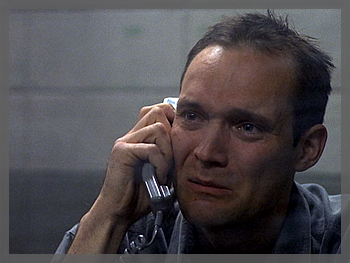 Speaking of which, Malcolm is played by Eric Breker who appeared in "Christmas Carol", "Emily", "Demons", & "Apocrypha".


"I was frantic. I grabbed her and carried her out to my car. We'd only lived there a few months. I didn't know where a hospital was."

I've moved house a lot of times, I've always known where the nearest hospitals were. Certainly within "months" of arriving. Of course having a husband who works for the NHS makes me biased with that knowledge, but it still seems odd not to know.
My young son recently brought home a reading book from school about a camcorder. I had to explain to him what it was...
"I'm not lonely. I, I have friends. I have Frank, Jordan."
"Well, you may talk to Frank and he may listen but is he really hearing you?"

Nothing like meddling relatives to really make a vacation memorable.
The second FBI Agent is played by Frank Cassini who played Detective Cline in "Clyde Bruckman's Final Repose".
"I don't think it's the beef."

That's the most Mulder answer Frank has ever given!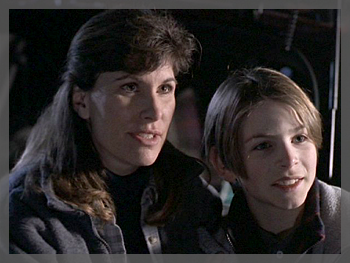 Thinking the camping mom, Carol, looks familiar? She's played by Judy Norton who played Mary Ellen in 212 episodes of The Waltons. G'night John Boy!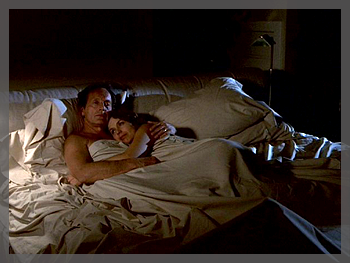 "Can we stay like this forever?"
"Get our exercise the old-fashioned way."

Frank is insatiable this week!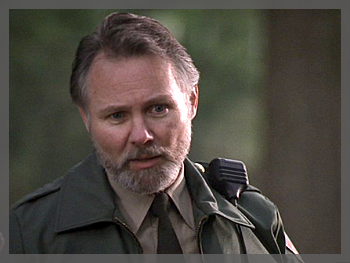 Ranger Chet is played by Garry Davey, he has appeared in "Eve", "Roland", "End Game", and "Syzygy".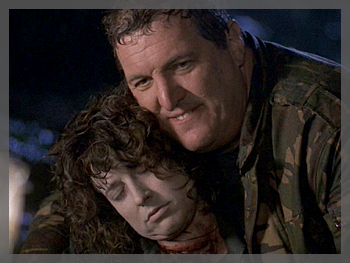 This moment belongs on Awkward Family Photos.
"Oh, our little man cabbage! Where have you been? Oh! Sometimes a mother knows, eh? Yes, my big brute. I know where you go."

Who on Earth calls their son a "little man cabbage"?!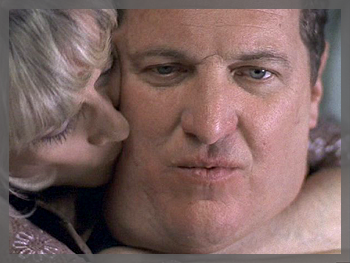 I can see now why he became a serial killer! This scene feels incredibly inspired by David Lynch. It could have been cut from an episode of Twin Peaks.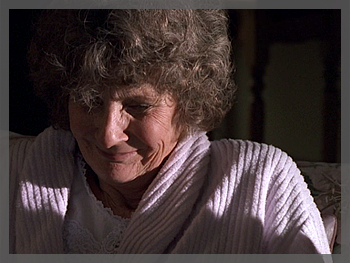 Mrs Steinberg is played by Brenda McDonald. She appeared in "Terma", and "Folie a Deux".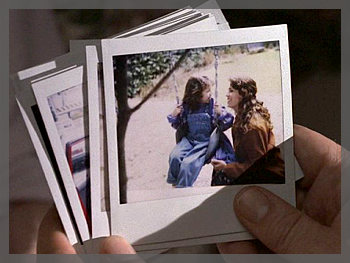 "Keep them. You never know."
"They'll work for someone."
"Yeah. There's always someone."
"Vocal patterns indicated the caller was a nervous, timid type, likely a physical coward."

That was the least subtle example of using a fake news report to draw out a killer I have ever seen. Is there anything they didn't use?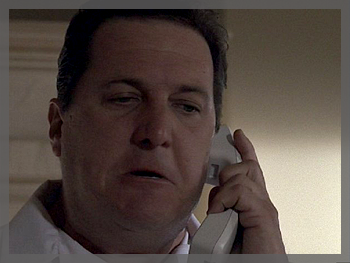 "Special Agent Kane? No emergency. A mentally-retarded, homosexual would like to speak to him if he has a minute."

Got to give them credit though, it worked!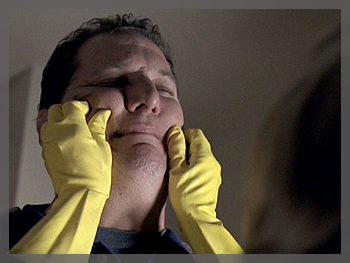 "Oh, don't look so glum, my little man, eh? I know how to make you smile, eh? I know how to cheer you up."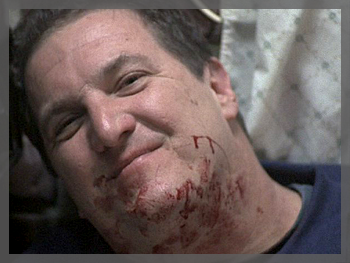 I'm only surprised that didn't happen sooner. I was about ready to kill her myself.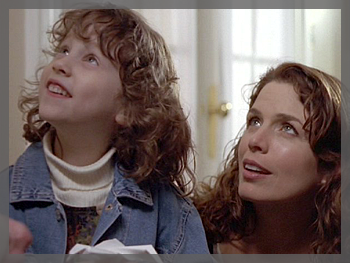 "Origami - it relaxes me. That isn't one of the harder ones."
Frank leaves Jordan sleeping in the car outside the airport, not even in a car seat. It's only been 18 years but culturally, it's eons away

And that ends season one! Thanks for sticking with the series, we'll be back with live tweets and recaps of Millennium Season Two in 2016.
Credit for screencaps to Chris Nu.