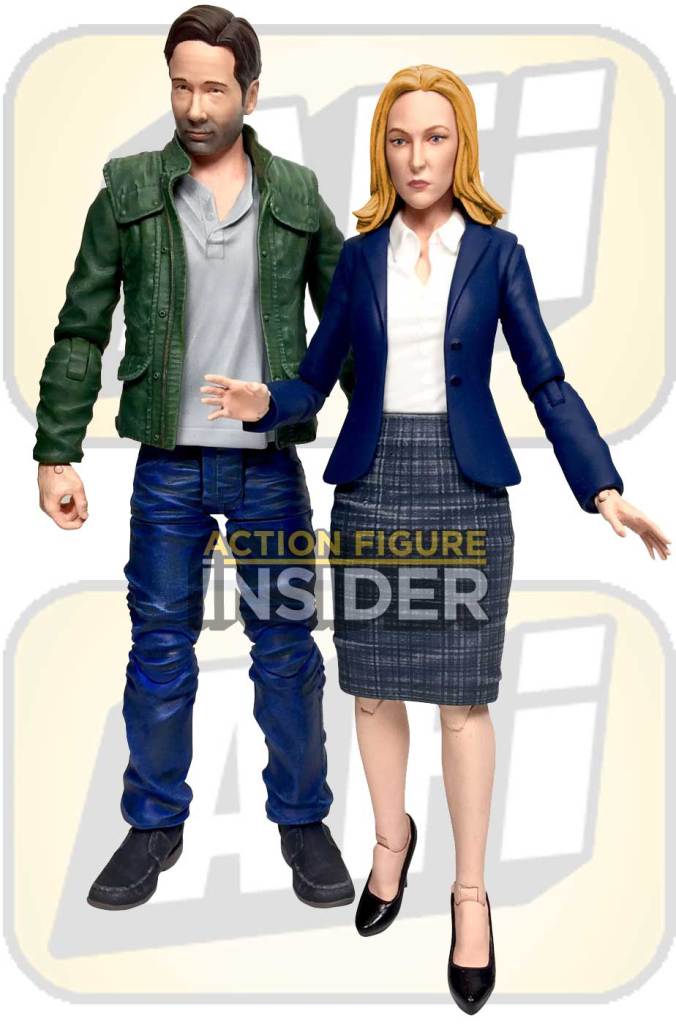 According to Daniel Pickett from Action Figure insider, there will be two editions of new action figures inspired on the new X-Files season. Diamond Select Toys will release X-Files Select 7″ action figures of Mulder and Scully as well as 4" PVC ViniMates. 
AFi elaborates on the details: 
X-Files 2016 Mini-Series Select Action Figures Asst. A Diamond Select Toys Release!
The monsters are back, and Mulder and Scully are there to face them! With the new 6-episode event series ready to re-open The X-Files for the world, DST is launching their line of X-Files Select action figures, featuring Mulder and Scully in their new mini-series looks.
Each 7-inch action figure features up to 16 points of articulation, and comes packaged with character-specific weapons and accessories, as well as diorama parts, including an office floor and wall for Mulder and a desk and chair for Scully. Each figure comes packaged in display-ready Select packaging, with side-panel artwork for easy shelf reference. Sculpted by Gentle Giant Studios!
Figure SRP: $24.99/ea.
X-Files 2016 Mini-Series Vinimates Vinyl Figures
A Diamond Select Toys Release! Want to investigate the X-Files with some style? These stylized Vinimates PVC figures depict Mulder and Scully in their new looks from the 2016 mini-series, but captured in the geometric shapes of a Minimates mini-figure!
Striking an action pose, with weapons at the ready, each 4" static figure has a ball-jointed neck, and comes packaged in a full-color window box.
Mulder  SRP: $9.99
Scully   SRP: $9.99
Both Revival and Classic VinilMates can be ordered from DST. No word yet of when the Select 7" versions would be available for pre-order.