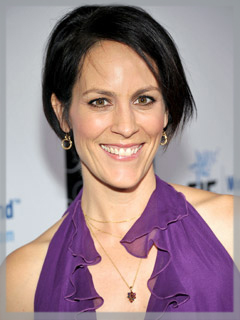 Yesterday we told you we'd be bringing more surprises from Annabeth Gish. And here it goes. She's been cast in the seventh episode of the second season of Once Upon A Time.
She will be playing Anita, "a charismatic, beautiful and mysterious leader of a pack of humans," according to Entertainment Weekly. Just like Red, the character played by Meghan Ory, they will also turn out to be wolves. So how much "Howling at the Moon" will Annabeth be doing? Will she be a good and kind alpha-female of the likes of Josh in Being Human or will she have some scary fangs to fear?
If you want to know, make sure to follow Annabeth's twitter feed (@AnnabethGish) and check on our site for more updates about this exciting role!