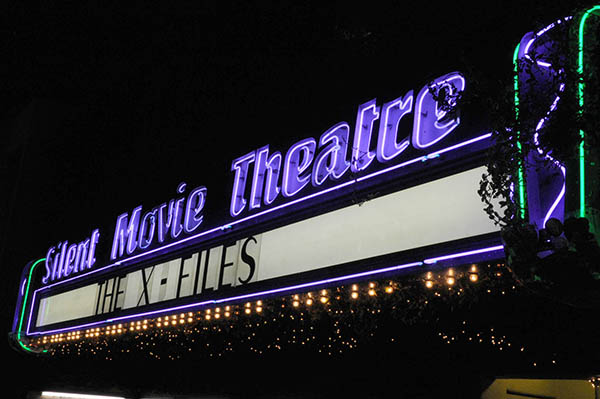 This past Saturday, Philes in Los Angeles got a special treat at The X-Files Files: Live Podcast & Marathon. The event lasted for ten hours, and it was definitely an awesome (and somewhat tiring) experience. Philes from all around the greater Los Angeles area attended, some standing in line for hours upon hours, just to make sure they got a seat inside The Silent Movie Theatre. Somehow everyone managed to pick out only one XF shirt to wear and sat down for probably the coolest X-Files marathon to date. 

With ten hours of happenings, there is a lot to talk about, so click read more to hear all about the event. There are some very mild X-Files Revival spoilers ahead though, so be aware of that going forward. 
Kumail Nanjiani, comedian and creator of The X-Files Files podcast, hosted the screening. He had the difficult task of picking six episodes of The X-Files to show to the audience. "Folie à Deux" and "Home" screened first. Writer Glen Morgan was then the first podcast guest to be interviewed. They discussed "Home", his new episode "Home Again", and his overall writing experiences on the series. There were definitely some good bits of new information on the upcoming Season 10. Glen's episode will have a throwback to Mulder and Scully's classic scene on the bench outside the Home, Pennsylvania Sheriff's Office. It will also focus on "Scully's motherness". 

Glen and Kumail's conversation also included some interesting recollections of the editing of "Home", which was more arduous than normal to get past standards and practices given it's gruesome nature. Glen also spoke about Kim Manners helping to edit the baby burial scene. Apparently Kim prefered a healthy-sounding baby scream as the child was buried, or as Glen quoted Kim, "That was fucking bitching!"
We also found out that David Duchovny didn't like that the writers had made Mulder an Elvis fan. So of course Glen and the rest of the writers attempted to add in even more Elvis bits to the scripts just to rub it in. The conversation was both funny and insightful, and Glen seemed to have really enjoyed the live fan reactions to "Home" as he sat waiting in the wings before the podcast. After a short break, which included a menu offering the "Mulder Burger" or "Scully Sausage", we moved on to the next episodes.
While David Duchovny's schedule didn't allow him to attend the event, he did pick the third episode for us: "The Unnatural". Kumail joked that David wrote the "hips before hands" part just so he could put his hands on Gillian's hips during the 60 different takes for that scene. Honestly though, who would blame him? Following this was "Clyde Bruckman's Final Repose" and then guest Darin Morgan to discuss it.
After all these years, it appears that Darin is still a bit upset that Queequeg met such a tragic end. He remarked that he wouldn't do something like that again today. He also thinks a pomeranian wasn't a good choice for Scully, but it fit with the old woman who had owned him previously. Darin joked that Scully would have Irish Wolfhounds, which definitely has nothing to do with the fact that he has two Irish Wolfounds of his own. 
Darin and Kumail also touched on Scully's immortality or lack thereof. In true Chris Carter fashion, Darin wouldn't give an answer on the matter, though sources say we're going to find out more about the subject in Season 10. Darin also talked about the namesake for Clyde Bruckman, an old silent film actor of the same name. He finds it quite funny that the character he named in homage of the actor has now come to overshadow that actor. Kumail and Darin also spoke about Scully's interactions with Bruckman. Glen said that Scully's conversations with him were much kinder because she didn't believe he was a psychic and instead saw him only as a person, whereas Mulder wanted something from Clyde. 
With four episodes down, we took another short break. After all, it's important to hydrate during a marathon. In addition to the food and beverages, the patio outside also housed an "I Want To Believe" poster backdrop with a UFO rigged above it for fans to take pictures underneath. It was a really neat addition to the event that helped make it a true X-Files experience.
Next we moved onto Vince Gilligan's "Drive", which was a big crowd favorite, especially given the love of Breaking Bad among the audience members. The final original episode of the night was "The Post-Modern Prometheus" which was an excellent introduction for the final guest of the evening: Chris Carter.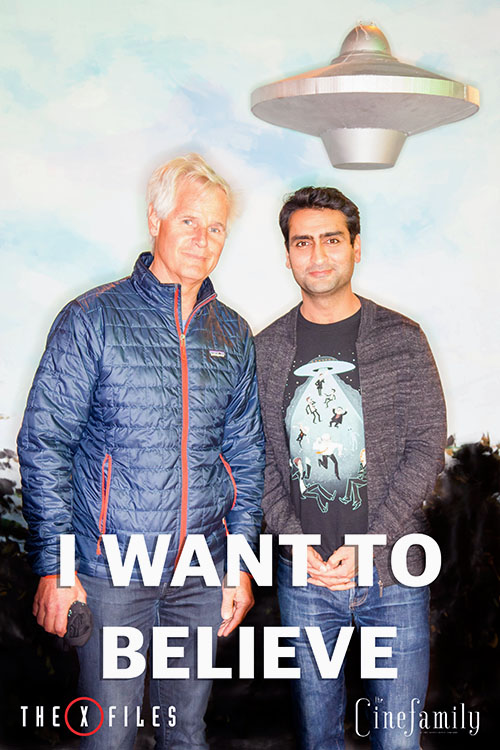 After six hours of X-Files episodes, the cheering crowd gave Chris a standing ovation. With Chris was his dog Zelda who was a little intimidated by the very excited audience of Philes, so she only made a brief appearane on stage. Kumail then began the interview by saying he had so many questions, it was like he had no questions, peppering Chris with a list of everything he'd ever wanted to ask since he was probably a kid. 
So what did Chris have to say about the upcoming Revival? Well post-production wrapped just before the holidays, and there have already been casual talks about continuing the show with another event series in the future. A possible Season 11 will depend on the ratings from Season 10, as well as the actors' availability. Chris also already has a list of possible future episodes written down, so things are looking good for The X-Files franchise.
Mulder, on the other hand, is pretty depressed by the current state of affairs. The internet has made it easy to debunk all the mysteries in which he so badly wants to believe. Despite Mulder's current state though, Chris feels the new episodes are fresh, scary, and smart. Continuing, he said "There are limitless X-Files stories to be told,' and thinks that the series really could go on forever. After this conversation wrapped up, there was only one more episode left to screen.
Originally, FOX was going to show the premiere of Season 10, "My Struggle", to conclude the event, but given Kumail's role in the third episode, plans were changed. Instead, Philes got a special look at Darin Morgan's new episode, "Mulder and Scully Meet the Were-Monster". As always with Darin, the episode was hilarious and fans thoroughly enjoyed it. There were lots of throwbacks to the original series that had everyone laughing. We'll bring you XFN's official review closer to the episode's airdate, but rest assured knowing that all the X-Files fans inside The Silent Movie Theatre seemed to love it.
The X-Files Files: Live Podcast & Marathon began at noon, and by the time the final credits rolled on "Were-Monster", ten hours had passed. I maintain that there's no such thing as too much X-Files, but it was still a long day. However, thanks to Kumail Nanjiani, LootCrate, Cinefamily, and FOX, the event was one that the Philes there will not soon forget.
If you'd like to read more about what happened, you can check out the Storify of the event here. And when Kumail releases this special edition of The X-Files Files podcast, you'll be able to hear the entirety of the conversations for yourself. In the meantime, you can check out the photos from FOX and Cinefamily below. 
{gallery}Cinefamily{/gallery}