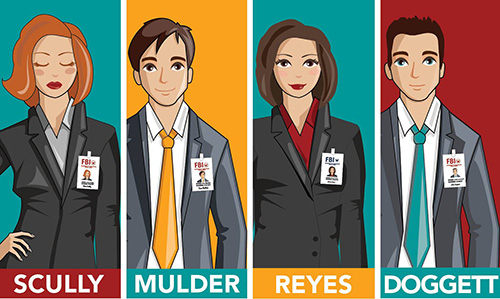 As part of their ongoing First Friday series, the Saint Louis Science Center is hosting the The Truth Is Out There event. This Friday, February 5th, the center will be holding a plethora of X-Files related activities. The epicness ranges from a screening of Fight the Future at the OMNIMAX Theater to a special presentation by Dr. Dan Yezbick. A professor of English and Communications, Dr. Yezbick will discuss the unique origins of The X-Files and present an in-depth analysis of the conspiracies presented in the show.
There will also be an opportunity to grab a selfie (or, I guess, a regular picture too?) in Agents Mulder and Scully's office and see a display of X-Files memorabilia (did they just use stuff from my house? Probably). This event is completely free and open to the public, and the box office will start handing out tickets at 6:00 pm on a first come, first serve basis. The showing of Fight the Future won't be until 10:00 pm, but there is so much to do—like chill in Mulder and Scully's office and recreate scenes from various episodes. Who wants to do "Bad Blood" with me?
XFN will be there to cover all the events, live tweet some of the highlights, and as always, take lots of pictures! For more detailed specifics, check out the event's Facebook page. If you're not able to attend, you can follow along this Friday on our Twitter.