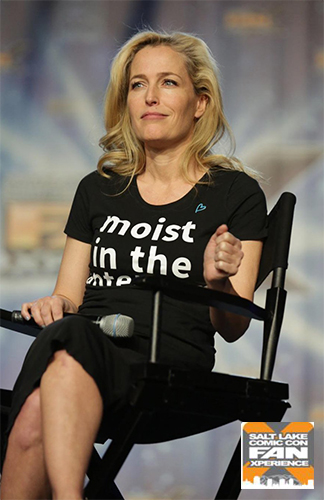 Philes in Salt Lake City got quite the show Friday as Mitch Pileggi, William B. Davis, and Gillian Anderson appeared at Salt Lake Comic Con. The morning kicked off with a panel featuring Mitch and William B. Davis, with Gillian's immediately following. During the first hour, moderator Paul Draper talked with Mitch and WBD about their auditions, what they knew of their characters' back story, and whether they're skeptics or believers. They spoke about favorite roles, favorite lines, and quitting smoking. They also took questions from fans in the audience.
During Gillian's panel, a moderator began by asking her how she moved from fighting crime on TV to fighting it in real life through her charity work. Gillian said that on one level she'd always been an activist, but fear of public speaking held her back. It's only recently that she's pushed through that. The moderator asked one more question before turning it over to fans. For more answers from both panels, including Gillian's tale of the infamous "blue thong dress", take a look after the jump and read through our collections of comments. Update! We now have the full video of Gillian's panel.
Read the collection from Gillian here:
Watch Gillian's panel here:
Thanks to Erica Fraga and Carolvee Star for their help from Salt Lake City!