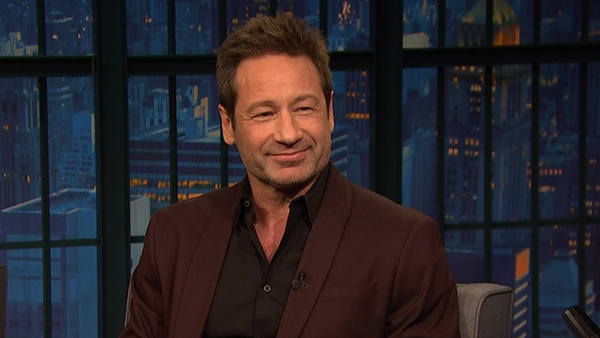 David Duchovny was on Late Night with Seth Meyers on NBC to talk writing, music, and of course, The X-Files. Reflecting on 25 years of The X-Files, David talked about how he approaches Mulder a little differently now than he did in the beginning, and joked that he tries for "energetic decrepitude." They talked about Mulder in the current political climate, and David still thinks Mulder is the worst FBI agent ever when it comes to solving cases. He may have also joked about a "surprise" reveal in the season finale…
They also discussed David's upcoming music tour and shared that one of his songs will be featured in the episode "Plus One" on Wednesday. It won't be David singing it, but keep an ear out for a more "punk" version of one of his songs.
Check out the show clips below, or watch the full episode here.